Profiles of Hispanics at EPA: Evelyn Rivera-Ocasio
---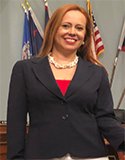 Evelyn Rivera-Ocasio, Environmental Engineer
EPA Region 2
Caribbean Environmental Protection Division
San Juan, Puerto Rico
Question: Where were you born?
Evelyn Rivera-Ocasio: Bayamón, Puerto Rico.
Question: Where did you go to college? What was your major?
Evelyn Rivera-Ocasio: After graduating from high school in Puerto Rico, I studied at Daytona Beach Community College (now Daytona State College), where I obtained an associate's degree. Then I transferred to the University of South Florida, in Tampa, where I obtained a Bachelor of Science in Chemical Engineering.
I studied law at the University of Puerto Rico's School of Law and in May 2013, I got a master's in environmental law from Vermont Law School.
Question: What brought you to EPA?
Evelyn Rivera-Ocasio: While working at the Puerto Rico Solid Waste Management Authority, a colleague told me there were vacancies at EPA's Caribbean Environmental Protection Division. I asked her to get me an application and the rest is history. A few months later, I was hired to work at the EPA regional office in New York. I never thought I would work for the EPA, but after more than 15 years in the Agency, it's hard to see myself working anywhere else. I firmly believe in the EPA's mission to protect human health and the environment while fostering economic development.
Question: What kind of work do you do at EPA?
Evelyn Rivera-Ocasio: As part of the office of Regional Counsel-Caribbean Team, I basically provide legal advice, and where appropriate, policy assistance, to assure that regional decision-makers are fully informed of the applicable legal requirements, the policy implications and the risks of alternate courses of action. Occasionally, I have the opportunity to travel internationally, to exchange knowledge on how EPA administers its environmental laws and develops its enforcement cases.
My goal now is to obtain a position as a lawyer and continue contributing to the agency with my technical and legal knowledge.
Question: What message would you like to send young Latinos who are considering going to college?
Evelyn Rivera-Ocasio: The sky is the limit! You should never feel that you do not have the ability and intelligence to go to college.  Always strive to achieve your professional goals no matter how complicated you think they might be. The important thing is to never give up. Look up to role models, like Sonia Sotomayor, the Supreme Court Justice, who never looked at her Latino origins as a limitation in achieving her goals.