Pacific Coastal Ecology Branch (CEB)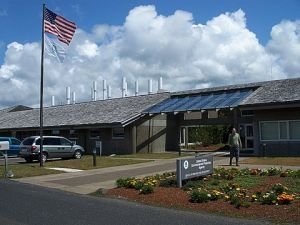 gross square feet (GSF)
Energy Intensity:
FY 2021:  Btu per GSF
27.4% increase from FY 2003
Water Intensity:
FY 2021:  gallons per GSF
81.6% reduction from FY 2007
Newport, Oregon
CEB is the marine research group for the Pacific Ecological Systems Division (PESD), a part of the Center for Public Health and Environmental Assessment (CPHEA) of the Office of Research and Development (ORD). The facility studies the effects of human population-induced stresses on the habitats and species of the estuarine systems of the Pacific Northwest.
Sustainable Features
Two polyethylene tanks at CEB are being reused for stormwater capture. Roof drains have been routed to the tanks, and a small electric pump provides pressure for the rinsing of sampling boats and hovercraft.
The Pollution Abatement Facility (PAF) is a unique feature of the CEB research facility. Drain lines from any laboratory in the wing can be routed into the PAF. Unaltered seawater free from contact with non-indigenous species or chemical contamination can be routed to the seawater drain and returned to the estuary. Seawater contaminated by experiments can be routed to the storage tanks, analyzed, treated as necessary to remove or detoxify contaminants, and released to the City of Newport wastewater treatment facility.
 
For contact information, visit the Pacific Ecological Systems Division website or the EPA Facility Contact List.