Indoor airPLUS and Wildfires
Smoke from wildfires in the United States can adversely affect indoor air quality and put people's health at risk from exposure to particulate matter and other pollutants. During a wildfire, smoke can make the outdoor air unhealthy to breathe, and local officials may advise you to stay indoors during a smoke event. However, some of the smoke from outdoors can enter the home and reduce indoor air quality. Exposure to fine particles, a major component of wildfire smoke, can cause respiratory symptoms and aggravate chronic heart and lung diseases.
Indoor airPLUS is a comprehensive, whole-building system approach to a healthier home. Indoor airPLUS labeled homes are equipped with features that can help provide cleaner air to breathe during wildfire smoke events by reducing exposure to particulate matter and other pollutants. However, additional steps may be necessary to help protect occupants in extreme wildfire events. 
How Indoor airPLUS Homes Protect Against the Harmful Effects of Wildfire Smoke:
 
Source Control
 
Improving source control with a tight building envelope is a critical step to reducing exposure to wildfire smoke inside the home. Air that leaks through your home's building envelope − the outer walls, windows, doors, and other openings – not only wastes energy, but puts you and your family at risk from outdoor pollutants. Indoor airPLUS labeled homes include features that enhance the home building envelope to help keep out hazardous wildfire smoke.
An Indoor airPLUS home builds upon the energy efficiency foundation of ENERGY STAR, which includes numerous prescriptive air sealing requirements. Indoor airPLUS labeled homes may not completely eliminate entry of wildfire smoke into the home, but the Indoor airPLUS Construction Specifications include additional moisture control and pest control requirements that further seal the home from outdoor elements and reduce the transfer of pollutants such as wildfire smoke into the home.
Ventilation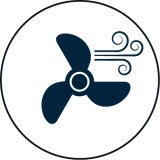 Ventilation is another key component of a healthy home, and Indoor airPLUS homes include whole building mechanical ventilation systems that provide a measured amount of fresh air for the occupants. However, during extreme events, homeowners and/or building managers may need to take additional measures to help control when outdoor air comes into the home. During wildfire events, the occupant can temporarily turn off their mechanical ventilation system to reduce the amount of wildfire smoke entering the home. Then, once the wildfire smoke event has ended, the resident can resume normal ventilation to help dilute indoor air contaminants.
Builders (or building managers) should talk with homeowners or occupants/tenants to discuss mechanical ventilation strategies that may differ from normal operation in an effort to limit effects from wildfire smoke.
Filtration
 
Improved filtration helps remove particles from the indoor environment, including particles contained in wildfire smoke. The Indoor airPLUS Construction Specifications require a minimum MERV 8 filter to be installed in central forced-air HVAC systems, but EPA highly recommends a MERV 13 filter for added protection.
Builders (or building managers) should talk with homeowners or occupants/tenants to discuss how to improve filtration during wildfire smoke events. For example, occupants can set the system fan to operate as often as possible and should plan to replace the filter more often than recommended by the manufacturer. If filters appear heavily soiled when replaced, occupants should consider changing them more frequently. If a filter is dirty and overloaded, it won't work well.
High-efficiency filters help remove small particles from the air that can cause adverse health effects, so upgrading HVAC filtration has the potential to make important improvements in indoor air quality for homeowners. What this means is that your homeowners can breathe cleaner air and have peace of mind knowing their home is equipped to help manage harmful airborne particles, including those from wildfire smoke.
Note: Not all Indoor airPLUS homes include ducted, forced-air heating and cooling systems capable of using high-efficiency filters. For example, some homes are conditioned with ductless mini-splits or hydronic systems. In these cases, EPA recommends the use of a portable air cleaner when a high-efficiency HVAC filter is unavailable, and such a recommendation or requirement may be included in future revisions to the Indoor airPLUS specifications.
Additional Resources
For more information from EPA regarding wildfires, please visit these websites:
Still have questions on how an Indoor airPLUS home can benefit you? Check out the Benefits and Features page or contact us at Indoor_airPLUS@epa.gov