Indoor airPLUS Leader Award Winners

The Indoor airPLUS Leader Awards were created to recognize Indoor airPLUS Program partners who construct and verify Indoor airPLUS homes, designed and built for improved indoor air quality. This annual award recognizes market leading organizations who promote safer, healthier, and more comfortable indoor environments by participating with Indoor airPLUS and offering enhanced indoor air quality protections for their new homebuyers.
EPA is presenting a new award this year – the Indoor airPLUS Leader of the Year Award – to just one outstanding builder and Rater partner, selected from the pool of Leader Award winners.
The Indoor airPLUS Leader Awards will be formally presented along with the announcement of the Leader of the Year Winners at the EEBA High Performance Home Summit, October 16-18, 2018 in San Diego, California. 
Note: To view previous year winners, please visit Past Indoor airPLUS Leader Award Winners.
Congratulations to the 2018 Indoor airPLUS Leader Award Winners!
The following links exit the site Exit
Builders
Affordable Builder Winner
Thrive Home Builders, Denver CO
Thrive Home Builders  Exithas been able to develop a portfolio of new homes that include both market rate housing and income-qualified affordable housing, meeting the needs of a wide variety of homebuyers. Building over 25 affordable units in 2017 (with many more coming in 2018), Thrive is being recognized as an Indoor airPLUS Leader Award Winner in the Affordable category for the first time. Thrive is proud to offer their Elements Collection of 2-story rowhomes in Denver, Colorado, designated for income-qualified households, with both the EPA's Indoor airPLUS label and the DOE's Zero Energy Ready Home certification. Congratulations, Thrive Home Builders, on being a committed partner and providing a well-constructed, healthy home at an affordable price point.
---
Small Builder Winner
C&B Custom Homes, Cottonwood, AZ
C&B Custom Homes Exithas been in business in Arizona since 1974, with four generations of the Bullock Family working in the construction industry. Their team of subcontractors have been working together for the past 10 years perfecting their strategies in building the best energy-efficient, health-ready homes possible. Through their teamwork they have built more than 100 custom-built Indoor airPLUS homes. It is their continued commitment and success in their market that has driven their competitors to begin building to both ENERGY STAR and Indoor airPLUS, truly epitomizing the namesake of this award. Congratulations, C&B Custom Homes--EPA is proud to have  such a dedicated partner earning a 5th consecutive Indoor airPLUS Leader Award!
---
Charis Homes, North Canton, OH
Discovering healthier, high-performance homes through their participation in DOE's Zero Energy Ready Home Program, Charis Homes Exit joined Indoor airPLUS in the beginning of 2017 and instantly became an active and enthusiastic partner. Aside from their attention to detail in design and construction, Charis Homes also participates in their community and plays an important role in educating the public. They hold public seminars, participate in events with their local HBA, and share programmatic and educational information through their social media pages. EPA is proud to welcome Charis Homes to the ranks of the Indoor airPLUS Leader Award winners for the first time in 2018.
---
Large Builder Winners
Fulton Homes, Tempe, AZ

Since joining the program in 2014,  Fulton Homes Exit has gone from building just over 60 Indoor airPLUS labeled homes their first year to over 650 labeled homes in 2017 throughout the greater Phoenix area. A now four-time Leader Award winner, Fulton Homes has proven to be a true champion for Indoor airPLUS. Program awareness and education about indoor air quality has been a huge priority for Fulton Homes this past year. With an increased focus to ensure all potential clients and homebuyers are aware of their healthy homes message, Fulton Homes has produced abundant signage, stickers, and collaterals with the Indoor airPLUS brand to highlight their partnership and tell their story. EPA is delighted to present the Indoor airPLUS Leader Award to Fulton Homes again in 2018--congratulations!
Mandalay Homes, Phoenix, AZ
As a committed partner since 2014, Mandalay Homes Exitis now a four-time winner of the Indoor airPLUS Leader Award. Having labeled over 500 Indoor airPLUS homes in Arizona, Mandalay Homes proudly builds to the EPA Indoor airPLUS Construction Specifications in every home because they feel it is the right thing to do--both for them as a business, and for every home buyer they serve. Recognizing an increased market focus on indoor air quality in recent years, Mandalay actively educates their customers about the benefits of an Indoor airPLUS qualified home and is proud to respond to client concerns and questions with real answers and meaningful solutions. Congratulations from the Indoor airPLUS team at EPA--keep up the great work!
Thrive Home Builders, Denver, CO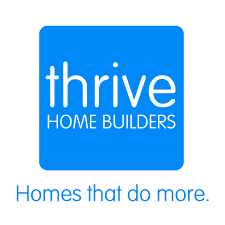 Thrive Home Builders Exit has been fully committed to Indoor airPLUS by building 100% of their homes to the Indoor airPLUS Construction Specifications and using their EPA partnership as the foundation of their consumer messaging. Constructing over 100 Indoor airPLUS labeled homes annually over the last three years, Thrive continues to lead the market and prove their commitment to providing innovative and healthy homes to their customers in and around Denver, Colorado. With creative and thoughtful website messaging and engaging health displays in their model homes, Thrive has been able to clearly and effectively articulate the value of the Indoor airPLUS Program with their clients. EPA looks forward to continuing to support the great work of Thrive Home Builders--congratulations!
---
Raters
E3 Energy, LLC, Flagstaff, AZ
For the past 9 years, E3 Energy Exit has been awarded the Indoor airPLUS Leader Award for their continued commitment in working with builder partners throughout Arizona to construct and verify over 1,000 Indoor airPLUS labeled homes. As experts in their field of energy efficiency and indoor air quality, E3 Energy works with builders on making the step from ENERGY STAR to Indoor airPLUS by providing guidance for each program specification, clearly explaining the requirements and how to achieve them. Additionally, E3 Energy understands the importance of educating the public about healthier homes with an engaging website, showcasing their services for high-performance home builders. EPA looks forward to continuing our strong partnership for years to come--congratulations!
Energy Inspectors, Las Vegas, NV
Through their deep understanding of building science and their client's needs, Energy Inspectors Exit has helped multiple production builder clients make the 100% Commitment to Indoor airPLUS. As a program champion committed to pushing builders to new heights, Energy Inspectors has verified over 3,000 Indoor airPLUS qualified homes throughout California and Arizona. As they continue to drive the market forward toward healthier homes, Energy Inspectors has also been collaborating with manufacturers and material suppliers on how to best provide the equipment and materials their builder clients need to meet the requirements of a variety of high-performance building programs including Indoor airPLUS. Congratulations to Energy Inspectors on another successful year and your 2018 Indoor airPLUS Leader Award!
Steven Winter Associates, Inc., Norwalk, CT
Since joining the program in 2010, Steven Winter Associates Exit has verified over 500 Indoor airPLUS homes along the East Coast. As a leader in building science training, education, and verification services, Steven Winter Associates regularly presents at national industry conferences and events. This past year saw a heavy emphasis on healthy building presentations, featuring Indoor airPLUS alongside recent research studies and complementary health-focused rating systems. Staff at Steven Winter Associates participated in at least nine events in four states, targeting energy efficiency and green building engagements to bring a focus on healthy indoor environments into those important conversations. The Indoor airPLUS team at EPA are thrilled to award Steven Winter Associates again in 2018 for all their great work--congratulations!