Indoor airPLUS Leader Awards
Applications Now Available!
Apply by June 10
, 2022
Rater and builder winners are featured on the Indoor airPLUS website and gain access to special recognition marketing materials, such as Leader Award banners, press releases, and featured social media posts. The Indoor airPLUS Leader Award Winners are recognized as market-leading program partners who construct and verify Indoor airPLUS homes designed and built for improved indoor air quality.
---
Recognition Opportunities: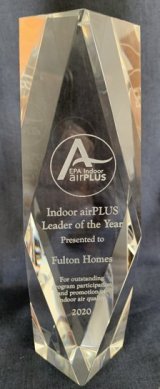 EPA will announce the Leader Award winners this summer at the 2022 EEBA High Performance Home Summit, September 20-22, but only one builder and one rater will be presented with the Indoor airPLUS Leader of the Year Award at the EEBA Summit.
EPA will also present two Indoor airPLUS Leader of the Year Awards to an outstanding builder partner and rater partner, selected from the pool of Leader Award winners. The builder winner may be selected from any of the builder categories.
The builder and rater Leaders of the Year will be chosen for their Indoor airPLUS contributions over the previous year, based on the evidence and quality of their Leader Award application.  This is an excellent opportunity to showcase your great work at a nationally recognized conference for high performance building! These two Leader of the Year winners will be announced in-person during the award ceremony at the EEBA Summit.
---
Eligibility:
Completed applications and supplemental collateral should be submitted to Indoor_airPLUS@epa.gov by 8 pm EDT, June 10, 2022.
All applicants must submit a complete application, be in good standing with EPA, and meet the following minimum Indoor airPLUS participation levels:
*Builders of income-eligible housing designated for lower-income households whose construction is typically financially subsidized by federal, state, or local housing agencies, usually via grants, loans, tax credits, and/or tax-exempt bonds. Please contact Indoor_airPLUS@epa.gov with eligibility questions.
Eligible partners must submit a complete award application and be in good standing with EPA regarding compliance with all applicable regulations. Raters must also be in good standing with their applicable oversight organization (e.g. RESNET).