Indoor airPLUS Version 2
Indoor airPLUS Version 2, Certification and Gold Specifications
In February 2023, EPA proposed updates to the Indoor airPLUS program including a two-tiered certification program and other changes to strengthen and update program specifications and requirements. These program updates supersede the draft updates released in December 2020, and are informed by public comment received on the 2020 proposal. Additionally, EPA is proposing changes to the training requirements for verifiers, and a Home Certification Organization model to improve quality assurance, as well as a 5-year expiration date to the new Indoor airPLUS labels with voluntary recertification by the home/building owner. See the Executive Summary documents below, along with the draft National Program Requirements and Certification System, for additional information.
Please see this recorded presentation for an overview of Indoor airPLUS Version 2, and a walkthrough of this webpage
Under the proposed Indoor airPLUS Version 2:
The new "Indoor airPLUS Certification" specifications focus on fundamental strategies to improve indoor air quality without a pre-requisite of ENERGY STAR certification.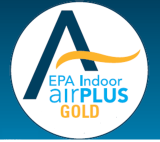 The new "Indoor airPLUS Gold" specifications include more advanced protections for improved indoor air quality in conjunction with ENERGY STAR certification as a prerequisite.
Indoor airPLUS Version 2, 2023 Public Comment Documents
Comments on the following documents may be submitted through April 24, 2023.
Executive Summary and Highlights
Program Requirements and Specifications
Certification Protocol and System
Additional Resources
Comment Submission Instructions 
To provide comments, please either use the document below or directly email any comments or questions to Indoor_airPLUS@epa.gov. 
Please use the subject line: "Public Comment: Indoor airPLUS Version 2."
Timeline
Following this public comment period, the final Indoor airPLUS Certification and Gold specifications are anticipated to be released and ready for partners to begin implementation in January 2024. During the 12-month implementation period beginning January 2024, partners may continue to use Indoor airPLUS Construction Specifications Version 1, Rev.4 or begin to use either the new Indoor airPLUS Certification Specifications, or the new Indoor airPLUS Gold Specifications to achieve one of the Indoor airPLUS labels, if finalized. EPA anticipates that the Indoor airPLUS Construction Specifications Version 1, Rev. 4 will be sunset by January 2025. These dates are subject to change.
Sign up for Email Updates on Indoor airPLUS.