Cherokee County National Priorities List (NPL) Superfund Site, Cherokee County, Kansas - Fact Sheet, July 2022
Sitewide Assessment and Site Update - Free Lead Testing Opportunity
Sitewide Assessment Overview

During summer 2022, EPA is kicking off a Sitewide Assessment of the Cherokee County National Priorities List (NPL) Superfund Site (site) to test for potential lead contamination throughout the area. If your property is located within the site boundary (see two site maps at right), EPA can test your property for FREE – including residential yards, private drinking water wells (groundwater), and other areas (such as playgrounds, agricultural areas, streams, and mine wastes). EPA is testing for heavy metals associated with historic mining in the area, such as lead, zinc and cadmium. Lead is the primary contaminant of concern.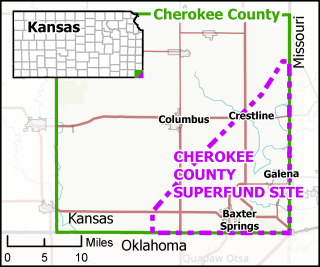 EPA Completed Checkup of Site's Cleanup and 

Recommended Follow-Up Actions
Reducing childhood lead exposure is one of EPA's top priorities. Years ago, EPA completed approximately 800 residential yard cleanups (also known as remedial actions) at the site. EPA's most recent checkup of the site's remedy, also known as a Five-Year Review, was inconclusive due to incomplete records on current site conditions. The 2020 Five-Year Review Report also recommended follow-up actions to continue identifying people who are at risk from lead contamination, places that may be impacted, and implementing actions to reduce those risks. EPA is committed to following the best available science as we move forward at the site.
How Can I Participate in Lead Sampling?
Contact us today about FREE lead testing!
If your property has not been tested recently, and you would like to have your soil, residential water wells, and other areas analyzed for lead concentrations, please sign up for testing at no cost to the property owner! EPA needs permission from property owners to test for lead contamination.
To sign up, fill out an access agreement (permission form) by contacting EPA or EPA's contractor, TetraTech:
Call EPA toll-free: 1-800-223-0425
Or call TetraTech: 620-284-1357
Email EPA: R7-TSMD@epa.gov
For EPA Site Contacts, see below.
PWT-Baywest is another EPA contractor for the site. For more information, visit EPA's Site Profile Page.
Why Is Lead Contamination a Concern?
Lead is a toxic metal that is harmful if inhaled or swallowed and can pose serious health risks, particularly to children under 7 years old, as well as pregnant women and nursing mothers. Lead exposure can cause a range of adverse health effects, from behavioral disorders and learning disabilities to seizures and death, putting young children at the greatest risk because their brains and nervous systems are still developing.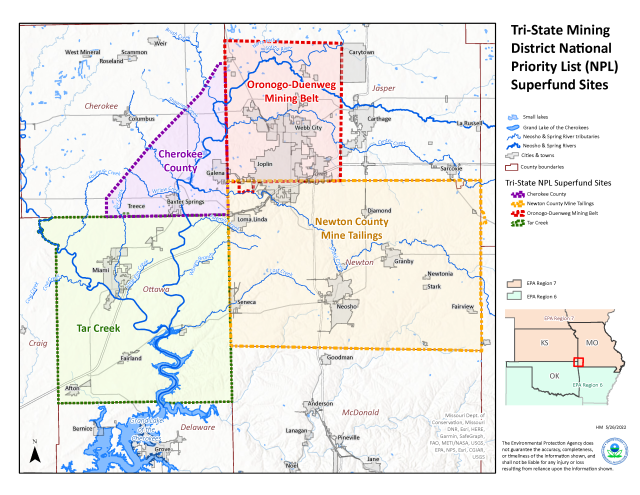 Children can get lead into their bodies by putting their hands or toys in their mouths after touching lead-contaminated soil and dust.
Lead mine waste was dispersed throughout the area from historic mining activities and can pose significant health risks.
Where Is the Site Located?
The site is approximately 115 square miles in size and includes the Kansas portion of the Tri-State Mining District (TSMD), which lies within the extreme southeast corner of the state (see map at right). The TSMD encompasses approximately 2,500 square miles in Oklahoma, Kansas and Missouri, which at one time was one of the world's largest producer of lead and zinc. Four NPL Superfund sites intersect in the Spring River and Neosho River watersheds in the TSMD.
Annual Childhood Blood Lead Testing
EPA encourages parents and caregivers to have their children tested for lead poisoning at least once per year. The only way to know if your child has an elevated blood lead level is to have his or her blood tested. Talk to your pediatrician, general physician, or local health department about testing your child. You can contact the Cherokee County Health Department, 110 East Walnut, Columbus, KS 66725; 620-429-3087. Visit their website (testing by appointment). Or you can contact the Community Health Center of Southeast Kansas. For their locations, go online.
Protect Your Family from Lead Hazards
Lead poisoning can cause adverse health effects in infants and young children, including but not limited to:
Slowed physical growth
Hearing problems
Nervous system damage
Learning difficulties
Behavioral problems, including hyperactivity (easily excitable or upset, unable to concentrate, short attention span)
Decreased intelligence (I.Q.) scores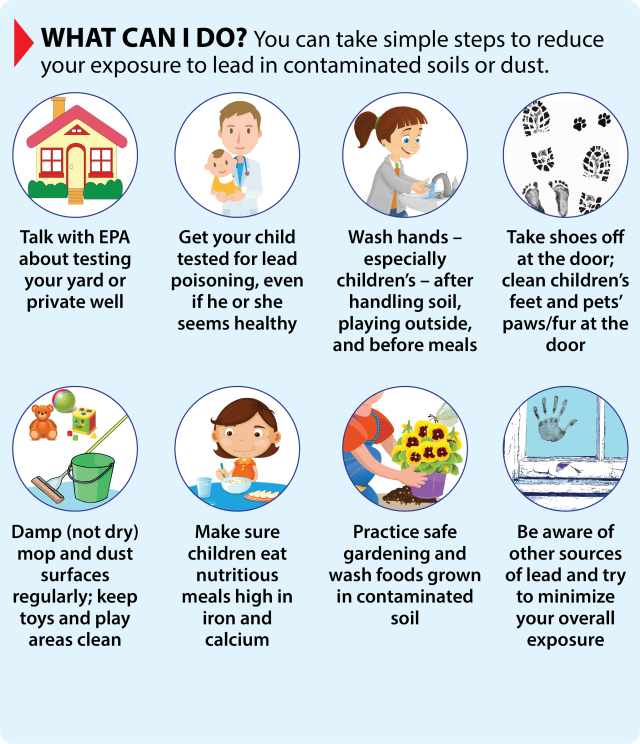 In general, lead exposure and its effects can be reduced by following these steps:
Contact EPA about testing your yard or private well. 
Get your child tested for lead poisoning, even if he or she seems healthy. 
Wash hands after playing outside and before meals – especially children's hands.
Clean or remove shoes before entering your home to not track in lead from soil.
Clean floors, window frames, window sills, and other surfaces weekly. Use a mop or sponge with warm water and general all-purpose cleaner. 
Thoroughly rinse sponges and mop heads often during cleaning of dirty or dusty areas, and again afterward.
Keep play areas clean. Wash bottles, pacifiers, toys, and stuffed animals regularly.
Make sure that children avoid fatty or high-fat foods and eat nutritious meals high in iron and calcium. Children with good diets absorb less lead.
Practice safe gardening; wash and peel foods grown in contaminated soil.
Be aware of other sources of lead, such as lead-based paint, and try to minimize your overall exposure.
For more information about lead, visit:
What Has EPA Done So Far?

The site includes mine waste contamination in several former mining areas. To date, approximately 12.9 million cubic yards of mine waste and contaminated soil have been excavated from the different operable units, and 2,747 acres of mined land have been restored to beneficial use. Past response actions addressed nearly 800 lead-contaminated residential yards at the site.
EPA added the site to the NPL in 1983, and removal actions began in 1987 on what would become Operable Unit 1 (OU 01). EPA later divided the site into nine OUs, as follows:
OU 01

– Galena Alternate Water Supply

OU 02

– Spring River Basin

OU 03

– Baxter Springs

OU 04

– Treece

OU 05

– Galena Groundwater/Surface Water

OU 06

– Badger, Lawton, Waco, and Crestline

OU 07

– Galena Residential Soils

OU 08

– Railroads

OU 09

– Tar Creek Watershed
Watershed Update
EPA Regions 6 and 7, in conjunction with other federal, state, and local agencies, Native American Tribes, and trustees, are currently collecting, evaluating, and characterizing human health and ecological risk data throughout the Spring River and Neosho River watersheds. Four TSMD NPL Superfund sites and several different operable units address historic mining wastes within in-stream sediments. A cleanup decision to address the surface water and sediment of large streams at the TSMD sites has not been made. As we approach a decision, we are seeking public feedback before we make a final cleanup selection (remedy). We welcome your input and questions. Contact EPA for more information. (The Tri-State Mining District sites map above indicates the watersheds.)
Partnerships
Various organizations work to protect families from lead hazards. EPA collaborates with federal, tribal, state, and local partners, such as the Kansas Department of Health and Environment and the Agency for Toxic Substances and Disease Registry.
Technical Assistance for Communities
EPA wants to help affected communities understand the technical information related to a site. EPA's Technical Assistance Grant program provides up to $50,000 for a qualified citizens group to hire independent technical advisors. Contact EPA for details about technical assistance opportunities.
Where Can I Find Additional Information?
Site project information is available to the public at web repositories. Document collections were developed by EPA to form a clear understanding of the decisions to take actions at the site. The Administrative Record (AR) is the official site file that contains the technical documents with respect to the response actions at this site. To view cleanup documents, including the AR, please visit EPA's Site Profile Page. Fact Sheets for Kansas cleanup sites are available online. Check out the Site Assessment video on YouTube.
If you do not have internet access, you can view these documents during normal business hours at these locations:
Galena Public Library
210 W. 7th St.
Galena, KS 66739
620-783-5132
Johnson Public Library
210 W. 10th St.
Baxter Springs, KS 66713
620-856-5591
EPA Region 7 Records Center
11201 Renner Boulevard
Lenexa, KS 66219
1-800-223-0425
EPA Site Contacts
If you have questions about this Fact Sheet and would like to receive site updates, and/or need additional information, please contact:
Elizabeth Kramer
Community Involvement Coordinator
U.S. EPA Region 7 (ORA/OPA)
11201 Renner Boulevard
Lenexa, KS 66219
Phone: 913-551-7186
Toll-free: 1-800-223-0425
Email: kramer.elizabeth@epa.gov or R7-TSMD@epa.gov
For technical EPA site information, please contact:
Todd Campbell
Remedial Project Manager
U.S. EPA Region 7 (SEMD/LMSE/MSRS)
11201 Renner Boulevard
Lenexa, KS 66219
Phone: 913-551-7115
Toll-free: 1-800-223-0425
Email: campbell.todd@epa.gov
Liz Hagenmaier
Remedial Project Manager
U.S. EPA Region 7 (SEMD/LMSE/MSRS)
11201 Renner Boulevard
Lenexa, KS 66219
Phone: 913-551-7939
Toll-free: 1-800-223-0425
Email: hagenmaier.elizabeth@epa.gov