EPA Region 7 Research Spotlight: Studying Fire in the Flint Hills
– EPA Region 7 Feature –
By Jenn Little, Office of Public Affairs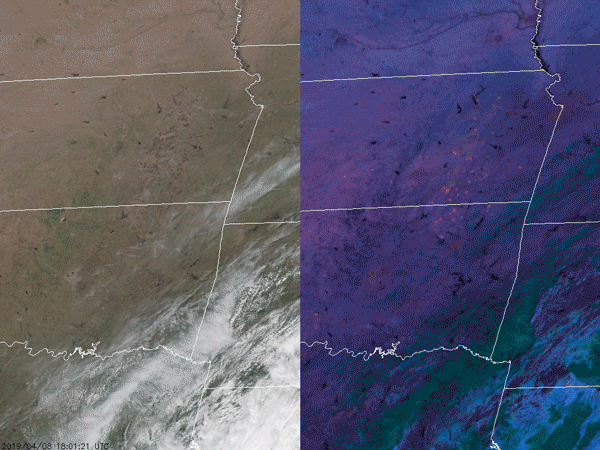 In the early 2000s, air quality monitors in the Midwest drew attention when they recorded unusually high levels of ozone during the month of April.
"We wondered why ozone levels exceeded EPA's National Ambient Air Quality Standards (NAAQS). During a typical Kansas spring, temperatures are cooler, cloud cover is constant, and winds are high. April is not the time of year we expect to see monitors reading high for ozone," said EPA Region 7 Agricultural Air Coordinator Gina Grier.
Ozone levels are usually highest during summer months because high temperatures, sunlight, and stagnant air react with oxides of nitrogen and volatile organic compounds (VOCs) to create ozone pollution. High levels of ozone can cause health problems for people with asthma, children, older adults, or those who work outdoors.
"After analyzing weather pattern models, we were able to confirm that the smoke emissions from the Flint Hills fires were impacting air quality in downwind Kansas and Missouri communities," Grier said. "That's when Region 7's Air Quality Planning Branch began considering what to do about it."
Burning in the Flint Hills: A Time-Honored Tradition
The Flint Hills, which span from northern Kansas into Oklahoma, are a tallgrass prairie ecosystem forged by fire. Native Americans routinely burned prairie to entice bison, who were attracted to the fresh grass sprouting up from scorched hills. Mother Nature also set fires through lightning strikes and wildfires. As a result, a lush but delicate ecosystem of grasses emerged, becoming dependent on fire to sustain a treeless ecosystem.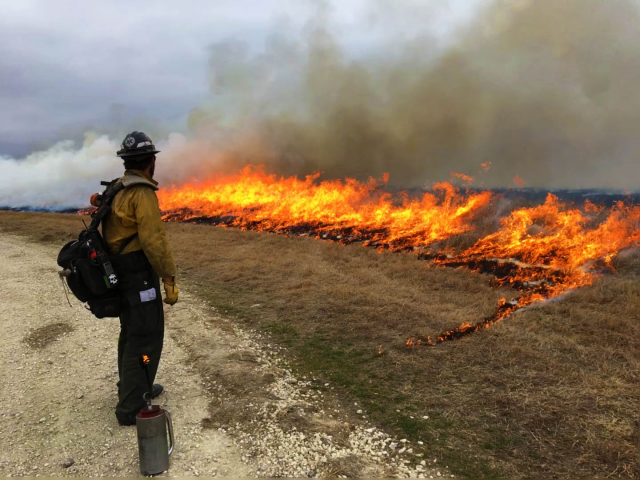 Of the 400,000 square miles of tallgrass prairie that once covered North America, less than 4% remains, primarily in the Flint Hills. This makes it one of the most endangered ecosystems in the world.
Today, the lands support a rich cattle ranching culture, where more than a million cattle graze each year. The prairie grasses are most nutritious during their first 100 days of growth, so prescribed burning provides cattle with fresh, tender grass as it emerges from the jet-black prairie. Ranchers also use fire to keep out encroaching species like the eastern red cedar.
Tackling Air Quality Concerns Through Research
In the 1960s, research concluded that burning in early April was the best time to promote the growth of desirable grazing grasses, just prior to stocking beef cattle on the native prairie rangelands. As a result, most ranchers today burn during that time. When over 500,000 acres burn in a condensed time frame, and winds are light and cloud cover is heavy, stagnant smoke conditions can lead to unhealthy air quality impacts on downwind communities like Topeka, Wichita, Kansas City, and Lincoln.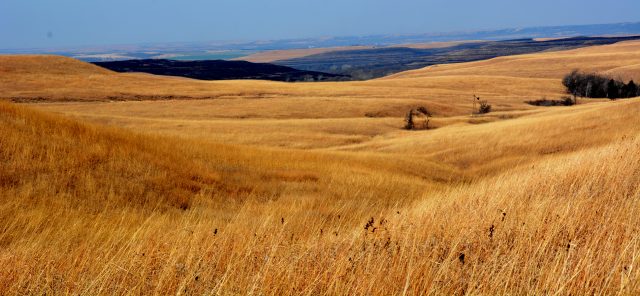 However, new research suggests that spring may not be the only season when prescribed burning can productively take place. In fact, ongoing studies show that expanding the "burn window" into late summer and early fall has the potential to better manage invasive species and reduce the impact of smoke emissions on public health. Keep reading to see how research by EPA and the Kansas Department of Health and Environment (KDHE)on the land, in the air, and within communities hopes to make a difference.
Studying the Land
It's understood that spreading out burning throughout the year, instead of only during the condensed April time frame, can reduce air quality impacts. But the question remained: Would burning during another time period provide the same agricultural benefits as burning in April? Research has shown that it might.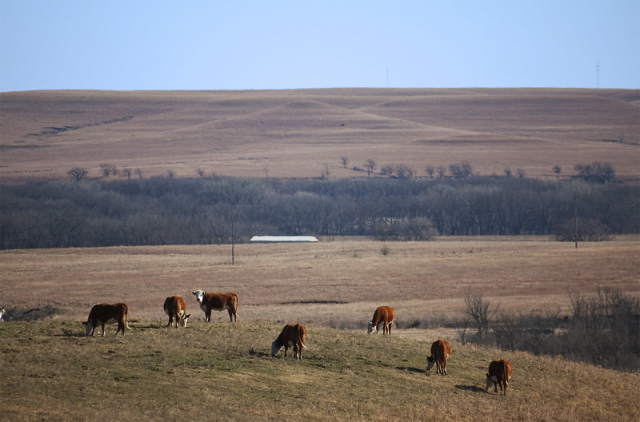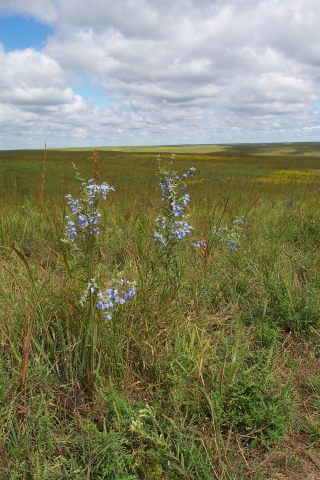 Researchers from Kansas State Universityand Oklahoma State Universityhave studied pastures that burn in the growing season and found that cattle still benefit from the nutrition that the grasses provide, specifically when rangeland is burnt between Aug. 15 and Sept. 15. EPA Region 7 actively encourages opening the burn window, which reduces the concentration and impact of the smoke on downwind communities.
Historically, the prairie fires didn't happen only during the spring. It was whenever the storms, lightning strikes, or fires set by Native Americans occurred," Grier said. "Research shows that burning outside of April can still be beneficial."
Additionally, late-season burns may be more effective at controlling invasive species, namely sericea lespedeza (Lespedeza cuneata), an aggressive legume that was planted for ground cover along roadways.
"Sericea lespedeza is a statewide noxious weed. By burning late summer or early fall, when the plant is at its height of maturity and the seeds are developed, there's greater potential to stress the plant and minimize the seed bank," Grier said.
This discovery could result in significant cost savings for ranchers. To control an invasive species, pesticides can cost upwards of $40 an acre. Fire, however, costs less than a dollar an acre. Ranchers can now use this research to maximize their control over this species that is replacing high-quality native grasses and depleting the prairie ecosystem.
Many believe that without regular burning, the tallgrass prairie would be permanently overtaken by invasive species in just 30 years. This makes burning not only an important agricultural tool, but a crucial part of conserving the Flint Hills.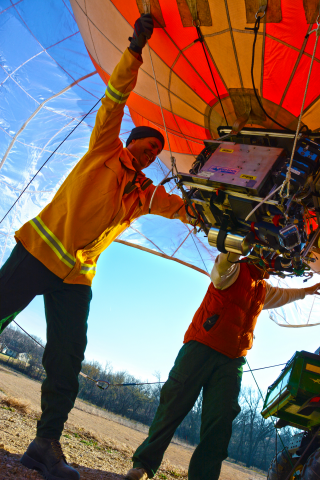 Studying the Air
Since 2016, EPA has conducted air sampling during both the traditional spring peak burn season, as well as during fires in the fall. Researchers collect data on key air pollutants, including particulate matter (PM), which can have severe health consequences for vulnerable populations, like children with asthma or adults with chronic obstructive pulmonary disease (COPD).
Data collected from aerial and ground sampling systems provides critical emissions data that allows researchers to predict the best times, locations, and conditions to burn.
For example, researchers have been able to determine the best weather conditions for smoke dispersal, encouraging ranchers to burn on days when smoke is less likely to linger in the air and impact downwind communities.
Looking ahead, EPA plans to continue research that looks at differences in smoke emissions between dry fuel (vegetation) and green fuel. This will help EPA understand combustion efficiency and smoke emission impacts on air quality
Partnerships Provide Tools to Ranchers and the Public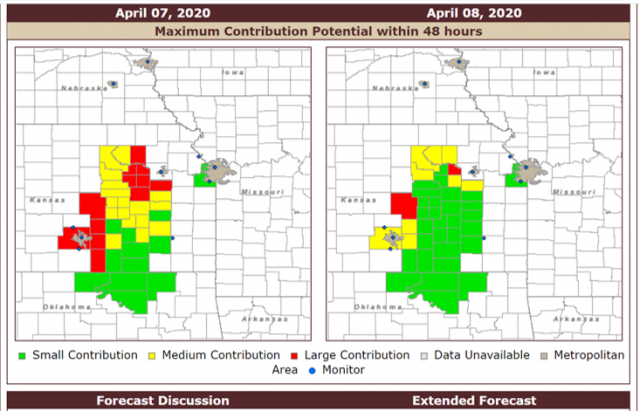 In 2010, EPA supported the cooperative efforts of KDHE and other stakeholders in the development of the Flint Hills Smoke Management Plan. This plan equips ranchers with comprehensive research on fire management practices that reduce the impact of smoke emissions. The plan encourages farmers to consider conditions like wind, relative humidity, and timing. One of its goals is to ensure that cities impacted by burning in the Flint Hills meet EPA's NAAQS.
An important tool facilitated by KDHE is the Smoke Model, a map that provides ranchers with up-to-date information on the best times to burn, given anticipated weather conditions in their region. The colors on the map indicate where burning is, and is not, advised at that time to minimize air quality impacts for downwind communities.
Looking Ahead
Researchers hope new data on burning in late summer and early fall will provide ranchers with added confidence to spread out prescribed burns throughout the year.
"We have to burn or we lose our tallgrass prairies," Grier said. "However, we also know that it's our job to protect public health and the environment. If we spread these fires out, we can reduce air quality impacts on surrounding communities while continuing to use fire – our most natural management tool – to preserve our vulnerable tallgrass prairie ecosystem."
Learn more about the Tallgrass Prairie National Preserve in Kansas
---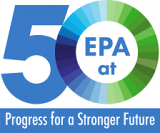 As part of our 50th anniversary, EPA is celebrating research and science in August 2020 with the theme "Research for a Healthier Environment."
Learn more about research at EPA.