Harbor Craft (HC) Best Practices to Improve Air Quality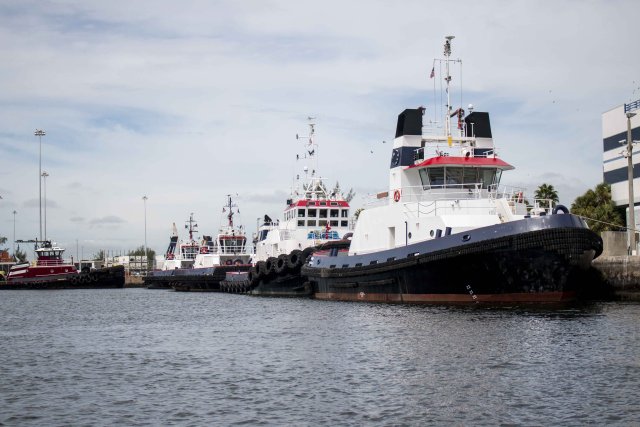 This webpage is one in a series of pages that provide information on best practices at ports to reduce diesel pollution and associated health impacts. Select another topic from the menu above to explore other clean air best practices in the ports sector.
Harbor craft (HC) play an important role in port operations, the economy, and air quality. Harbor craft include a wide variety of vessels such as commercial fishing boats, tugs, ferries, patrol boats, workboats, dredges, pilot boats, and barges. These vessels may do a variety of jobs in and near a single port or region, such as assisting in maneuvering ocean-going vessels (OGVs) around the harbor, transporting crew and supplies to offshore facilities, moving cargo and people into and out of the port harbor area, and providing fuel to OGVs.  Typically, harbor craft have Category 1 or 2 diesel engines (those with less than 30 liters per cylinder displacement).  This page describes a number of best practices that port authorities, vessel operators, and other port operators can adopt to reduce port-related emissions from harbor craft.
On this page:
Clean Air Best Practices: Appropriateness and Effectiveness
While the examples on this web page are not exhaustive, they are intended to highlight some of the more effective strategies that have been adopted by U.S. ports. The appropriateness and effectiveness of these strategies will vary for different ports based on many factors, including type of operation, fleet makeup, local air quality and pollutant exposure, and community and port priorities. This web page will be updated over time as new clean air practices emerge and information evolves.
---
Use shore power
Shore power can be used by harbor craft to plug into the local electricity grid and turn off auxiliary engines while at-dock. When using shore power, auxiliary systems such as lighting, air conditioning, and crew berths use energy from the local electrical grid. Shore power typically produces zero onsite emissions.  Under the right circumstances when a vessel is connected to shore power, overall pollutant emissions can be significantly reduced when utilizing power from the regional electricity grid (depending on the mix of energy sources used to generate electricity). The power generation source that supplies electricity to shore power applications may or may not be within the confines of the port and can be located outside the local air shed. The relative cost of using shore power instead of a vessel's own fuel sources is more attractive when fuel costs are greater than electricity costs. 
Shore power systems are categorized as either high voltage or low voltage.  High voltage systems tend to be for ocean-going vessels. Low voltage systems (typically < 1,000 Volts) provide power to serve harbor craft, and it is good practice to adhere to the draft low-voltage international standards (ISO/IEC/IEEE 80005-3:2014).   There are at least six ports in the U.S. using low voltage systems, serving tugs and fishing vessels.
Port operators can consider increasing the use of shore power over time by developing landside infrastructure and providing incentives for vessel operators working around the port to install shore power technology.  Port operators can also consider integrating electrical infrastructure (e.g. conduits for potential future electrification projects) as part of major infrastructure upgrades or expansions and implementing operating protocols that minimize the time it takes for vessels to connect to shore power.
 

Technical Resources

Tips on Performance Targets and Data Collection
Consider setting a goal to increase the fraction of vessels that connect to shore power, and/or complementary goals that can help achieve this overarching goal such as:

Increasing the number or percentage of vessels visiting or working at your port with shore power capabilities.
Increasing the number of shore power connections at your port.
Increasing the percent of time a vessel is connected to shore power while at berth.

Collect and track data on activity related to these goals on a regular basis (e.g., annually).
 

Real-World Examples
Accelerate Harbor Craft Engine Upgrades
Newer harbor craft engines pollute significantly less than older models, and there are a variety of ways to upgrade older engines to reduce emissions. In 2008, EPA finalized regulatory standards for new commercial marine engines that reduce particulate matter emissions by as much as 90 percent and oxides of nitrogen emissions by as much as 80 percent when fully implemented. EPA requirements may also apply for in-use marine engines with power over 600KW when they are remanufactured. Newer engine technologies include exhaust gas recirculation (EGR) and selective catalytic reduction (SCR). Hybrid diesel-electric and fully electric propulsion engines are also available in certain types of new vessels, such as ferries and tugboats, and offer additional advantages such as reduced noise and improved efficiency. Approaches to accelerating harbor craft engine upgrades sooner than they would otherwise generally include:
Replacing an older (uncontrolled, Tier 1, or Tier 2) engine having power over 600 kW (805 hp) with a new Tier 4 engine, or with a new Tier 3 engine if Tier 4 is not feasible.

Replacing an older (uncontrolled or Tier 1) engine with power below 600 kW with a new Tier 3 engine.

Installing an EPA-certified remanufacturing system to reduce PM emissions from Tier 2 or older engines, and even going further to select a remanufacture system that also reduces NOx emissions.

Retiring an older vessel and replacing it with a new vessel that has engines certified to current standards.
While upgrading any older model will yield emissions reductions and may reduce fuel consumption, you can maximize benefits by upgrading the oldest engines with the greatest loads and highest annual hours of operation first. Consistent with provisions in EPA's Diesel Emissions Reduction Act (DERA) program, ideally the engine you're upgrading should have operated at least 1,000 hours per year for the past two years and have at least three years of remaining life to maximize emissions benefits.

Technical Resources

Tips on Performance Targets and Data Collection
Consider setting a goal to increase the average Tier performance level of engines on harbor craft operating at the port, or the percent of annual service hours for vessels with Tier 3 or higher engines.
Track the annual hours of service and engine Tier performance level for each harbor craft operating at the port.
 

Real-World Examples
Commercial Marine Vessel Engine Replacement Program at the Ports of New York and New Jersey