Technical Resources for Ports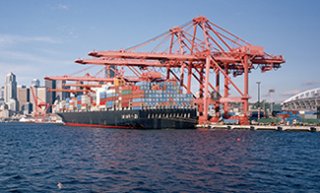 Assessments and Strategies
Port Operational Strategies
This series of port operational strategy fact sheets provides information to inform port stakeholders about potential emission reduction strategies. Each fact sheet contains basic information about the strategy, emission impacts, cost components, and example programs. While each strategy can achieve benefits on its own, implementing them together could create synergies.

This guidance describes the latest, state-of-the-science methodologies for preparing port-related emissions inventory for the following mobile source sectors: ocean-going vessels, harbor craft, recreational marine, cargo handling equipment, onroad vehicles, and rail. This guidance may be used for regulatory, voluntary, and research purposes.

This assessment reviews the availability of shore power at ports, characterizes the technical and operational aspects of shore power systems, and presents a new methodology for estimating emission reductions from shore power systems for vessels docked and connected to shore power.
Assessment of Fuel Cell Technologies at Ports
This report assesses the potential for fuel cell technologies to replace diesel engines across a variety of port applications and thus significantly reduce diesel emissions. The report characterizes fuel cell systems, their history, and their potential utilization at ports and compares their emissions, cost, maintenance, and other features to traditional diesel applications. Assessment of Fuel Cell Technologies at Ports (pdf) (July 2022, EPA-420-R-22-013)


Key findings include:

Fuel cell technology promises significant advantages over current diesel-fueled port equipment for a broad array of port applications, including lower criteria pollutant, greenhouse gas, and noise emissions; higher energy efficiency and lower petroleum use; diverse fueling capability; and potentially lower maintenance requirements.
Fuel cell technologies are commercially available for forklifts and stationary power applications at ports, and are under development for drayage trucks, yard tractors, cargo handlers (top loaders), switcher locomotives, and marine vessels such as harbor craft.
In most cases, fuel cell equipment in port applications achieve significant lifecycle emission reductions for both air pollutants and greenhouse gases, however emissions benefits vary depending on how the hydrogen is produced and transported.
Due to its early stage of development, higher hydrogen fuel prices, lower volume production, and current delivery options, port fuel cell equipment currently costs more to operate relative to comparable diesel-fueled equipment but costs are expected to decrease over time.
 

his national scale assessment examines current and future emissions in port areas; explores available strategies to reduce emissions from port-related vehicles; and provides an assessment tool for state and local governments, ports and port operators, Tribes, communities, and other stakeholders.
Northwest Ports Clean Air Strategy
This case history provides an overview of the Northwest Ports Clean Air Strategy goals, progress toward meeting performance targets and outcomes that have reduced emissions and improved air quality in the Port of Seattle, Port of Tacoma, and Port Metro Vancouver, Canada.
Other Resources
EPA Partnership with Port Everglades
This partnership seeks to develop baseline and future year emission inventories and to evaluate various effective technology and operational strategy scenarios for seaports.
Verified Technologies
View EPA-verified technologies and retrofit technologies that save fuel and reduce emissions.