America Recycles Day 2018
This America Recycles Day, November 15, EPA recognizes our nation's progress on recycling, which has contributed to American prosperity. The recycling rate has more than tripled over the last 30 years to the current rate of 35 percent, and this steady growth has created jobs and wages for Americans, and has supported community development. For example, according to our most recent data, recycling and reuse activities in the United States accounted for 757,000 jobs and produced $36 billion in wages in a single year.
There is opportunity for even greater contribution, as the most recent data shows that materials worth $9 billion are thrown away each year. EPA encourages every American to recycle more and trash less to minimize environmental effects, create jobs and strengthen the economy. Please check out our Frequent Questions on Recycling page for information on ways you can contribute and where.
On this page:
---
Benefits of Recycling
Reduces the amount of waste sent to landfills and incinerators
Conserves natural resources such as timber, water and minerals
Increases economic security by tapping a domestic source of materials
Prevents pollution by reducing the need to collect new raw materials
Saves energy
Supports American manufacturing and conserves valuable resources
Helps create jobs in the recycling and manufacturing industries in the United States
---
What You Can Do To Reduce Waste                                      
Find out what you can do to help make a difference in our environment every day. Whether you're at home, on the go, in the office, or at school, there are many opportunities to go green by Reducing, Reusing, and Recycling.
---
Recycling Saves Resources and Creates Jobs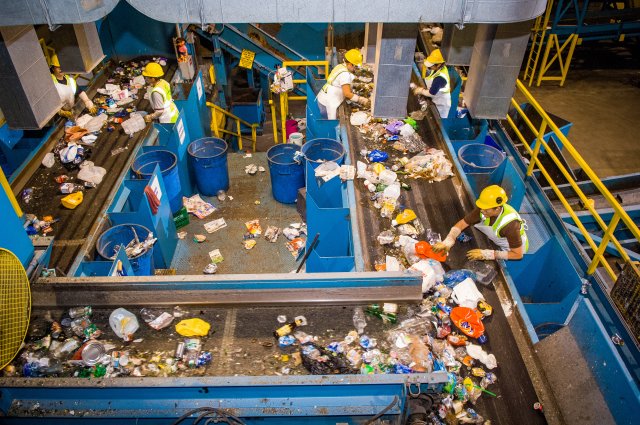 EPA released significant findings on the economic benefits of the recycling industry with an update to the national Recycling Economic Information (REI) Study in 2016. This study analyzes the numbers of jobs, wages and tax revenues attributed to recycling. The study found that in a single year, recycling and reuse activities in the United States accounted for:
757,000 jobs
$36.6 billion in wages; and
$6.7 billion in tax revenues.
This equates to 1.57 jobs, $76,000 in wages, and $14,101 in tax revenues for every 1,000 tons of materials recycled.
The REI study also analyzes Construction and Demolition (C&D) materials. Of the jobs, wages and revenues generated from this EPA data, C&D recycling account for almost 232,000 jobs, more than $11.6 billion in wages, and nearly $1.9 billion in taxes, which is more jobs, wages, and revenue generated than any other material measured in the study.
For more information, check out the full report.
---
Bin There, Do That
How often do you ask yourself what's safe to put in your in recycling bin? Next time you go to throw something away, get creative and think of ways to reduce waste in the first place! There are many small habit changes that can motivate you to reduce, reuse and recycle more. Learn some do's and don'ts and other helpful tips, as well as why The Bags Don't Get Binned.
---
Save Energy By Recycling
Recycling everyday objects, such as paper, bottles and magazines saves energy. The materials that you recycle are used to create the products you buy. This means less virgin material needs to be mined or harvested, processed, manufactured and transported - all of which consume energy. The iWARM tool is based on EPA's Waste Reduction Model (WARM) for solid waste planners and organizations. iWARM can be used to calculate how much energy organizations can save and how much greenhouse gases they can avoid by recycling versus landfilling their waste.
---
Resources for Educators