EPA Tools and Resources Webinar Series
Free webinars typically held the third Wednesday of every month from 3:00-4:00 PM (ET). 
EPA's Office of Research and Development (ORD) hosts this monthly public webinar series to translate EPA research and share research resources and information that are useful, practical/applied and available to meet research needs of states/territories and other entities, such as tribes, local governments, and communities. In addition, the EPA Tools and Resources Training Webinar Series provides in-depth overviews and step-by-step tutorials on popular EPA science-based models and tools. 
NOTE: Attendees have the option of receiving a certificate of attendance. Acceptance of certificates is contingent on organization requirements—EPA cannot guarantee acceptance. Closed-captioned recordings of the webinars are provided below for later viewing and as a training resource; certificates cannot be provided for viewing webinar recordings. Webinar dates and topics are subject to change.
October 20, 2021 Webinar
Freshwater Explorer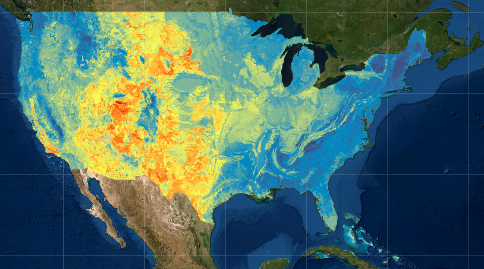 Register for the Freshwater Explorer webinar!
The Freshwater Explorer is an interactive mapping tool for visualizing water quality. States, Tribes, and other groups contribute water quality information to a database through the Water Quality Exchange (WQX). To make it easier to visualize these data, EPA scientists developed this interactive web-based mapping tool. 
In its first public release, Freshwater Explorer provides information about background and observed conductivity, a measure of salt content, for freshwater streams, lakes, and wells in all 50 U.S. states, Puerto Rico, and the U.S. Virgin Islands.  Salts can harm aquatic life and can be indicative of the presence of other pollutants. Data for nutrients will be added in 2022. 
Freshwater Explorer is useful to assess water quality and share watershed and regional stories.  It enables WQX contributors to spot data integrity issues and improve data quality hosted on the WQX. In this webinar, the functionality of the Freshwater Explorer is demonstrated using national and localized examples for condition, causal, predictive, and outcome assessment. For example, users can modify what is shown on a customizable map and pull in data from other EPA sources. 
Attend the EPA Tools Webinar to learn more about the U.S. EPA Freshwater Explorer! 
Upcoming Webinars
Date
Topic and Presenter(s)
Oct 20, 2021

Freshwater Explorer
Presenter: Susan Cormier, EPA ORD

Nov 17, 2021

Food Waste Research
Presenter: Shannon Kenny, EPA OSAPE

Dec 15, 2021

Citizen Science/Innovation
Presenter: Jay Benforado/Denice Shaw, EPA OSAPE
Past Webinar Materials
Recordings and presentation slides of past webinars are available below and are being hosted on EPA's YouTube channel. Certificates cannot be provided for watching the webinar recordings.
Date

Research Area

Topic and Presenter(s)

Sept 15, 2021
Air
Strategies for effective health risk communication during wildfire smoke
Presenter: Ana Rappold, EPA ORD
August 18, 2021
PFAS
PFAS Technical Support and Scientific Advancements
Presenter: Kate Sullivan, EPA ORD
July 21, 2021
Program Overview

Small Business Innovation Research
Presenters: April Richards, EPA ORD

June 16, 2021
COVID-19

Community Exposure for COVID-19
Presenters: Maitreyi Nagarkar, Brian McMinn, Tim Wade and Paul White, EPA ORD

May 19, 2021
Air
AirNow Fire and Smoke Map: Extension of the US-Wide Correction for PurpleAir PM2.5 Sensors
Presenters: Andrea Clements, Amara Holder, and Karoline Barkjohn, EPA ORD; Ron Evans, EPA OAR; and Sim Larkin, US Forest Service
April 21, 2021
Sustainable and Healthy Communities
Proctor Creek Watershed Story Map
Presenter: Shannon Griffin, EPA ORD
March 24, 2021
Air

Air Sensor Performance Testing Protocols, Metrics, and Target Values for PM2.5 and Ozone
Presenters: Rachelle Duvall and Andrea Clements

February 17, 2021
Safer Chemicals
EPA's PFAS Innovative Treatment Team Findings on PFAS Destruction Technologies
Presenter: Brian Gullett, EPA ORD
January 27, 2021
COVID-19
Effectiveness of Medical and Cloth Masks for COVID-19 Protection
Presenters: James Samet and Steven Prince, EPA ORD
December 16, 2020
COVID-19

Detection of SARS CoV-2 in Wastewater to Inform Public Health
Presenter: Jay Garland, EPA ORD

November 18, 2020
Water
Drinking Water Models and Tools
Presenter: Regan Murray, EPA ORD
October 21, 2020
Health
Research to Support Lead Exposure Mitigation
Presenter: Andrew Geller, EPA ORD
September 16, 2020
Water

Water Network Tool for Resilience
Presenter: Terra Haxton, EPA ORD

September 10, 2020
Waste and Materials Management

Alternatives for Disposition of Electronics Planning Tool (ADEPT)
Presenters: Endalkachew Sahle-Demessie and John Glaser, EPA ORD

August 19, 2020
Health

Air Pollution and Heart Disease
Presenter: Wayne Cascio, EPA ORD

July 15, 2020
Waste and Materials Management

Materials Management Wizard (MWiz)
Presenter: Michael Nye, EPA ORD

June 17, 2020
Program Overview

Engaging and Collaborating with States in EPA Research
Presenters: Lisa Matthews, EPA ORD; Abraham Kulungara and Nicholas Porter, Association of State and Territorial Health Officials; Sarah Grace Longsworth, Environmental Council of the States

May 21, 2020
Air

Wildland Fire Community Engagement and Data Visualization Tools
Presenters: Ana Rappold and Mary Clare Hano, EPA ORD

April 15, 2020
Program Overview

Citizen Science at EPA
Presenter: Jay Benforado, EPA ORD

March 18, 2020
Program Overview

Regional Sustainability and Environmental Sciences (RESES) Research Program
Presenter: Sarah Mazur, EPA ORD

February 19, 2020
Water

National Stormwater Calculator: Great Lakes Applications
Presenters: Karly McMorrow, ORISE; Christopher Hartman, Northeast Ohio Regional Sewer District; Frank Marsik, University of Michigan

January 15, 2020
Program Overview

EnviroAtlas Update (January 2020)
Presenters: Anne Neale and Jessica Daniel, EPA ORD

December 18, 2019
Air

Federal Reference Methods/Federal Equivalent Methods and Sensors: Complementary Approaches for Determining Ambient Air Quality
Presenters: Andrea Clements and Bob Vanderpool, EPA ORD

November 20, 2019
Water

Coastal Nutrient Management: Research Update
Presenter: James Hagy, EPA ORD

October 16, 2020
Waste and Materials Management

Excess Food Opportunities Map
Presenters: Claudia Fabiano, EPA Office of Land and Emergency Management; Steve Rock, EPA ORD

September 11, 2020
Safer Chemicals
CompTox Chemicals Dashboard
Presenter: Maureen Gwinn, EPA ORD
August 6, 2020
Safer Chemicals

Recycled Tire Crumb Research
Presenters: José Zambrana and Kelly Widener, EPA ORD

June 12, 2019
Ecosystems

EPA's Report on the Environment
Presenter: Tim Gleason, EPA ORD

May 22, 2019
Water

Nutrient Management in Coastal Communities
Presenter: Scot Hagerthey, EPA ORD

April 17, 2019
Air

Low-Cost Air Quality Sensors
Presenter: Ron Williams, EPA ORD

March 20, 2019
Water

Cost-Effective Treatment Technologies for Removing CECs
Presenter: Tom Speth, EPA ORD

February 27, 2019
Air

Recent Enhancements to the CMAQ Modeling System
Presenters: Rohit Mathur and Ben Murphy, EPA ORD

December 17, 2018
Contaminated Site Remediation

Contaminated Sites and Technical Support Centers
Presenters: John McKernan and Kira Lynch, EPA ORD

November 14, 2018
Contaminated Site Remediation

Remediation to Restoration to Revitalization (R2R2R)
Presenter: Joel Hoffman, EPA ORD

October 17, 2018
Water

Non-potable Water Reuse
Presenter: Jay Garland, EPA ORD

September 19, 2018
Waste and Materials Management

Sustainable Materials Management Prioritization Tool
Presenters: Wes Ingwersen and Jarrod Bridge, EPA ORD

July 18, 2018
Water

Nutrient Visioneering
Presenters: Denice Shaw and Owen McDonough, EPA ORD

June 20, 2018
Contaminated Sites Remediation

EPA's Environmental Sampling and Analytical Methods for Environmental Remediation and Recovery
Presenter: Sarah Taft, EPA ORD 

May 16, 2018
Human Health Risk Assessment

Wildfires and the Community Health Vulnerability Index
Presenters: Ana Rappold, Mary Clare Hano, Christina Baghdikan, EPA ORD

April 30, 2018
Human Health Risk Assessment

Multi-media modeling of lead exposure
Presenters: Valerie Zartarian and Thomas Speth, EPA ORD

March 28, 2018
Water

Cost-Effective Treatment Technologies for Small Drinking Water Systems
Presenter: Thomas Speth, EPA ORD

February 21, 2018
Water

Watershed Management Optimization Support Tool (WMOST)
Presenter: Naomi Detenbeck, EPA ORD

January 17, 2018
Contaminated Site Remediation

Regional Urban Background Study
Presenters: Tim Frederick and Sydney Chan, EPA ORD

September 20, 2017
Water

Village Blue
Presenter: Kevin Oshima, EPA ORD

August 23, 2017
Water

Stormwater Calculator
Presenter: Jason Bernagros, EPA ORD

July 19, 2017
Safer Chemicals
ECOTOXicology Knowledgebase
Presenter: Dale Hoff, EPA ORD
June 21, 2017
Air

Wildfire Smoke Emissions and Smoke Sense App
Presenter: Wayne Cascio, EPA ORD

May 17, 2017
Ecosystems

Rapid Benefits Indicators (RBI)
Presenters: Marisa Mazzotta and Justin Bousquin, EPA ORD

April 19, 2017
Water

Challenging Nutrients Coalition
Presenter: Denice Shaw, EPA ORD

March 22, 2017
Safer Chemicals
How Safer Choice Applies Science to Promote Safe Chemistry in the Marketplace
Presenters: Clive Davies and Bridget Williams, EPA ORD
January 18, 2017
Human Health RIsk Assessment

Environmental Quality Index (EQI)
Presenter: Danelle Lobdell, EPA ORD

December 14, 2016
Water

Green Infrastructure Modeling Toolkit
Presenter: Michelle Latham, EPA ORD

November 16, 2016
Human Health Risk Assessment
Integrated Risk Information System (IRIS)
Presenter: Gina Perovich, EPA ORD
October 26, 2016
Safer Chemicals
Prioritizing Contaminants for Monitoring and Management
Presenter: Dan Villeneuve, EPA ORD
August 17, 2016
Human Health Risk Assessment
Health Impact Assessment
Presenter: Florence Fulk, EPA ORD
July 27, 2016
Air
Health Impacts of Near Roadway Air Pollution and Mitigation Strategies
Presenters: Richard Baldauf and Jan Dye, EPA ORD
June 29, 2016
Air
Air Quality Monitoring and Community Science
Presenter: Ron Williams, EPA ORD
March 16, 2016
Air
The Growing Public Health Impact of Wildfire Smoke Emissions
Presenter: Wayne Cascio, EPA ORD
February 17, 2016
Health
EPA Healthy Heart Program
Presenter: Wayne Cascio, EPA ORD