EPA's SBIR: Novel Technologies to Monitor Air Quality from Wildland Fires to Protect Public Health
The increasing prevalence and severity of wildland fires is a massive threat to human health in the United States. Climate change has intensified drought conditions, leading to fires that threaten direct harm to human life and property. These fires produce significant air pollution in both local and downwind communities. Air contaminants of concern include carbon monoxide, carbon dioxide, nitrogen dioxide, and particulate matter. Federal, state, local, and tribal agencies are interested in cost-effective, flexible, and robust technologies to monitor air quality in the vicinity of wildland fires. Historically, such equipment has been bulky, expensive, and difficult to operate, limiting access to useful information to guide wildland fire mitigation efforts.
Compact air sensors with wireless data communications will be critical in the effort to evaluate and rapidly respond to air pollution. EPA has funded research into sensor technology for monitoring air quality during fire events to better protect public health. EPA's Small Business Innovation Research (SBIR) Program, which supports small businesses to develop and commercialize innovative technologies, has funded several projects in this area. Three EPA SBIR–funded projects are seeking to improve air quality sensor technology to provide actionable information during wildland fire events. In a productive partnership with small businesses, EPA has directly tested several technologies that are currently in Phase II of the SBIR program.
Typical sensors cannot identify sources of particulate matter, which requires sample analysis in a laboratory. However, certain forms of carbon—which contribute significantly to particulate matter burden in the air and are known to cause respiratory and cardiovascular disease—can be measured directly. These measurements can be used to differentiate between smoke originating from wildland fires and other emissions (e.g., diesel emissions). This technology was successfully integrated into AethLabs' microAeth® MA350Black Carbon monitor, which can wirelessly transmit data to networks or smart devices. AethLabs is also working to develop lower cost particulate matter and gas sensing technologies for communities and consumers. Located in San Francisco, California, AethLabs develops high-quality monitoring instruments to facilitate scientific efforts related to public health and climate change. In partnership with EPA, AethLabs has developed affordable portable sensor technology to provide information for first responders, public health managers, and local communities.
KWJ Engineering, in Newark, California, has specialized in gas detection instruments and systems since its founding in 1993 and is also interested in producing portable, low-cost gas and particle sensors. Using EPA SBIR funding, the company is developing a sensor that can be worn by personnel in the field, attached to monitoring stands, or deployed around a fire perimeter by vehicles or drones. These small units integrate gas and particle sensors into a single device that can wirelessly communicate air quality status and signs of pollution hazards. KWJ is working with the gas sensor manufacturer, focused on the performance of the sensors and identifying areas of improvement in accuracy and sensor-sensor uniformity while maintaining the low cost and small size. KWJ is developing both a fully outfitted wildfire air quality monitor (in partnership with another small business) as well as a smaller module containing a subset of particle and gas sensors specifically aimed at early warning of emerging fires and firefighter safety.
Based in Torrance, California, Intellisense Systems, Inc., develops integrated sensor systems and wearable technologies that use artificial intelligence in its novel software applications. Intellisense products have already been used to provide critical weather data to firefighters in California wildland fires. With EPA SBIR funding, the company is testing a new remote air quality reporting (RAQR) system, capable of reporting air quality data through a robust network of small, low-cost nodes. The RAQR system can harvest solar power and communicate through radio, cellular, and other means and is coupled to a compact air quality sensor suite that can measure carbon monoxide, carbon dioxide, nitrogen dioxide, particulates, humidity, and temperature. This system will be able to track air quality around densely populated areas at a higher geographical resolution than ever before and can serve as an early warning system for fire detection.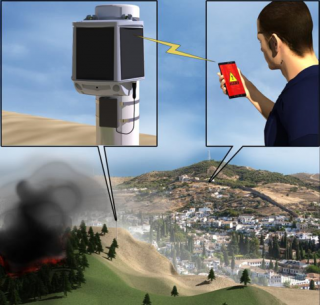 In April 2021, sensors from AethLabs, Intellisense, and KWJ Engineering were tested by EPA at the U.S. Forest Service's Rocky Mountain Fire Laboratory in Missoula, Montana. Forty hour-long burns were conducted using varying fuels and moisture levels to simulate different fire conditions, such as smoldering and flaming. The large number of burns allowed a dynamic range of air pollutants to be tested. Additionally, a subset of sensors is being testing at ambient monitoring sites developed for the Mobile Ambient Smoke Investigation Capability (MASIC) study, an EPA program launched in 2019 to test instrument performance capabilities during wildland fires. These tests will help assess the precision and accuracy of the devices and contribute data on smoke emissions for modeling purposes.
As wildland fires grow in size and intensity, and as the fire season grows longer, wildland fire–related air pollution hazards also will increase. Innovative tools that are accurate, lightweight, easy to operate, and capable of data storage and transmission will be essential for guiding rapid response by public health officials. EPA has recognized this need and partnered with small businesses via its SBIR program to advance air quality sensor technology, serving its mission of protecting public health and the environment.