EPA's SBIR Support of PFAS Detection and Treatment: Novel Technologies for Reducing PFAS in the Environment
Per- and polyfluoroalkyl substances (PFAS) are a group of man-made chemicals that were developed in the mid-20th century and widely used for their nonstick, water-resistant, and stain-resistant properties. These valuable properties made the inclusion of PFAS appealing in many household and workplace products. Because of their widespread use and environmental persistence, most people have been exposed to PFAS. Some PFAS can accumulate and stay in the human body for long periods of time, and there is evidence that exposure to certain PFAS can be harmful to humans and the environment. Peer-reviewed studies on the effects of Perfluorooctanoic acid (PFOA) and Perfluorooctanesulfonic acid (PFOS), two of the most well-studied PFAS, indicate that exposure to PFOA and PFOS over certain levels may result in adverse health effects.  
Addressing risks to human health and the environment from PFAS is a top priority for the U.S. Environmental Protection Agency (EPA), and the agency has a wide range of programs to advance the scientific and technological foundation for understanding and managing risk from PFAS. Through its Small Business Innovation Research (SBIR) program, the EPA supports the development of novel technology that protects public health from environmental threats, including chemical and biological contamination. Because PFAS pose a risk to human and environmental health, projects that alleviate, reduce, or mitigate risk from PFAS are a major focus of EPA's SBIR support. The EPA SBIR program funded seven small businesses that developed technologies to reduce harmful impacts of PFAS.
PFAS Detection
To test for PFAS in environmental samples, 2WiTech, LLC, has developed molecularly imprinted polymer-sensing technology with a detection limit of 10 parts per trillion. The application of this technology was initially tested in the field whereby it confirmed that this technology can lead to significant environmental benefits by reducing the time and expense required for existing laboratory testing services. 2WiTech is currently working on the optimization and expansion of the sensor fabrication process necessary for this technology, as well as validation of these sensors in the field.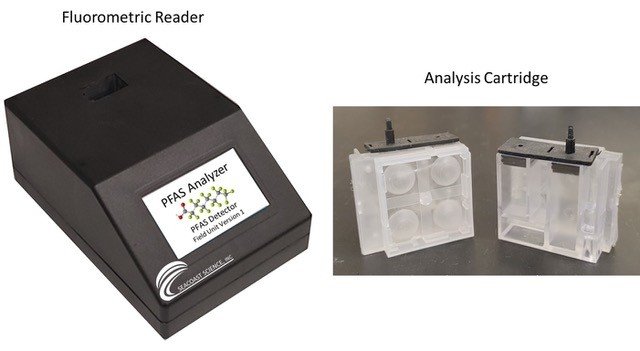 Seacoast Science, Inc., also developed a novel PFAS analyzer for drinking water, soil, and sediment samples. This analyzer automates sample processing via a system that can be used in the field for simplified, onsite broad-spectrum detection of PFAS. Following detection, users of Seacoast Science's technology can analyze the degree of environmental contamination, thereby speeding the process from PFAS detection to site remediation.
PFAS Treatment/Destruction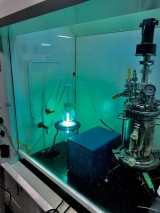 framergy, Inc., removes PFAS from water using technology that breaks PFAS down into shorter, less bio-accumulative chains and then mineralizes those shorter chains. Their technology uses metal organic frameworks that capture PFAS and break them down under ultraviolet light. This process successfully removes PFAS without introducing new degradation products into the water. framergy plans to further develop this technology for implementation at industrial wastewater treatment facilities. framergy has already secured private investment to leverage the matching EPA SBIR funding towards product development. The company is working towards on-site remediation of spent activated carbon or resins used for PFAS treatment. This is particularly useful in locations where transport costs for GAC re-activation are high; making the economics of framergy's strategy more favorable.
AAPlasma, LLC, is also working to remove PFAS from drinking water utilizing non-thermal dielectric barrier discharge plasma treatment to regenerate activated carbon, which is used in the removal of PFAS from water. This process has demonstrated promising regeneration results that enable reactivated carbon to be reused at almost the same effectiveness as virgin activated carbon filtration medium. The process is estimated to reduce the regeneration cost of one kilogram of carbon from $0.32 (conventional thermal processes) to $0.02 (cold plasma process). AAPlasma is scaling up this technology to reactivate up to 1,000 lbs per day for pilot-testing.
DMAX Plasma, LLC, has demonstrated successful PFAS degradation using destructive technology based on the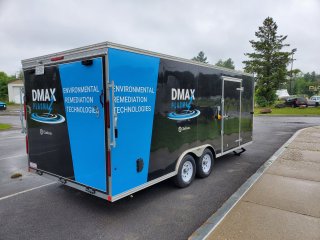 generation of electrical discharge plasma. This process is effective and efficient, reducing PFAS concentrations below regulatory limits with one minute of treatment. Destructive in nature, the process results in no byproducts that would require further treatment and, therefore, no waste. Currently, DMAX is working to commercialize and improve upon this process by scaling up the system's flowrate to cover most applications. The system will be available in both mobile treatment trailers that can be used in the field, and permanent installations for ongoing remediation efforts.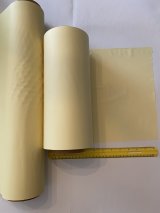 Polykala Technologies, LLC, decontaminates water by filtering it through PFAS-selective nanofiber mats fabricated from electrospun polymer nanofibers. Nanofiber mats are highly advantageous because they have a PFAS-selective adsorption feature; they permit a high loading flow rate; and PFAS can be recovered from the mats for further destruction. In addition, these mats are lower cost than comparable solutions and compatible with other treatment processes.
Faraday Technology, Inc., has worked to degrade PFAS in water using a technique that destroys PFAS by applying pulsed-waveform electrocatalysis. This technique is cost-effective, flexible, and
scalable. In addition, unlike existing water-treatment processes, it does not generate a PFAS-contaminated waste stream requiring further treatment. Faraday is also developing an electrochemical extraction method for remediating PFAS in soils that utilizes similar technology. This adaptation of its technology will improve upon existing methods of soil decontamination, which require costly large-scale excavation and extraction, followed by activated carbon adsorption.
EPA is committed to addressing PFAS in the environmental and, in so doing, addressing the harmful effects that PFAS can have on human health and the environment. Through its SBIR program, EPA is supporting projects that will generate and improve the methods by which PFAS can be both detected and eliminated from our water and soil, which will ultimately reduce human and ecological exposure to PFAS. With these new technologies, EPA can build upon its current successes in lessening these chemical contaminants, thereby supporting its overall mission to protect human health and the environment.
Learn More: