10 Years of Innovative Stormwater Solutions: The Campus RainWorks Challenge Brings the Next Generation of Environmentalists to the Table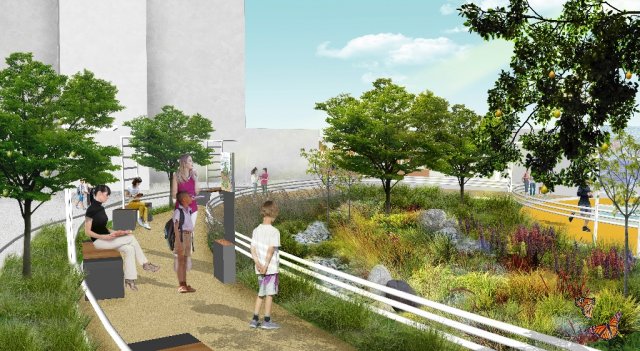 Published September 20, 2021
In urban settings with highly impervious surfaces such as pavement and concrete, a heavy rain can generate large volumes of stormwater that transport sediment, oil, chemicals, and other pollutants. This urban stormwater runoff is a threat to water quality and public health and can cause erosion and flooding that damages wildlife habitat, infrastructure, and property.  EPA and other federal, state, and local stakeholders recognize the need to be innovative in managing stormwater. Green infrastructure—practices that restore or mimic natural hydrological processes—capture, slow, and filter urban stormwater. These practices also provide conservation and recreational benefits for wildlife and communities. Green infrastructure uses soils, vegetation, and other media to manage rainwater where it occurs, and such solutions can be less expensive to install and maintain than traditional gray infrastructure.
In 2012, EPA's Office of Water began the Campus RainWorks Challenge, a green infrastructure design competition open to undergraduate and graduate students at colleges and universities in the United States and its territories. The challenge requires multidisciplinary student teams specializing in engineering, landscape architecture, life sciences, and other disciplines to identify a stormwater management problem on campus or at a local elementary or high school. Student teams work with a faculty advisor to help design green infrastructure solutions. Students can compete in either of the challenge's two competition categories, demonstration projects or master plan. Demonstration projects focus on site specific applications for green infrastructure. Master plan entries apply green infrastructure across a broader area of campus.
Since the inception of this challenge, more than 700 teams from 272 academic institutions across 48 states and Puerto Rico have participated. The challenge helps EPA engage the next generation of environmental professionals and showcases the environmental, economic, and social benefits of green infrastructure practices.
Innovation at Work and Harnessing Momentum
In 2020, a student team from the University of Pennsylvania won first place in the demonstration category with their project "Growing Together: A Community Food Forest for Stormwater Management at Andrew Hamilton School". The student team worked closely with the principal, teachers and students at Andrew Hamilton Elementary School (AHS) in West Philadelphia to design a permaculture food forest, raised beds for urban agriculture, and a rain garden. This project was not just about creating a theoretical design – the student team and leadership at AHS wanted to make this vision a reality. They worked with The Netter Center for Community Partnerships, The Water Center at Penn, the Philadelphia Orchard Project, the Philadelphia Water Department, the Philadelphia School District, and many others to actually implement the design. They raised over $100,000 in grant funding and donations, worked with a local engineering firm to create an actionable design schematic, partnered with local non-profit organizations as well as AHS students to choose plants for the site, and are now seeing the project come to life. The raised beds were constructed and planted this summer with the help of AHS students and other community members. This fall, construction will start on the rain garden and the permaculture food forest will be planted. Watch the team's video about their design: https://youtu.be/PuJvzYdxnAg.
"The opportunity afforded by the Campus RainWorks Challenge has not only been an invaluable learning experience for myself and the rest of the University of Pennsylvania's RainWorks team, but has also created a connection between our university and the community while providing healthy food, effective stormwater management, mitigation of the urban heat island effect, and an outdoor educational space for AHS students to learn and grow," said Corey Wills, Member of the University of Pennsylvania Rain Works Team
Impact of Campus RainWorks and Building the Environmental Workforce
The Campus RainWorks Challenge connects the next generation of innovative thinkers with experts and professionals in the field so they can learn from one another. The program provides important training, education, and development opportunities to students. Students are able to identify and think critically about the challenges of stormwater management and work with local partners to create sustainable and effective solutions. These opportunities are paying off. One student who participated in the University of Pennsylvania demonstration project team now works at the Netter Center for Community Partnerships.
Another student from the University of Maryland, Harris Trobman, is now a green infrastructure specialist with the University of the District of Columbia and also serves on the panel of Campus RainWorks judges.
"While I was always interested in stormwater, the competition provided a forum to explore the intersectionality of green infrastructure practices with other systems," said Trobman. "Winning the competition was a monumental achievement, which has helped me in my career in Green Infrastructure."
Numerous other alumni are now employed as architects, engineers, and other professionals across the water sector. In recognition of these benefits, academic institutions are building curriculum around participation in Campus RainWorks. The success of Campus RainWorks is a testament to the creativity and skill of students and the support and mentorship of faculty across the country.
Year Ten of the Challenge
Water pollution associated with stormwater runoff continues to be a problem in communities across the country. EPA's Campus RainWorks Challenge invites students to apply their creativity, knowledge, and energy to solve these challenges.
In July of 2021, EPA's Office of Water launched its 10th annual Campus RainWorks Challenge. The registration period is September 1 through October 1, 2021. Entries are due December 10, 2021, and winners will be announced in spring 2022.
Together, regulators, communities, and the next generation of environmental professionals can solve the challenges of stormwater management and protect public health and the environment for all Americans.