Bridging the Gap: Equitable Investment in City Greenspace
Published September 27, 2022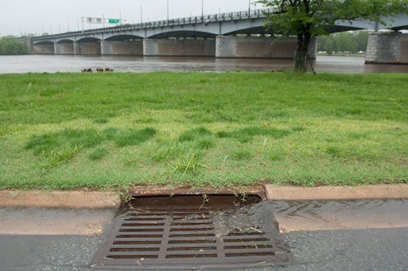 Every year, an estimated 10 trillion gallons of untreated stormwater runoff containing raw sewage, fertilizer, oil, pesticides, bacteria and other pollutants enter U.S. streams, rivers and oceans from city sewer systems, polluting the environment and drinking water supplies. In many urban and suburban areas, this runoff also causes significant flooding.
Cities across the country have been managing stormwater and sewage using traditional (gray) infrastructure, including gutters, pumps, drains and pipes for more than a century. However, an increase in impervious surfaces, aging infrastructure, and increasing population in urban areas have placed many of these systems at or above capacity. As cities develop plans, policies, and initiatives to address these problems, cities are increasingly using green infrastructure (GI) to help manage stormwater in urban areas.
Green infrastructure encompasses a variety of practices that use soil and vegetation including vegetated rooftops, roadside plantings, tree-lined streets with natural canopy cover, and absorbent gardens to capture, filter, and reduce stormwater. Manufactured materials such as porous pavement is another example of GI often used in sidewalks, parking lots and driveways to increase surface permeability. Porous pavement allows rainfall to seep through to underlying layers of soil that filter the surface water before becoming groundwater.
Creating more greenspace in urban areas not only adds natural beauty to the surrounding area but can also improve the health and well-being of its residents. The presence of parks, community gardens and other vegetation can create recreational spaces, revitalize ecosystems and boost the local economy – all of which are highly beneficial to people living within those urban areas. However, these services are not always distributed equitably and can result in or perpetuate environmental injustices in received benefits.
EPA actively supports the use of both constructed and natural GI as cost-effective alternatives to traditional stormwater infrastructure to help manage wet weather flows and conducts research to identify and quantify the effects of green infrastructure and urban greenspace.
As part of this effort, a team of EPA scientists led by Matt Hopton and Page Jordan focused on identifying benefits received from urban greenspace and supporting integration of these benefits into stormwater management planning. In 2019, Hopton and team began designing a framework to demonstrate a practical approach to help communities access benefits of greenspace while managing stormwater. This effort led to the team conducting a case study to test the framework and learn if those benefits could be used in underserved urban areas. 
The framework assists communities in making informed decisions surrounding stormwater planning and management. It allows decision-makers and stakeholders to select GI to address stormwater-related problems such as combined sewer overflows (CSO), street flooding and water pollution. The elements of the framework include steps to help:
Identify location(s) suitable for installing greenspace for stormwater management.

Identify social, economic, and environmental concerns and identify their spatial distribution; stakeholder involvement is critical at this stage.

Select measurable ecosystem services shown to address identified needs and concerns.

Determine areas of existing stormwater needs and other overlapping concerns, considering available space, existing land use, etc.

Identify types of greenspace suitable for locations and capable of providing desired benefits.

Install greenspace at the location(s) identified.

Measure and monitor the system using indicators to quantify the progress over time.
EPA worked with St. Louis, Missouri to demonstrate how the framework can be applied to identify suitable locations. As part of the study, the team used EPA's Environmental Justice Screening and Mapping Tool (EJSCREEN), and other resources to conduct a spatial analysis, combining environmental, social and economic conditions across the city. City and state representatives were contacted to serve as stakeholders and create a set of priorities relevant to the community's issues of interest and services desired. The team used the framework to identify an area where installing green infrastructure could provide benefits to a typically underserved community, while addressing stormwater management needs (e.g., reducing discharge of untreated wastewater into the combined sewer system).
EPA researchers were able to successfully apply the framework using real data and community input to identify concerns that could be addressed with greenspace while managing stormwater. Results show how urban greenspace could be located in such a manner to receive benefits that address issues related to social, environmental, economic and health-related conditions; and potentially reduce combined sewer overflow events caused by excess stormwater.
The tested framework is applicable to local, state, tribal, regional, and federal partners.
For successful application, the framework requires understanding the spatial distribution of social, economic and environmental characteristics in a community; and including stakeholders to determine what benefits are needed as part of the decision-making process. Ongoing monitoring of established metrics is required for measuring progress toward achieving the community's goals and a strategy for long-term operations and maintenance.
"It is intuitive that nature provides many benefits to support people, but it is important to base decisions on scientific evidence—this framework is designed to do just that," said Hopton.
"Recognizing such greenspace also provides stormwater benefits and makes this framework a natural fit for capturing the desired benefits to help a community," added Jordan.
When describing benefits of the framework, Jordan, lead author of the case study stated, "This framework is an accessible method that city planners and other decisionmakers in urban areas throughout the world can use as a holistic approach when planning for stormwater management and addressing community risks and values."
By using this framework, decision-makers in St. Louis and in cities across the country and the world can address stormwater needs and create effective approaches and opportunities to include greenspace; and provide benefits and ecosystem services to their communities.  The  framework can also help decision-makers ensure these benefits are provided in a more equitable manner.
Learn More