Finding Beneficial Uses for Sediment Dredged from Waterways
Published August 10, 2021
On the Great Lakes, cargo ships travel a system of hundreds of miles of waterways to deliver critical goods to domestic and international markets. Keeping those waterways operational requires maintaining navigation channels and harbors at a safe depth for ships. Across the United States., federal navigation channels and harbors are maintained through dredging, or removing sediment from the bottom. This process excavates about four million cubic yards of sediment a year, which then needs somewhere to go. When making decisions for managing this dredged material, state and federal agencies and port authorities must navigate a complex web of environmental and logistical challenges. EPA researchers developed a tool that brings together these challenges to help decision-makers evaluate their options.
Between 2017 and2018, EPA staff working in Ohio worked with stakeholders in the Great Lakes basin to brainstorm alternatives to traditional dredged materials disposal methods, such as sustainably reusing the material for projects that benefit the environment and communities. Following their discussions, they created the Dredged Material Decision Tool (DMDT) to compare sustainable disposal alternatives while accounting for economic, environmental, and social impacts. Since 2018, EPA researchers and staff have been working with additional stakeholders to enhance the tool and create a manual to improve the tool's usability.
Historically, dredged material ends up in confined disposal facilities--large, enclosed areas either on land or in water that prevent the sediment from returning to the environment. Another option has been dumping uncontaminated sediment deep offshore in the open water. In the Great Lakes, many confined disposal facilities are filling up, and some states, including Ohio, have banned open water disposal, leaving fewer disposal options available.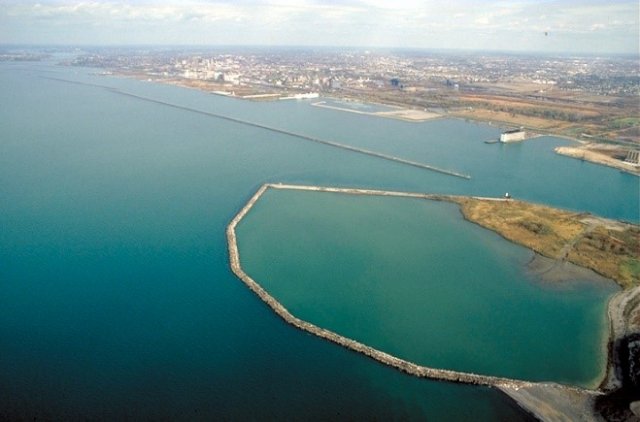 "The need for the tool arose because many communities weren't aware of all the options for disposal and beneficial use," said EPA's Joel Hoffman, the lead project officer. "The goal was to increase awareness of different creative solutions for managing dredged materials."
Now, the DMDT has been refined and expanded, with a more user-friendly interface, a step-by-step guide, and a database of case studies. The revised tool combines EPA expertise with insights from stakeholders that are managing dredged materials daily, allowing users to better compare potential beneficial use projects based on the needs of their community.
In most cases, dredged materials from the Great Lakes and other waters across the country are clean enough to be beneficially used thanks to water quality improvements over the last several decades. When considering different uses for dredged material, the DMDT allows users to "bring a wider set of consideration to the decision--the social, environmental, and economic values are integrated to give a sense of the bigger picture," said EPA project lead Rosita Clarke.
The DMDT allows users to score beneficial use alternatives by organizing complex considerations and presenting them in an easily understandable format. After gathering background information, users can score projects by the costs and benefits of each. Potential uses for dredged material include brownfield and Superfund site remediation, construction material used to build roads, the creation of greenspace and habitat restoration. The criteria informing the score include such considerations as the impact on habitat, the cost of transporting the material, the potential for job creation, and improved infrastructure. The project with the highest score will be one that fulfills stakeholder needs, meets regulatory requirements, and benefits the environment and community.
The U.S. Army Corps of Engineers (USACE) is responsible for maintaining navigation at federal harbors, which consists of regular dredging at many of the harbors. USACE outreach coordinator Jim Luke said the Corps is constantly seeking opportunities to use dredged material and have had success reusing it for beach nourishment and habitat restoration projects.
"USACE is looking forward to using [the DMDT] to assist in communication and find common goals with the diverse group of stakeholders that are involved with water resources projects that deal with the beneficial use of dredged material within the Great Lakes," Luke said.
Although it was developed to address dredged material reuse, the DMDT may also have applications for other environmental challenges facing communities both within the Great Lakes basin and beyond. As more users become aware of the tool, the researchers say they are excited to see it evolve to better meet these communities' needs.
The Dredged Material Decision Tool, instruction manual, and supplemental materials can be downloaded here.
You can read the project report here.