Meet EPA Research Bioinformaticist Carlie LaLone, Ph.D.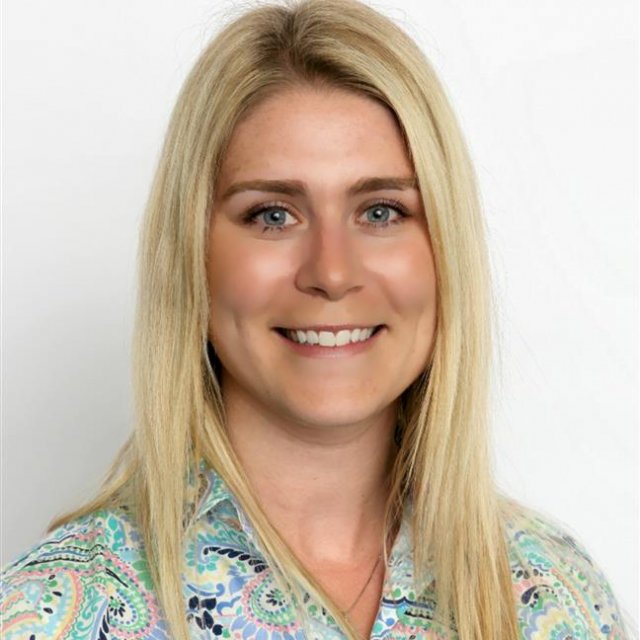 Dr. Carlie LaLone focuses on understanding the toxic effects of chemicals across all the species that may encounter those chemicals in nature, from humans to fish to insects to plants. As a bioinfomaticist, Dr. LaLone uses predictive computational methods to evaluate complex biological information. Notably, Dr. LaLone has developed the Sequence Alignment to Predict Across Species Susceptibility (SeqAPASS) tool, which uses genetic information to identify species similarities for binding different classes of chemicals. Her work on SeqAPASS recently earned her the prestigious Presidential Early Career Award for Scientists and Engineers (PECASE). The PECASE is the highest honor bestowed by the United States Government to outstanding scientists and engineers who are beginning their independent research careers and who show exceptional promise for leadership in science and technology.
What kind of research do you do at EPA? 
My research focuses on protecting human health and the environment by evaluating chemical safety. Specifically, I am passionate about understanding the effects of chemicals across species, from humans to fish to insects to plants. To do this, we develop computer models that help us better understand and predict the potential for adverse effects across hundreds to thousands of species rapidly where we may not have a lot of cross species data. Additionally, these models can also reduce cost and the use of animals in toxicity testing.
Tell us about your background. 
I graduated from Superior Senior High School in Superior, WI and chose to stay close to home to play college softball at the University of Minnesota Duluth where I pursued my bachelor's degrees in Biochemistry/Molecular Biology and Chemistry. Upon graduation, I worked at EPA in Duluth, Minnesota as a student contractor for about a year and then attended Iowa State University, in Ames, IA to complete my doctoral degree in Genetics. From there, back to Duluth, MN…do you see a pattern?
There, I landed a postdoctoral position with EPA and another postdoctoral position with the University of Minnesota Water Resources Center in cooperative agreement with the EPA. In the end, I remain in the city I love, Duluth, close to family and friends, working for the Agency I love in my dream job as a Research Bioinformaticist.
When did you first know you wanted to be a scientist? 
My mom likes to tell a story about when I was a little girl, around the age of 7, serving coffee to a group of older ladies at church. They asked me if I was going to be a waitress when I grow up and I quickly responded "No, I'm going to be a scientist." I had it in my mind from a very young age that I wanted to serve people in the best way I knew how, through science!
What do you like most about your research? 
I love that my research challenges me to be better every day! Working with the exceptional people I get to on a daily basis, I am challenged to be a better researcher, thinker, planner, collaborator, communicator, mentor, environmental advocate… the list could go on and on! I REALLY enjoy the challenge of addressing real environmental issues with the need to produce science that is actionable to support the regulatory arm of the Agency!
How does your science matter? 
New chemicals are produced continuously, and in order to keep pace in safety evaluations, it is a necessity to develop efficient, streamlined methods to rapidly enhance our understanding of them to protect human health and wildlife. My science matters because it aims to do just that through the development of publicly accessible and readily applicable and interpretable computer tools for evaluating chemical susceptibility across species. Being able to inform researchers and decision-makers about susceptible groups of organisms, across the diversity of species without additional animal testing, matters.
If you weren't a scientist, what would you be doing?
I'd be retired from being a scientist. I have always known this was what I was destined to do, my calling I guess! But if I were done being a scientist, I'd be tearing up the single-track mountain bike trails, alpine skiing, running, traveling, and spending even more time with family and friends, and likely continuously chasing my kiddos around to their activities!
What advice would you give a student interested in a career in science?
If science is something that excites and motivates you, then GO FOR IT! Be bold, think big even when you have critics, remain optimistic even if things are not going as planned (that is why we don't just search, we re-search). Find what part of science you are passionate about and hold on to it. YOUR ideas, creativity, and determination, no matter how big or small, will be an IMPORTANT contribution to society!
If you can have any superpower, what would you choose? 
The ability to slow time and live in the moment! It is so easy to always be looking forward to the next exciting event in life. It would be nice to be able to hammer on the breaks sometimes and just enjoy the space I am in for a moment longer.
What do you think the coolest scientific discovery was and why? 
With a background in genetics, obviously Gregor Mendel's laws of inheritance! I remember learning these foundational concepts in genetics during high school biology and knowing right there, that was the science I wanted to pursue.
If you could have dinner with any scientist, past or present, who would you choose? 
I would choose to have dinner with Rachel Carson. What a bold woman and role model for scientists to emulate! Her book, Silent Spring, is a testament to her courage. I think I would like her immensely and enjoy meeting such a strong scientist and advocate for the environment!
---
Editor's Note: The opinions expressed herein are those of the researcher alone. EPA does not endorse the opinions or positions expressed.