Meet EPA Research Scientist Anne Neale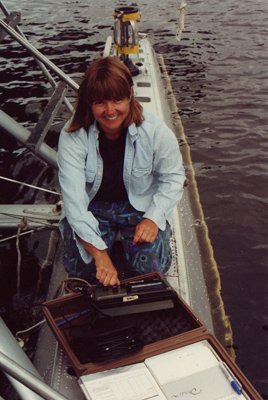 EPA research scientist Anne Neale is working on the EnviroAtlas and other resources to better understand ecosystems and their benefits. Her career has included fighting forest fires in Montana, scooping up water and sediment samples from float plane pontoons in the Northeast, and helping with the response efforts after the Exxon Valdez oil spill disaster in Alaska. Anne has a background in landscape ecology and for her current work, she studies how different kinds of landscapes and land uses affect human well-being, public health, and the ability of natural systems to function. Anne is passionate about her work and how it matters, but also enjoys a fulfilling life outside of work. She enjoys traveling, outdoor activities, reading, and spending time with her grandchildren.
How does your science matter?
My colleagues and I are uncovering new relationships between elements of the environment, specifically those relating ecosystem health to human health and well-being. And what's really exciting is that we are not only developing the data but making it widely available and easily accessible—putting it into the hands of a wide audience who can use that information to make decisions and to conduct further research. We are providing a portal to a wealth of environmental, social, and economic data that can support many, many different types of decisions. It's also a phenomenal education tool.
What do you like most about your research?
What I really love is turning data into information that people can use. My work involves combining rich databases to create maps, using geographical information systems (GIS). I love opening up the world of maps to nontechnical audiences—putting maps into the hands of everybody.
I enjoy working with a phenomenal team of folks including other EPA scientists, partners from other organizations, research fellows, and Student Services Contractors.   We have a truly incredible team and I especially enjoy the energy and talent of the young scientists!
What are some current projects you are working on?
One of our biggest recent projects is the EnviroAtlas. It is a web-based tool that combines an array of resources such as interactive maps, analysis tools, fact sheets, and educational resources to allow users to understand the interactions between people and the environment. It is user friendly and doesn't require a technical background. Our team is developing a wealth of innovative data that goes into EnviroAtlas as well as developing the application itself.  As I mentioned previously, I enjoy putting maps into the hands of decision-makers, other researchers and analysts and educators.
If you could have dinner with any scientist past or present who would it be and what would you like to ask him or her?
I would love to have dinner with my freshman year environmental science professor. I would like to chat with him about the things we learned over forty years ago. Our class was a general environmental science class, but we went on a lot of field trips and covered a broad range of topics. It was an inspiring class and had a significant impact on my career path and I would like to let him know that his teaching had made a pivotal difference in my life. I remember our textbook included a chapter on the hypothetical likelihood and implications of climate change , like this could maybe, possibly, happen someday.
If you weren't a scientist what would you be doing?
Who knows! Probably traveling, enjoying outdoor adventures, and volunteering for an environmental or social advocacy organization. 
If you could have one super power what would it be and why?
Only one? It's so hard to choose. If I could have one superpower it would be spatial and temporal teleportation. To visit anywhere without getting on an airplane ever again. To revisit the places and people of my personal history. To visit far-away friends and family just for the day. To witness fragments of history. 
---
Editor's Note: The opinions expressed herein are those of the researcher alone. EPA does not endorse the opinions or positions expressed.