Mpox: Applying What We Know About Biological Agents to Prepare for Emerging Public Health Threats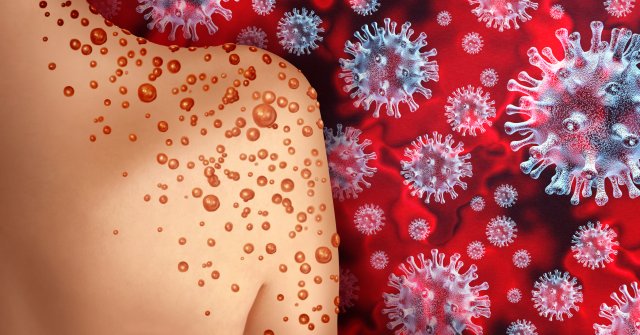 Posted July 19, 2022
Although the COVID-19 pandemic is still upon us, another disease, called monkeypox (now referred to as mpox), is now spreading across the world. According to the Centers for Disease Control and Prevention (CDC), mpox was first discovered in the 1950s in colonies of monkeys kept for research. The first human case of  mpox was recorded in 1970. The World Health Organization has reported that mpox is endemic in several African nations, where it is primarily found in tropical rainforests. Currently, mpox has spread to more than 50 countries where cases have been rare, and where it is not endemic. The virus is a close relative to the variola virus, which causes smallpox, but it is not related to the chickenpox virus, varicella-zoster virus (which is not a true pox virus).
The current outbreak of mpox is not the first to occur in the United States, but it is notable for the number of cases that have been reported. As the number of people infected with the virus continues to grow both in the United States and in countries where it is not endemic, many people are seeking information on how it spreads and what they can do to prevent exposure.
Experts at CDC determined that mpox can spread from person-to-person in different ways, one of which is "touching items (such as clothing or linens) that previously touched the infectious rash or body fluids." While the primary exposure route is through contact with body fluids of symptomatic individuals, it is also possible to transmit the virus through a contaminated surface where virus particles may have been shed by someone who was infected, also known as fomite transmission.
Persistence on Surfaces
EPA researchers have been studying the persistence of biological agents like viruses and bacteria under various conditions for over a decade. Different environmental conditions, such as temperature and humidity, can impact whether a biological agent remains viable and potentially infectious. This information is important to public health officials and emergency responders who determine whether spaces that were occupied by infected people need to be cleaned up. Ongoing research efforts can also help inform guidance on disinfection measures to help reduce the spread of biological agents.
Environmental factors that affect persistence - the length of time a biological agent remains infectious on a surface - include:
physical characteristics and amount of the biological agent

relative humidity

temperature

exposure to simulated sunlight

type of material, and

whether that material is able to absorb liquid or not, also known as porosity.
Previous studies conducted on vaccinia virus demonstrated that viable virus was detected on all materials for the duration of the study (two weeks) if left alone without any intervention. Vaccinia virus is a surrogate used for smallpox because they are closely related and is also used in the smallpox vaccine. The study showed that the surrogate virus died off more quickly at higher temperature (86 degrees Fahrenheit) and higher relative humidity (above 70%). This was consistent across multiple types of materials, including painted concrete (a hard, porous surface) and galvanized metal (a hard, nonporous surface). These findings could inform strategies for inactivating poxviruses, including mpox, prior to employing a decontamination technology or using it as the cleanup approach itself. These conditions may be achieved using a heating, ventilation, and air conditioning (HVAC) system.
It is possible that relative humidity may have a comparable impact on the viability of other pox viruses, such as mpox, on similar materials.
Surface Disinfection
While there are no disinfectants currently registered for use against mpox, EPA released its List Q: Disinfectants for Emerging Viral Pathogens and triggered its emerging viral pathogen (EVP) guidance in May 2022 for the mpox virus. EPA developed List Q to prepare for situations in which rare or novel viruses cause outbreaks of disease for which few if any disinfectants have been tested and registered for use against those specific pathogens. In the event of an outbreak that meets certain criteria, EPA triggers the EVP guidance, authorizing companies whose products have EVP claims to make statements about their product's expected efficacy against the emerging virus. These products have undergone review for emerging viral pathogen claims based on previous EPA-approved claims for specific hard-to-kill viruses.
The EVP guidance divides viruses into three tiers: Tier 1 includes enveloped viruses like mpox, which are the easiest to inactivate. Tier 2 includes large nonenveloped viruses, which are more difficult to inactivate. Tier 3 includes small nonenveloped viruses, which are the most difficult to inactivate. The mpox virus has been identified as a Tier 1 virus. EPA expects products on List Q to kill the mpox virus on surfaces and materials when used according to label directions.
Public health officials and responders may need disinfection approaches for larger areas contaminated with the virus. Previous research conducted by EPA showed that a low concentration of chlorine dioxide fumigation could kill the smallpox surrogate on several different materials typically found in public buildings and/or mass transportation. Anyone seeking to use a disinfectant to kill the mpox virus should choose a product on List Q and then follow directions on the label.
Furthermore, EPA studies on Venezuelan equine encephalitis virus found that a decontamination approach which elevates the temperature and relative humidity will increase the rate of inactivation for both viruses on both porous and nonporous surfaces. Depending on the area being disinfected, the inclusion of sensitive material or the need for rapid return to service may dictate the approach that would work best. For example, elevating temperature but not humidity may require a longer wait time to inactivate the virus.
A particular concern with mpox is the handling of clothing and linen that may have touched an infectious person. List Q includes several disinfectants that are registered for use in laundry. EPA expects these products to kill mpox in laundry when the label instructions are followed.   
Some EPA research has assessed the use of washers and dryers to inactivate Bacillus anthracis, a type of bacteria that causes anthrax and is more resistant to disinfectants than viruses like mpox. The study found that using 1% diluted chlorine-based bleach solution with the addition of a detergent when washing clothing for at least 18 minutes was effective in decontaminating some fabrics, such as 100% cotton, spandex, stretch denim cotton, and others.
EPA continues to work alongside the federal family to assist state, local, and tribal communities in instituting preventative measures that will reduce the spread of the mpox virus. EPA's disinfection research conducted on similar viruses, along with researcher expertise, serves to build the resiliency of this nation by providing pertinent information to decision-makers and responders.
Learn More: