School is in Session! EPA's Summer Science Institute brings EPA Science to NC Students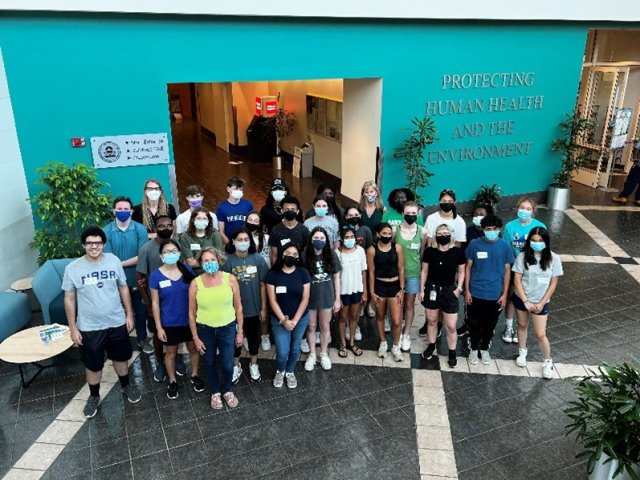 Published August 16, 2022
EPA's Research Triangle Park (RTP) campus hosted 24 students from 14 North Carolina high schools for the 12th Annual Summer Science Institute, which took place from June 13-17. The students explored science, technology, engineering, and math (STEM) topics and career options through hands-on activities, career explorations, tours of the RTP campus, and networking opportunities with EPA experts.
The week-long Summer Science Institute is a free 35-hour program for rising 11th and 12th graders that aims to increase students' knowledge about EPA and its mission to protect human health and the environment. This year's Institute was centered around a new theme each day, ensuring that students learned about key environmental topics such as air, climate, energy, water, environmental justice, ecosystem services, and transportation, among others.
Students began their immersive week with a warm welcome from Kelly Witter, program director for EPA's Community Engagement and STEM Education in RTP, and a campus tour that showcased sustainable design features of EPA's facilities and grounds, such as stormwater retention areas, natural woodlands and wildflower gardens, and energy-efficient lighting and laboratory controls.
Other Summer Science Institute activities included:
Playing Generate: The Game of Energy Choices, an educational tool that allows students to explore what energy choices mean for our air, water, and future environmental quality. Students also played Mobility: The Game of Transportation Choices to learn about reducing carbon dioxide emissions and how the transportation sector contributes to greenhouse gas emissions.

Learning how to take water quality measurements in the field. Students learned how EPA scientists use satellites to monitor harmful algal blooms (HABs) and dropped HAB monitors into the campus's main water feature, Discovery Lake. The students measured turbidity in Discovery Lake by using a Secchi disk, which is a white, circular disk that's submerged underwater to measure the water's clarity.

Participating in speed mentoring sessions, where students met with EPA scientists, engineers, and communications staff to learn about their career journeys and diverse backgrounds.

Getting hands-on experience charging electric vehicles (EVs) and learning how EVs can reduce greenhouse gas emissions and save money.

Measuring the temperatures of various outdoor surfaces – including asphalt, grass, dirt, buildings, and cars – across campus to learn about urban heat islands and how they impact local temperatures and human health.

Visiting air sensors on the RTP campus and using EPA's Particulate Matter Air Sensor Kits to learn more about measuring air quality.
The program received positive feedback from participating students, including praise from a rising junior attending Riverside High School who said, "The Institute's speakers and mentor activities engaged me to explore my interest in the EPA and further guide my networking." Additionally, a student from Cary High School shared that the Institute was "a great gateway program to learn about climate change and ways we can help better our futures."
EPA's Community Engagement & STEM Education Program (CE-STEM) in RTP hosted the Summer Science Institute, which was held for the first time in-person since 2019. Annually, more than 200 EPA-RTP employees communicate EPA science to K-12 and university students, as well as to the public, on EPA's RTP campus, at local school and community events, and on virtual platforms.
Learn More:
Featured STEM Education Activities:
Generate: The Game of Energy Choices: This educational board game is a fun way for students and others to explore what energy choices mean for our air, water, and future environmental quality. With no "right answers" the game allows students to develop evidence-based decision-making as they advocate to team members their preferences for the energy mix and calculate and compare costs of their solutions. Materials to make the game board and game pieces, along with middle and high school teaching guides, are available free online.

Build Your Own Particle Sensor: This hands-on learning activity teaches the basics of particulate matter air pollution, air quality, and electronics while building problem solving and other STEM skills. Targeted for Grades 5-12, students can build their own particulate matter sensor. The instructions include a materials list, an instruction guide with background information on air quality, and the Arduino code for the sensors.