Treating Deep Aquifer Contamination with Phytoremediation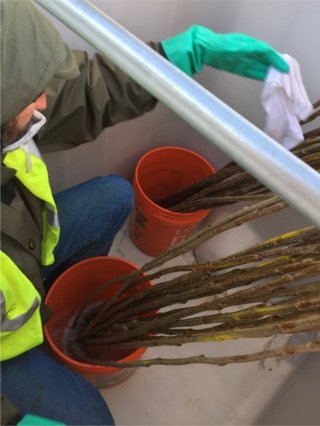 Published December 14, 2021
EPA's Superfund program is responsible for cleaning up some of the nation's most contaminated sites. Thousands of contaminated sites exist nationally due to hazardous waste being dumped, left out in the open, or otherwise improperly managed. Superfund sites often have contaminated groundwater in aquifers hundreds of feet below land surface. Deep groundwater contamination can be the result of actions like improper waste disposal or large fluctuations of the water table. This groundwater often contains hazardous chemicals or compounds that are unable to dissolve because they are denser than water. The deeper the contaminated soil and water, the more challenging remediation becomes. The costs of remediation technologies increase rapidly with increasing depth and yield diminishing returns after initial removal of the highest concentrations. The search for sustainable and cost-effective technologies to remediate deep groundwater systems and ensure that they are free of contamination is vital, as deeper aquifers are often used as sources of drinking water.
One promising solution for cleaning up contaminated groundwater systems is phytoremediation. Phytoremediation techniques use living plants as a cost-effective, environmentally friendly approach for cleaning up contaminated soil and groundwater. Since the mid-1990s, plant systems have been used at several Superfund and private sites to contain and degrade contaminants. Phytoremediation of groundwater using trees is firmly established as a successful remediation technology for certain contaminants, particularly petroleum and chlorine-based products and solvents. Through a process called, phytodegradation, trees have been shown to degrade dissolvable contaminants in the root system and in the plant. For example, trees can break down contaminants through enzymes within the plant. Pollutants are degraded through oxidization and turned into carbon dioxide.
However, one limitation is that tree roots cannot always reach the depth where the contaminated aquifer is located. To find a solution to this issue, EPA researchers conducted a pilot scale study to test a system for extracting contaminated water from a deep aquifer and used drip irrigation on contained sets of trees to determine if and to what extent the trees can treat the deep aquifer contaminated water.
EPA researchers used solar energy to pump up contaminated groundwater from a deep contaminated aquifer at the McCormick and Baxter Superfund Site in Stockton, CA. Hybrid poplar trees, a species commonly used for phytoremediation, were planted in containers. Water from the deep contaminated source was tested and distributed to the trees through an irrigation system. Data on tree growth were collected and tree branches were sampled and analyzed for contaminants. The efficacy of remediation was determined by the volume of water treated and the extent of contaminant removal. The runoff water from the planters showed 99 percent less contaminant levels than the contaminated groundwater irrigation water.
"Continued innovation is critical for addressing contaminated sites in a sustainable manner," said Deborah Jordan, EPA's Acting Regional Administrator for the Pacific Southwest office. "This research on application of phytoremediation and solar energy to site remediation can help move cleanups forward while reducing the energy needed to operate a treatment system."
The pilot scale project results show that during the growing season for poplar trees, a planted system can remediate contaminated groundwater, - providing hope for similar application at other sites with contaminated deep water. The combination of a solar-powered pump system and planted polar trees provides a cost-effective and sustainable approach for remediation of deep groundwater systems. This process has been used in similar systems at other Superfund sites and is replacing the costly pump-and-treat remediation systems that have historically been used to treat groundwater contamination.
"At the McCormick and Baxter Superfund site, EPA considers phytoremediation a highly effective and cost-efficient groundwater treatment alternative where deep aquifer contamination and hydrogeological conditions have rendered most other technologies impractical to implement or prohibitively expensive," said Elizabeth Adams, EPA Region 9 Acting Superfund and Emergency Management Division Director. "This innovative technology has propelled a remedial alternatives study forward, which will protect groundwater resources and public health and ultimately return the land to beneficial use."