Water Sector Workforce
On October 15, 2021, EPA announced the selection of 10 organizations to receive a total of $3.8 million in funding for a new grant program that will help build the water workforce and connect individuals to career opportunities in the drinking water and wastewater utility sector, as well as expand public awareness about the opportunities in the drinking water and wastewater utilities. 
---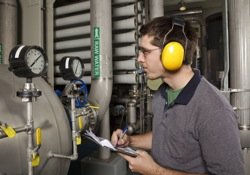 Ensuring that all Americans have safe water to drink and essential wastewater services is a top priority for EPA. Each day communities and businesses depend on America's water infrastructure for daily routines that can range from drinking a glass of water to irrigating the crops that support our food supply. Behind each of these daily routines are the hundreds of thousands of skilled workers that comprise America's Water Sector Workforce. These "water protection specialists" provide our communities with vital water services that protect public health and the environment while driving our nation's economy.
Currently, water utilities face challenges in recruiting, training, and retaining employees. These challenges are exacerbated with roughly one-third of the water sector workforce eligible to retire in the next 10 years. Additionally, as the technologies that are used in the water sector become more advanced (e.g., state of the art water reuse technology), there is a growing need to train and employ water protection specialists with specialized technical skills.
"America's Water Sector Workforce Initiative" (released October 5, 2020) reflects a commitment by EPA and our federal partners to work with states, utilities, tribes, local governments, and other stakeholders across the water sector to ensure that the water sector workforce is strong, diverse, and resilient, and attracts talented individuals from many different backgrounds. This Initiative is intended to serve as a catalyst for developing a robust, highly skilled and sustainable water workforce for the 21st century.
This Initiative is designed to be a living endeavor that will expand as collaborating partners learn and adjust efforts to fully realize the vision we have for the water workforce. EPA looks forward to capturing innovative ideas and collaborative actions through this Initiative so the Agency can take meaningful steps to ensure America has a strong water sector workforce for generations to come.
This page includes a number of products and other policy documents EPA has developed as well as links to other documents developed by various partners across the water sector including other federal agencies, professional water associations, utilities, Tribes, and states.
On this page:
---
America's Water Sector Workforce Initiative
The Initiative lays out a number of actions EPA, other federal agencies, and various water sector partners will be taking in the coming years. It represents a call to action for these stakeholders to come together and collaboratively address the major challenges facing the water workforce sector.
Please send questions or feedback to the Water Sector Workforce email box (WaterSectorWorkforce@epa.gov).
---
Water Utility Workforce Case Studies
As a key element of the Water Workforce Initiative, EPA developed a compendium of Case Studies describing how nine utilities across the country are taking innovative steps to implement workforce programs. These case studies document a number of different experiences around recruiting and retaining a dedicated and trained workforce, as well as efforts to work with community organizations to attract individuals from disadvantaged communities to a career in water.
---
Workforce Webinar Series
EPA hosted a series of webinars in 2019 and 2020 highlighting ways in which many organizations across the water sector are implementing programs to help utilities as they address their own workforce challenges. 
---
Memorandum of Agreement between EPA and USDA (2020)
In February 2020, the U.S. Environmental Protection Agency Office of Water (EPA-OW) and the U.S. Department of Agriculture-Rural Development Rural Utilities Service (USDA-RD-RUS) signed a renewed Memorandum of Agreement (MOA). Through this MOA, the two agencies support increasing the sustainability of drinking water and wastewater systems nationwide to ensure the protection of public health, water quality, and communities across the United States.
---
Other Workforce Products
From M.O.S. to J-O-B: A Guide for Applying Military Occupational Specialties (M.O.S.) to Civilian Drinking Water and Wastewater Operations (PDF) (23 pp, 5.4 MB, About PDF)
While serving in the Armed Forces many veterans held Military Occupation Specialties (MOS) that directly or indirectly translate into the types of positions needed in the water sector. This guide highlights relevant MOSs and tips for water and wastewater utilities considering hiring veterans.
 
A Selection of Training Programs for Water and Wastewater Operators
This is a compilation of fact sheets describing training programs, internships, and mentoring programs that help new operators enter the water sector, as well as enhance the skills and knowledge of experienced operators. The fact sheets are intended to promote the sharing of ideas and best practices for industry professionals seeking to establish similar training programs. The fact sheets were developed by the Workforce/Operator Certification Workgroup (2011). The group included EPA, states, technical assistance providers and industry representatives and worked to address workforce issues and support operator certification programs. Two new fact sheets were added in FY2013.
 
Memorandum of Understanding between EPA and Department of Veterans Affairs Vocational Rehabilitation and Employment (VR&E) Service
EPA signed a memorandum of understanding with the Department of Veterans Affairs' Vocational Rehabilitation and Employment Service to work jointly on promotional activities to help connect Veterans with disabilities with career opportunities in the water sector. Both VR&E Service and EPA believe that working closely together on this effort will improve employment opportunities for veterans while supporting the development of a trained and competent workforce that is crucial to the long-term sustainability of the nation's water and wastewater systems.
 
EPA's "Water You Waiting For?"
These videos showcase the water profession for high school and vocational technical school students. They highlight the water profession in four areas: the value of water, job responsibilities, career successes, and environmental contribution.
 
Work for Water Campaign
A public outreach campaign and web-based clearinghouse created by WEF and the American Water Works Association that informs the public about water careers and encourages students and job-seekers to consider a career in the water sector.
 
Smart One Water (SOW) Initiative
This initiative, led by faculty and staff at Virginia Tech, is being developed as part of the National Science Foundation (NSF) Engineering Research Center (ERC) Planning Grant process. The core pillars of the NSF-ERC-SOW include:

Workforce Development
Stakeholder Engagement
Water Policy and Governance
Innovation Ecosystem
Diversity and Culture of Inclusion
Pipeline to a Sustainable Workforce: Decentralized/Onsite Wastewater Occupations
This report provides a foundational understanding of the career pathways and job clusters in the decentralized industry. It expands on occupational characteristics, including growth projections, and basic education and training requirements of occupations in the industry. It outlines challenges that have led to shortage in the supply of decentralized workers.