Zone 3, USS Lead Superfund Site
Update - June 2018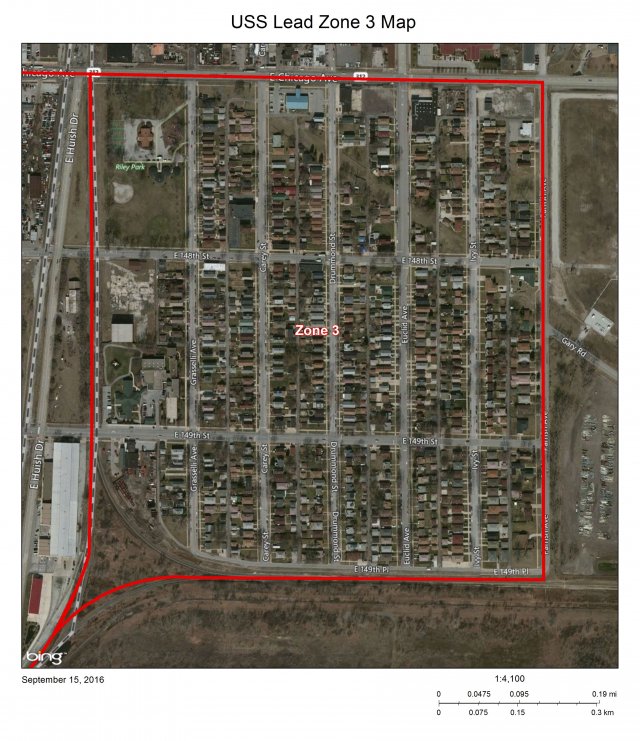 Zone 3 Soil Remediation
Excavation and restoration work for the 2018 construction season started on May 15, 2018. EPA is targeting 140 properties this year for excavation and restoration. EPA is in the process of reaching out to those homeowners to schedule pre-construction meetings.
Zone 3 Indoor Dust Sampling and Cleanings
Dust sampling activities will resume in Zone 3 in mid-June, following the excavation and restoration of properties scheduled for this year. Contractors for the potentially responsible parties (PRPs) will be conducting the interior sampling and cleanings under a Unilateral Administrative Order (UAO) and they will begin scheduling interior sampling once restoration work is under way.
Background
Zone 3: a neighborhood located between the Elgin, Joliet & Eastern Railway Line on the west, Parrish Avenue on the east, East 149th Place to the south and E. Chicago Avenue to the north.
Information for Residents in Zone 3 
EPA community involvement coordinators have gone door-to-door warning residents not to allow children to play in dirt and providing information on ways to reduce exposure to possible lead in soil. Exposure to high levels of lead in soil can cause various health problems, especially in young children.
To ensure the health and safety of children, the federal Agency for Toxic Substances and Disease Registry, or ATSDR, advises parents to prevent children from playing in dirt or mulch, to wash their children's toys regularly and to wash children's hands after they play outside. All residents should remove shoes before walking into their homes.