Zone 3, USS Lead Superfund Site
Update - December 2017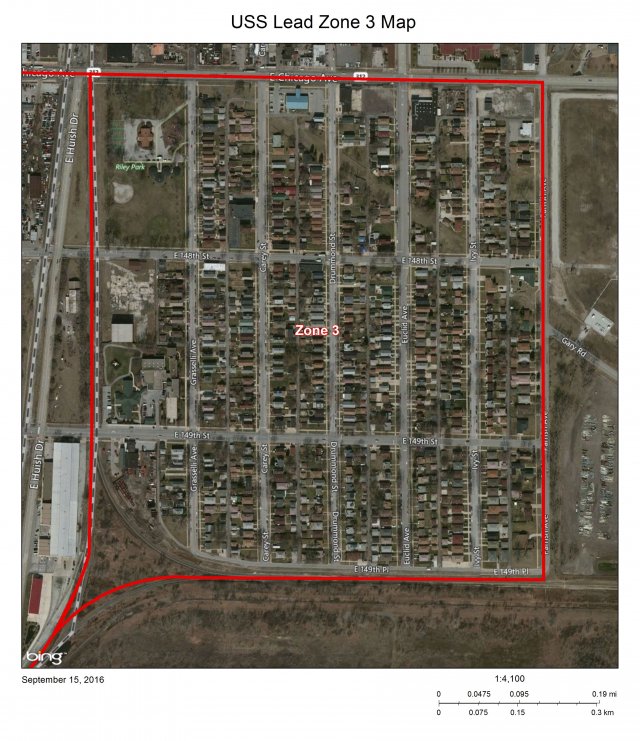 Zone 3 Soil Remediation
Excavation and restoration work was completed at 120 properties during the 2017 construction season in Zone 3. Active construction efforts began in May 2017 and were completed on schedule in October 2017. In total, EPA removed 11,892 tons of lead and/or arsenic contaminated soil from Zone 3 properties this construction season. 
Zone 3 Indoor Dust Sampling and Cleanings
Dust sampling activities are still underway in Zone 3.  To date, 69 properties have been sampled with results back for 46. Of the 46 properties, 31 had at least one sample above the site specific screening value for lead and/or arsenic and required cleaning.  Interior cleanings have been completed at 23 of those properties.  Owners of two properties declined cleaning. EPA is in the process of scheduling cleanings for the remaining properties.
Background
Zone 3: a neighborhood located between the Elgin, Joliet & Eastern Railway Line on the west, Parrish Avenue on the east, East 149th Place to the south and E. Chicago Avenue to the north.
Information for Residents in Zone 3 
EPA community involvement coordinators have gone door-to-door warning residents not to allow children to play in dirt and providing information on ways to reduce exposure to possible lead in soil. Exposure to high levels of lead in soil can cause various health problems, especially in young children.
To ensure the health and safety of children, the federal Agency for Toxic Substances and Disease Registry, or ATSDR, advises parents to prevent children from playing in dirt or mulch, to wash their children's toys regularly and to wash children's hands after they play outside. All residents should remove shoes before walking into their homes.
Fact Sheets
EPA Postcard - Update on EPA's Cleanup Schedule in Zone 3 (PDF) (1 pp, 67.6 K, About PDF)