About the Administrator for EPA's Region 5 Office in Chicago
Kurt Thiede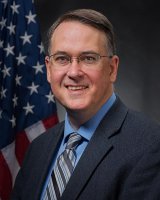 Kurt Thiede serves as the Regional Administrator for EPA Region 5. His responsibilities include overseeing environmental protection efforts in the Great Lakes states of Illinois, Indiana, Michigan, Minnesota, Ohio and Wisconsin, as well as 35 federally recognized tribal governments. One of his roles is manager of EPA's Great Lakes National Program, in which he leads restoration and protection of the largest freshwater system in the world. Previously, he was the chief of staff for the Region, fostering strong partnerships to promote collaborative environmental protection efforts.
Prior to joining EPA, Mr. Thiede served as deputy secretary of the Wisconsin Department of Natural Resources from 2015 to 2017. As deputy, he served as the chief operations officer for the agency, overseeing a $500 million annual operating budget and providing leadership and direction to the agency's 2,400 full-time employees. He served on the Governor's Management Cabinet and oversaw the agency's organizational realignment, and biennial budget setting process. He is an 18-year veteran of WDNR, and previously spent four years as the administrator for the Land Division, where he was responsible for Wisconsin's state parks and trails programs, wildlife managment, endangered resources, public land managment, land acquisitions, capitol development, and land use and recreational planning programs.
Throughout his 20-year state and federal career he has promoted the concepts of collaboration, creative problem-solving, common-sense decision-making, and active stakeholder engagement. Mr. Thiede has a Bachelor of Science degree in wildlife management and biology from the University of Wisconsin-Stevens Point, and in 2016 he received an outstanding alumnus award from their school of natural resources.