About the Regional Administrator for EPA's Region 7 Office in Kansas City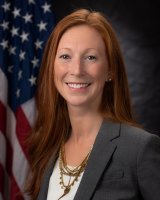 Meg McCollister has a strong advisory and advocacy background with nearly two decades of experience serving nonprofits, candidates for public office, and public policy campaigns.
Born in Kansas and raised in both Kansas and Missouri, she received her bachelor's degree from the University of Kansas before attending the University of Missouri-Kansas City School of Law, where she earned her Juris Doctorate with an emphasis in urban, land use and environmental law.
After law school, McCollister and her husband moved to Sonoma County, California, where she served on the Board of Directors for Sonoma County Conservation Action and worked on environmental campaigns and in local government. Upon her return to the Midwest, she has continued to serve as an advisor and strategic thinker in areas including environmental, health, and social improvement initiatives as well as communication strategies.
McCollister resides in Kansas City with her husband, three children, and rescued greyhound. She enjoys running, hiking, and exploring the outdoors.