EPA Region 6 Laboratory Biomonitoring Lab
On this page
---
About the Biomonitoring Laboratory
The Biomonitoring Laboratory conducts toxicity tests for use in the National Pollutant Discharge Elimination System (NPDES) and TOXNET program to identify effluents, receiving waters, ambient waters and sediments containing possible toxic materials in acute or chronic toxic concentrations. A toxic concentration is the least amount or concentration of a contaminant that is observed to cause adverse responses in the test organisms.
The Biomonitoring Laboratory is part of the Laboratory Support Group, under the direction of the Laboratory Support and External Oversight Section Chief.
---
Acute and Chronic Toxicity Tests
Acute and chronic refer to the length of time organisms are exposed to toxicants before adverse responses are observed. In chronic exposures, the organism is exposed to the toxicant at some frequency (daily or weekly usually) over a period of time. In acute exposures, the toxic concentration is delivered in a single event and absorption is rapid. Usually, a chronic exposure occurs at low concentration and acute exposure at high concentration.
---
Invertebrate Freshwater Tests
The majority of the tests conducted by the Biomonitoring Laboratory are for vertebrate and invertebrate acute tests. The acute toxicity tests utilized by the Biomonitoring Laboratory are 96 hours in duration.  Invertebrate freshwater tests are conducted on young neonates less than twenty four hours old.  Five neonates are added to each of four replicates for the control culture water and to each sample. Test chambers are 30 ml beakers containing 15 ml of sample or control water. At 48 hours the organisms are fed and the tests waters are renewed. The test is terminated after 96 hours.
 
---
Vertebrate Freshwater Tests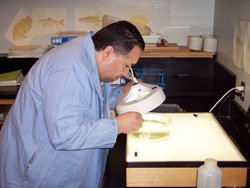 For the vertebrate freshwater tests, fish larvae less than 24 hours old are used to initiate the tests. Ten larvae are added to each of the four replicates for the control culture water and the samples. Test chambers are 250 ml beakers containing 200 ml of sample or control water. The larvae are fed at 48 hours and the test waters renewed. This test is also terminated after 96 hours. On both tests, mortality, dissolved oxygen and temperature are monitored daily. At the end of the tests, the mortality data is statistically analyzed to determine significant differences between control organisms and those exposed to the test samples. Whole effluent toxicity (WET) tests are also performed on the samples received for toxicity. The WET parameters are: pH, alkalinity, hardness, ammonia, chlorine and salinity.