Winners of the Cleaner Indoor Air During Wildfires Challenge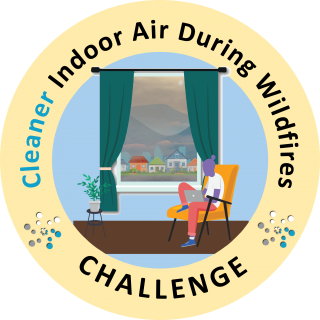 On this Page:
EPA and 10 federal, state, tribal and local organizations announce the Phase 1 winners of the Cleaner Indoor Air During Wildfires Challenge, which is designed to stimulate the advancement of new technologies to clean indoor air during wildfire smoke events and other high pollution days.
The Challenge encourages the development of new approaches, technologies, or technology combinations (termed "solutions") for keeping indoor air as clean as possible during periods when outdoor fine particulate matter (PM2.5) concentrations are elevated. These tiny particles are a main component of smoke from fires and have been linked to respiratory and cardiovascular health effects, especially in individuals with lung and heart disease.
When smoke from fires is unhealthy, as defined by EPA's Air Quality Index, the recommendation is to stay indoors, preferably in a "clean room" with filtered air and closed windows and doors and to minimize physical activity. However, air cleaning technologies for indoor air have multiple limitations, including their cost to purchase, operate, and maintain. They are also dependent on electrical power, which can be disrupted by wildfires or rolling blackouts. In addition, wildfires often occur in the summer and early fall in regions of the United States where many homes do not have air conditioning, so closing windows can lead to very high indoor temperatures. 
The Challenge is being offered in two phases. 
Phase 1, launched in 2021, is a theoretical, or design challenge requiring an in-depth written proposal but not requiring development of a prototype.  Five Phase 1 winners and three honorable mentions have been selected for awards.   

Phase 2, targeted to be launched in 2022, is being developed to further encourage the development of air cleaning technology. First phase w

inners and honorable mentions will be invited to submit prototypes of their technologies for evaluation in a second phase challenge. 

 
Meet the Phase 1 Winners
Air2-Clear2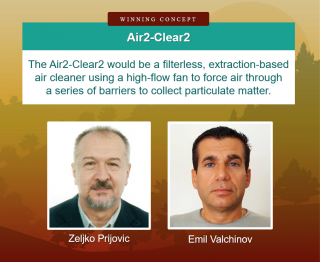 The team proposes a simple, efficient design with limited moving parts, no standard filter (eliminating clogging issues), low cost, and low waste. The device will be made from transparent materials that will allow a user to visibly observe the process of particulate matter (PM) removal and will provide easy access for cleaning and changing the water. The basic design is a large bucket with a series of traps for PM. The techniques used to trap PM include: friction to charge the particles so they stick to the interior bucket surfaces; air flow changes in direction, causing particles to impact surfaces; and air passing through swirling water allowing PM to be combined with the water droplets and discarded with the wastewater. The materials cost for the device components is estimated at less than $50.
The team estimates that the particle removal efficiency will be over 90 percent after one hour of operation in a large room (approximately 3,500 cubic feet). The modular design would allow modifications to accommodate different users' needs or air pollutants of concern.
---
Low-Cost Household Air Purifier Requiring No Consumables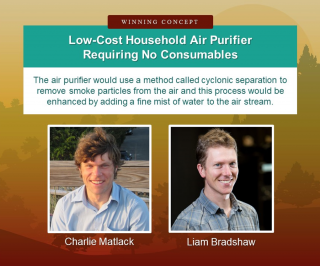 The team proposes to use off-the shelf components to build a multi-stage process to capture fine particles (PM2.5) from smoky indoor air without requiring any replaceable parts such as filters. The design is expected to keep costs low and lessen the maintenance challenge of finding replacement parts. An additional advantage is the device will use only clean water, at a rate of about 3.7 gallons per day. The approach first introduces a water aerosol into an air stream, next combines smoke particles with water droplets, and finally removes the dirty water droplets. The cost of materials for the proposed solution is estimated at $100 per unit. The team anticipates removal of PM2.5 concentrations near 50 micrograms per cubic meter of air (µg/m3) will be greater than 90 percent for a room of 1,200 cubic feet and will be potentially more efficient at higher concentrations.
---
Resonant Ultrasonic Scrubber for Indoor Air Filtration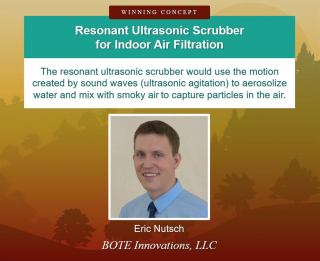 BOTE Innovations addresses significant challenges in adopting wet scrubbing technology for residential use with a design that reduces noise and minimizes the size of the device. The indoor air filtration system to remove PM uses ultrasonic agitation to generate an aerosol of water droplets that mixes with incoming air in a holding chamber, and then collects the PM laden droplets on a polypropylene filter.  The developer anticipates the fine particle  removal effectiveness will be more than 80 percent within one hour of operation in a 1,200 cubic foot room at a starting concentration of 300 µg/m3.  The materials cost of the proposed solution is estimated at $49 per unit, allowing for a retail price of $99, with anticipated cost savings if produced in large quantities. The cost includes a lead acid battery as an alternative power source.
---
Rutgers Research and Design Initiative (RRDI)
This proposal is a novel application of existing industrial technology that would be modified and scaled down for residential use. The team proposes to develop a two-phase air filtration device. The first phase uses a wet-scrubber method to capture particles within aerosolized water droplets followed by a second phase involving a series of stainless-steel wire filters, which are removable and washable. The team anticipates the PM2.5 removal effectiveness will be approximately 94 percent in a 1,200 cubic foot room within one hour of operation. The modular design developed by the team could be adapted to different users and needs. The materials cost for building a prototype is estimated around $100.
---
The Cocoon: An Accessible Low-Cost Air Cleaner for Safer Spaces During Wildfires  
The team developed an air cleaner that uses affordable, common household fabric to create a tube-shaped reusable filter attached to the front of a box fan. They named the prototype air cleaner "The Cocoon" due to its appearance during use and to be evocative of the safe space created by a cocoon. At a total materials cost of $44 per unit, the design creates a filter with a large surface area, enabling the box fan to move high flow rates of air across the material. The team modeled conditions with an outdoor fine particle  concentration of 165 µg/m3 in rooms of at least 1,200 cubic feet. Tests of the prototype showed PM2.5 removal effectiveness of greater than 80 percent within 30 minutes of operation.
Phase 1 Honorable Mentions
PM Shield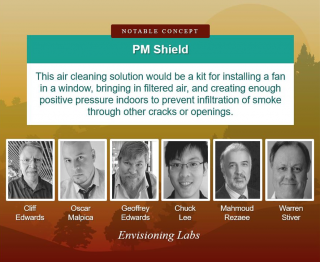 The design adopts a strategy often used in commercial buildings to clean outdoor air by using a fan to bring in air through a filter. This approach would create enough positive pressure in the building to prevent smoke entering through cracks or small openings, and also would removing smoke over time that came in from opened doors or windows.
The process involves installing a fan in a window, sealing the area around the fan, and using the fan to pull air into the home through a high-efficiency filter. The design team tested the strategy at home with good results. They estimate 95 percent removal of PM from a 1,200 cubic foot room within about 24 minutes. The time to remove PM from a house would depend on house leakiness and overall square footage. This strategy could also help with cooling indoors, depending on outdoor temperatures. A basic installation kit is estimated at a materials cost of $55, with additional costs for solar power options.       
---
Metalmark Clean Air Device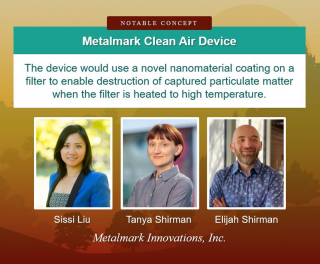 Metalmark Innovations, Inc.'s device would feature a unique filter that would have a long lifetime and be low maintenance, and low waste. The design draws in air with a fan and circulates the air through a filter with a novel nanomaterial coating whose material structure was first inspired by that of butterfly wings. When the filter is heated to high temperature, the properties of the coating enable it to completely break down the trapped particulate matter.
Metalmark indicates that initial testing of this technical approach in a small chamber using cigarette smoke resulted in steep reductions in PM concentrations within 20 minutes, without the creation of byproducts such as ozone or volatile organic compounds. As an additional benefit, the technology also removes volatile organic compounds carried with smoke. The company is currently building and testing larger prototypes for commercial buildings. Further development is needed for a residential-sized solution. The materials cost of the proposed solution is estimated at $100 per unit.
---
Microporous Media for Airborne Pollutant Removal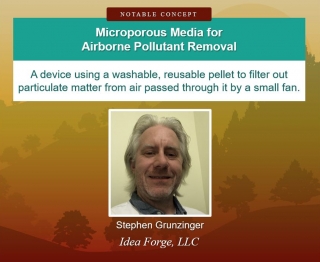 This solution is simple in concept, does not require water or other consumables, and is easy to use. Microporous polyvinyl chloride pellets of proprietary design act as a sieve to filter out PM2.5 from the air drawn through by a small fan. The pellets can be washed periodically and returned to the column for reuse. Preliminary testing indicates that two units would be needed to filter all the air and achieve 80 percent reduction of PM2.5 in a 1,200 cubic foot room. The estimated materials cost for one unit is about $37.
Eligibility and Judging Criteria
Winning Solvers had to certify they did not have identical or essentially equivalent work currently funded by a federal agency.

Federal employees acting within the scope of their employment were encouraged to consult his or her ethics official before participating in the Challenge.

Solvers were not required to give up any of their intellectual property ("IP") rights to the Seeker to be eligible to receive an award.

The Challenge was launched on February 17, 2021. Submissions to this Challenge had to be received by 11:59 PM (US Eastern Time) on May 17, 2021.

Late submissions were not considered.
What judging criteria were used to identify the Phase 1 winners?
All submissions were evaluated by EPA scientists and a panel of judges representing a range of expertise including indoor air quality experts, product engineers, and others with public health and/or air pollution communications and risk expertise. Submissions were judged by how well they addressed the challenge requirements described below.
 Significantly reduces indoor PM

2.5,

 specifically, in a room of at least 150 square feet with eight-foot ceilings and PM

2.5

 concentrations ranging from 35 – 300 micrograms per cubic meter (µg/m

3

):

Achieve greater than 80% reduction in PM

2.5

 concentration within one hour in a room while using the solution versus the PM

2.5

 concentration in the same room, under the same conditions, without using the solution. (For this submission, the Solver can assume no indoor sources, no open windows or doors, and no additional flow/sources, e.g., from home air handling operation).  

Maintain performance under real-word conditions, i.e., that the solution maintains indoor reductions over sustained periods of time (a few weeks) during high outdoor concentrations.

If the solution has novel design features that address some of the "additional criteria" outlined below, some decrease in the amount and speed of PM

2.5

 reduction is acceptable. Analysis had to be provided on the benefits, showing how they balance the tradeoffs of more modest results.

Assumptions should be clearly stated.
Costs no more than $100 per functional unit with all components to purchase

Operates at less than 45 decibels

Is safe to operate continuously for weeks at a time

Avoids Generation of any air pollutant (e.g., ozone)

Avoids any design based primarily on a box fan with a commercially available filter attached
Additional design features that are desired (but not required):
Cools the room without drawing in smoky or polluted air

Is sustainable to use: operating and maintenance costs are low, replacement parts are available/accessible, waste is minimized

Uses a battery or other option for operation during power outage

Reduces other pollutants (e.g., volatile organic compounds – VOCs
Related Resources: 
Oct. 26, 2021 Webinar: Phase 1 Winners of the Cleaner Indoor Air During Wildfires Challenge
Oct. 26, 2021 Webinar Slide Presentation (pdf) (7.06 MB)
Challenge Partners: