Impacts of Climate Change
This page provides an overview of climate change impacts. Content about sector- and region-specific impacts is under development. 
Climate change is happening. Global average temperature has increased about 1.8°F from 1901 to 2016.1 Changes of one or two degrees in the average temperature of the planet can cause potentially dangerous shifts in climate and weather. These real, observable changes are what we call climate change impacts​​​​​​ because they are the visible ways that climate change is affecting the Earth. For example, many places have experienced changes in rainfall, resulting in more floods, droughts, or intense rain, as well as more frequent and severe heat waves. 
The planet's oceans and glaciers have also experienced changes—oceans are warming and becoming more acidic, ice caps are melting, and sea level is rising. As these and other changes become more pronounced in the coming decades, they will likely present challenges to our society and our environment.
---
Seeing the Impacts
Climate change impacts our health, environment, and economy. For example: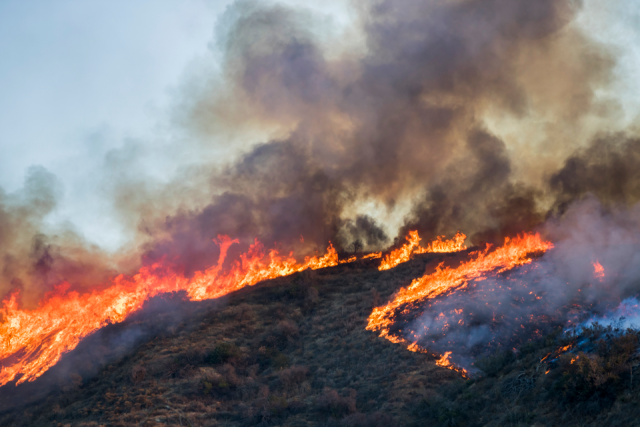 Looking Ahead
Elevated concentrations of carbon dioxide will persist in the atmosphere for hundreds or thousands of years, so the earth will continue to warm in the coming decades. The warmer it gets, the greater the risk for more severe changes to the climate and the earth's system. Although it's difficult to predict the exact impacts of climate change, what's clear is that the climate we are accustomed to is no longer a reliable guide for what to expect in the future.
---
Adapting to Climate Change
Adaptation helps us prepare for some of the likely effects of climate change by reducing their impacts on ecosystems and people's well-being. Examples of adaptation include strengthening water conservation programs, upgrading stormwater systems, developing early warning systems for extreme heat events, and preparing for stronger storms through better emergency preparation and response strategies.
---
1 Hayhoe, K., D.J. Wuebbles, D.R. Easterling, D.W. Fahey, S. Doherty, J. Kossin, W. Sweet, R. Vose & M. Wehner. (2018). Our changing climate. In: Impacts, risks, and adaptation in the United States: Fourth national climate assessment, volume II [Reidmiller, D.R., C.W. Avery, D.R. Easterling, K.E. Kunkel, K.L.M. Lewis, T.K. Maycock, and B.C. Stewart (eds.)]. U.S. Global Change Research Program, Washington, DC, p. 76. doi: 10.7930/NCA4.2018.CH2
2 Vose, R.S., D.R. Easterling, K.E. Kunkel, A.N. LeGrande & M.F. Wehne. (2017). Temperature changes in the United States. In: Climate science special report: Fourth national climate assessment, volume I [Wuebbles, D.J., D.W. Fahey, K.A. Hibbard, D.J. Dokken, B.C. Stewart, and T.K. Maycock (eds.)]. U.S. Global Change Research Program, Washington, DC, pp. 197–199. doi: 10.7930/J0N29V45
Ebi, K.L., J.M. Balbus, G. Luber, A. Bole, A. Crimmins, G. Glass, S. Saha, M.M. Shimamoto, J. Trtanj & J.L. White-Newsome. (2018). Human health. In: Impacts, risks, and adaptation in the United States: Fourth national climate assessment, volume II [Reidmiller, D.R., C.W. Avery, D.R. Easterling, K.E. Kunkel, K.L.M. Lewis, T.K. Maycock, and B.C. Stewart (eds.)]. U.S. Global Change Research Program, Washington, DC, pp. 544, 551–552. doi: 10.7930/NCA4.2018.CH14
Sarofim, M.C., S. Saha, M.D. Hawkins, D.M. Mills, J. Hess, R. Horton, P. Kinney, J. Schwartz & A. St. Juliana. (2016). Temperature-related death and illness. In: The impacts of climate change on human health in the United States: A scientific assessment. U.S. Global Change Research Program, Washington, DC, pp. 43-68. doi: 10.7930/J0MG7MDX
3 Fann, N., T. Brennan, P. Dolwick, J.L. Gamble, V. Ilacqua, L. Kolb, C.G. Nolte, T.L. Spero & L. Ziska. (2016). Air quality impacts. In: The impacts of climate change on human health in the United States: A scientific assessment. U.S. Global Change Research Program, Washington, DC, pp. 69–98. doi: 10.7930/J0GQ6VP6
4 Fleming, E., J. Payne, W. Sweet, M. Craghan, J. Haines, J.F. Hart, H. Stiller & A. Sutton-Grier. (2018). Coastal effects. In: Impacts, risks, and adaptation in the United States: Fourth national climate assessment, volume II [Reidmiller, D.R., C.W. Avery, D.R. Easterling, K.E. Kunkel, K.L.M. Lewis, T.K. Maycock & B.C. Stewart (eds.)]. U.S. Global Change Research Program, Washington, DC, pp. 322–352. doi: 10.7930/NCA4.2018.CH8
5 Lall, U., T. Johnson, P. Colohan, A. Aghakouchak, C. Brown, G. McCabe, R. Pulwarty & A. Sankarasubramanian. (2018). Water. In: Impacts, risks, and adaptation in the United States: Fourth national climate assessment, volume II [Reidmiller, D.R., C.W. Avery, D.R. Easterling, K.E. Kunkel, K.L.M. Lewis, T.K. Maycock & B.C. Stewart (eds.)]. U.S. Global Change Research Program, Washington, DC, pp. 145–173. doi: 10.7930/NCA4.2018.CH3
6 Lipton, D., M.A. Rubenstein, S.R. Weiskopf, S. Carter, J. Peterson, L. Crozier, M. Fogarty, S. Gaichas, K.J.W. Hyde, T.L. Morelli, J. Morisette, H. Moustahfid, R. Muñoz, R. Poudel, M.D. Staudinger, C. Stock, L. Thompson, R. Waples & J.F. Weltzin. (2018). Ecosystems, ecosystem services, and biodiversity. In: Impacts, risks, and adaptation in the United States: Fourth national climate assessment, volume II [Reidmiller, D.R., C.W. Avery, D.R. Easterling, K.E. Kunkel, K.L.M. Lewis, T.K. Maycock, and B.C. Stewart (eds.)]. U.S. Global Change Research Program, Washington, DC, pp. 268–321. doi: 10.7930/NCA4.2018.CH7
7 Ebi, K.L., J.M. Balbus, G. Luber, A. Bole, A. Crimmins, G. Glass, S. Saha, M.M. Shimamoto, J. Trtanj & J.L. White-Newsome. (2018). Human health. In: Impacts, risks, and adaptation in the United States: Fourth national climate assessment, volume II [Reidmiller, D.R., C.W. Avery, D.R. Easterling, K.E. Kunkel, K.L.M. Lewis, T.K. Maycock, and B.C. Stewart (eds.)]. U.S. Global Change Research Program, Washington, DC, pp. 544, 551–552. doi: 10.7930/NCA4.2018.CH14
Vose, R.S., D.R. Easterling, K.E. Kunkel, A.N. LeGrande & M.F. Wehner. (2017). Temperature changes in the United States. In: Climate science special report: Fourth national climate assessment, volume I [Wuebbles, D.J., D.W. Fahey, K.A. Hibbard, D.J. Dokken, B.C. Stewart & T.K. Maycock (eds.)]. U.S. Global Change Research Program, Washington, DC, pp. 197–199. doi: 10.7930/J0N29V45
Gowda, P., J.L. Steiner, C. Olson, M. Boggess, T. Farrigan & M.A. Grusak. (2018). Agriculture and rural communities. In: Impacts, risks, and adaptation in the United States: Fourth national climate assessment, volume II [Reidmiller, D.R., C.W. Avery, D.R. Easterling, K.E. Kunkel, K.L.M. Lewis, T.K. Maycock & B.C. Stewart (eds.)]. U.S. Global Change Research Program, Washington, DC, pp. 399–403. doi: 10.7930/NCA4.2018.CH10
Hayhoe, K., D.J. Wuebbles, D.R. Easterling, D.W. Fahey, S. Doherty, J. Kossin, W. Sweet, R. Vose & M. Wehner. (2018). Our changing climate. In: Impacts, risks, and adaptation in the United States: Fourth national climate assessment, volume II [Reidmiller, D.R., C.W. Avery, D.R. Easterling, K.E. Kunkel, K.L.M. Lewis, T.K. Maycock & B.C. Stewart (eds.)]. U.S. Global Change Research Program, Washington, DC, pp. 88–90. doi: 10.7930/NCA4.2018.CH2
Wehner, M.F., J.R. Arnold, T. Knutson, K.E. Kunkel & A.N. LeGrande. (2017). Droughts, floods, and wildfires. In: Climate science special report: Fourth national climate assessment, volume I [Wuebbles, D.J., D.W. Fahey, K.A. Hibbard, D.J. Dokken, B.C. Stewart & T.K. Maycock (eds.)]. U.S. Global Change Research Program, Washington, DC, pp. 237–240 and 240–242. doi: 10.7930/J0CJ8BNN
Fleming, E., J. Payne, W. Sweet, M. Craghan, J. Haines, J.F. Hart, H. Stiller & A. Sutton-Grier. (2018). Coastal effects. In: Impacts, risks, and adaptation in the United States: Fourth national climate assessment, volume II [Reidmiller, D.R., C.W. Avery, D.R. Easterling, K.E. Kunkel, K.L.M. Lewis, T.K. Maycock & B.C. Stewart (eds.)]. U.S. Global Change Research Program, Washington, DC, p. 339. doi: 10.7930/NCA4.2018.CH8