Greenhouse Gas Equivalencies Calculator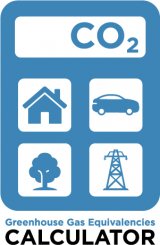 Convert emissions or energy data into concrete terms you can understand — such as the annual CO2 emissions of cars, households, and power plants.
The Greenhouse Gas Equivalencies calculator allows you to convert emissions or energy data to the equivalent amount of carbon dioxide (CO2) emissions from using that amount. The calculator helps you translate abstract measurements into concrete terms you can understand, such as the annual emissions from cars, households, or power plants. This calculator may be useful in communicating your greenhouse gas reduction strategy, reduction targets, or other initiatives aimed at reducing greenhouse gas emissions.
Updated March 2022
These estimates are approximate and should not be used for emission inventories or formal carbon emissions analysis. See Calculations & References for equations and sources used.
---
Step 1 - Enter and convert data
Select data to convert:There are two options for entering data into this calculator: energy data or emissions data. When you enter energy data, the calculator converts these values into carbon dioxide-equivalent greenhouse gas emissions based on emission factors for energy consumption or electricity reductions. Then, it provides equivalent ways to express those emissions. When you enter emissions data, the calculator provides equivalent ways to express those emissions.
---
Step 2 - View results
Enter data above to convert and view equivalencies.
About This Calculator
Other Resources
Get the Widget
Put the calculator on your website using our widget.