National Enforcement and Compliance Initiative: Reducing Significant Non-Compliance with National Pollutant Discharge Elimination System (NPDES) Permits
Problem
Compliance with NPDES permits is critical to protecting our nation's waters. There are approximately 46,000 major and minor individually NPDES-permitted facilities in the country. 20.3% of these facilities were in significant noncompliance (SNC) with their permits in FY 2018. Types of SNC violations range from significant exceedances of effluent limits, which can cause harm to human health and the environment, to failure to submit reports, which can mask serious deficiencies.
Goal
The objective of this initiative is to improve surface water quality by assuring that all NPDES permittees are complying with their permits. Improving surface water quality protects public health and reduces potential pollution impacts on drinking water supplies, aquatic life and public enjoyment of fishable and swimmable waters. The goal of this initiative is to cut the national FY 2018 baseline SNC rate of 20.3% in half, to 10.1%, by the end of FY 2022, while assuring that the worst SNC violators are timely and appropriately addressed.
This effort furthers EPA's Strategic Plan Goals, to enforce environmental laws and increase compliance. Compliance with environmental laws ensures clean and safe water for all communities.
Results
During FY 2022, the Agency made significant progress on reducing significant violations of NPDES permits. The following examples describe some of the agency's efforts and successes in FY 2022 to improve compliance and water quality through this initiative:
Reduced the rate of significant noncompliance with NPDES permits

Together with the NPDES authorized states, reduced the SNC rate from an FY 2018 baseline of 20.3% to 9.0%.
Highlighted SNC-level violators that may be in or near overburdened communities in EPA targeting tools to increase Regional and state attention to these violators.
 

Cases

EPA has addressed serious violations through enforcement actions. Examples of recently concluded enforcement actions for NPDES permit violations include the following:

Forged successful partnerships

Held quarterly discussions with all 47 NPDES authorized states focused on reducing SNC, help ensure that the most serious SNC-level violators in the state are being addressed.
Trained state partners and EPA Regions on early detection of SNC using EPA's ECHO Early Warning Dashboard. This tool lets EPA and states identify SNC-level violations earlier, which allows for intervention actions that can quickly return facilities to compliance, sometimes even before the violations become official SNC.
 

Provided compliance assistance

Continued to implement EPA's Compliance Advisor technical assistance program for small systems: In FY 2022, the program provided support to 53 small wastewater systems. Since its inception in FY 2020, the program has provided support to 63 small wastewater systems in 10 different states with more than 90% of systems in disadvantaged or underserved communities.
Established a highly successful technical assistance webinar series focused primarily on helping operators solve common compliance problems at small wastewater facilities in SNC, holding monthly webinars throughout FY 2020, FY 2021 and 11 webinars in FY 2022.
Issued two compliance advisories in FY 2022 focused on small wastewater treatment systems. These two compliance advisories,  Compliance Tips for Small Wastewater Treatment Lagoons with Clean Water Act Discharge Permits (pdf) , and Compliance Tips for Small, Mechanical Wastewater Treatment Plants,  are designed to remind owners and operators of these types of wastewater treatment plants of their responsibility to comply with the requirements in their NPDES permit. The advisories also include information on compliance and financial assistance resources that are available to help them comply.

Two additional SNC compliance advisories were issued in FY 2020:

Improved data transfer processes

Worked closely with several states to improve electronic transfer of data from state systems to EPA's system.
Percent of Individual NPDES Permittees in SNC during the Fiscal Year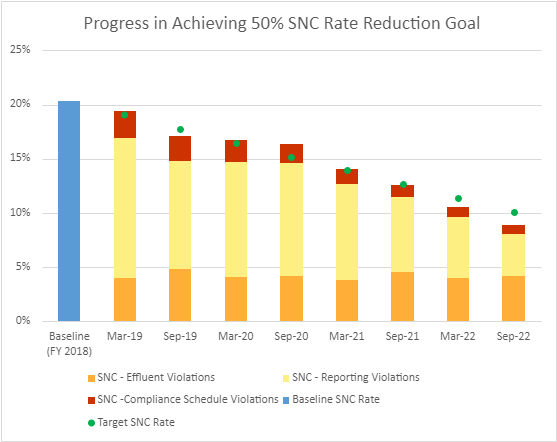 Number of Individual NPDES Permits with Complete Data for Determining SNC Status
EPA has determined that some individual NPDES permits have insufficient permit information and compliance tracking data in EPA's database to allow the EPA to evaluate the permittee's compliance status, including SNC. EPA excludes such permits from the SNC rate calculation to improve the accuracy of the SNC rate. The SNC NECI effort includes goals for addressing this problem to increase the number of individual permits included in the SNC rate calculation. The chart below illustrates progress on this work. At the end of FY 2022, there was complete data for 44,015 out of approximately 46,000 permits.