National Enforcement Investigations Center (NEIC)
The National Enforcement Investigation Center (NEIC) is the environmental forensics center for EPA's enforcement programs.  NEIC has a unique role in supporting complex criminal and civil enforcement investigations and conducting applied research and development to maintain sufficient scientific tools and applications for enforcement programs.  Often, the demands of some of the most complex environmental investigations require the use of non-standard methodologies.  Innovative investigative strategies can include complex process-based investigations, development of new analytical and field methods, evaluations and modification of existing methods, and expert technical consultation and advice.
NEIC's Mission
NEIC's mission is to protect human health and the environment by serving as EPA's fully accredited ISO 17025 forensics laboratory and providing multi-disciplinary expert teams to conduct field investigations to gather and evaluate evidence and perform analytical services. NEIC supports criminal and civil enforcement partners by gathering data, providing engineering evaluations, analyzing forensic evidence, providing legally defensible data, serving as expert witnesses in the courtroom, and delivering investigative training.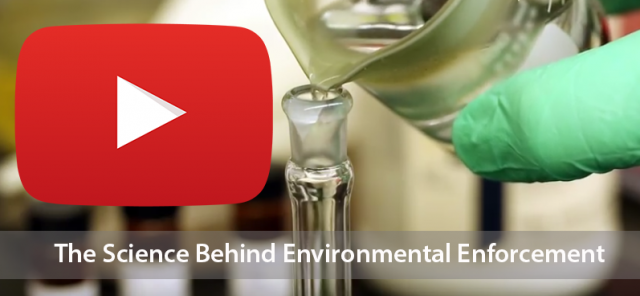 For more information on how NEIC plays a critical support role for criminal and civil investigations, please watch the video EPA's National Enforcement Investigations Center:  The Science Behind Environmental Enforcement 
Accreditation
NEIC is an accredited environmental forensics center. NEIC's operations conform to ISO/IEC 17025 and supplemental forensic testing requirements. ANSI-ASQ National Accreditation Board (ANAB) is the accreditation body, and the accreditation scope includes both field activities and chemistry.
NEIC also maintains ISO/IEC 17025 accreditation for specific methods in bulk asbestos fiber analysis. This accreditation is granted by the National Voluntary Laboratory Accreditation Program, operated by the National Institute of Standards and Technology.
Accreditation confirms that NEIC implements a recognized and systematic approach to planning, conducting, documenting, and assessing forensic and environmental data collection activities. Accreditation demonstrates to environmental stakeholders and to the American public NEIC's ongoing commitment to sound science. The scope of accreditation includes:
Field Activities
General Field Procedures
Sampling of Gases, Liquids, and Solids/Wastes/Products
Chemistry
General Chemistry – Microscopy/Chromatography
Molecular Analysis – Chromatography and Molecular Spectroscopy/Spectrometry
Elemental Analysis – Elemental Spectroscopy/Spectroscopy
Forensics Laboratory
Chemical analysis is preferred as part of many enforcement actions to ascertain the chemical composition, amount and extent of contamination. For more information on NEIC's state-of-the-art Forensics Laboratory, see the NEIC Forensic Laboratory Fact Sheet (PDF file). 
Specialized Expertise
NEIC maintains specialized expertise in the fields of chemistry, toxicology, and statistics.  For more information on NEIC's specialized expertise and how it can help support future cases, see the NEIC Expert Support Fact Sheet (PDF file).
Field Services
By gathering information from a specific site for use in environmental investigations and enforcement activities, NEIC provides evidence to determine non-compliance.  For more information, see the NEIC Field Services Fact Sheet (PDF file).
Advanced Monitoring
By gathering information from a specific site for use in environmental investigations and enforcement activities, NEIC provides evidence to determine non-compliance.  For more information, see the NEIC Advanced Monitoring Fact Sheets (PDF files). For additional information regarding any of NEIC's offerings, please do not hesitate to contact NEIC directly by email at:  neic_project_requests@epa.gov
Menu of Services
NEIC provides a variety of field, analytical and specialized services.  To review our full menu of services, please see the NEIC Menu of Services (PDF file).
Customers
NEIC customers include various groups to provide objective, legally defensible data and expert scientific and technical advice.
EPA Environmental Forensic Library
The Library is a member of the EPA National Library Network. It is the only enforcement-specific library in EPA. The library also provides information to other federal, state, and local agencies, as well as the general public by appointment. The Library provides services such as:
Background information on potentially responsible parties (PRPs) and expert witnesses
Searches and literature from legal and regulatory databases (statutes, regulations, and related case information)
Information on facilities, companies, and industrial processes
Chemical literature, standards, and analytical methods
Computer literature and administrative information
Borrowing/lending books and obtaining journal articles for EPA employees
Obtaining electronic access to EPA technical reports, news, data sources, and Internet resources
Brokering patron's requests to other EPA information sources
Instructing in the use of the EPA library catalog and the EPA Desktop Library
For more information on this unique library, their collection, and contact details, please refer to the NEIC Library brochure   and the EPA National Library Network website.