Atlantic Ecology Division (AED) Laboratory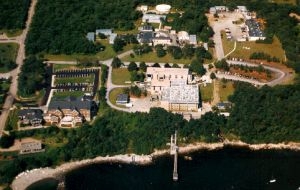 89,922 gross square feet (GSF)
Energy Intensity:
FY 2018: 260,698 Btu per GSF
15.1% reduction from FY 2003
Water Intensity:
FY 2018: 14.68 gallons per GSF
49.9% reduction from FY 2007
Narragansett, Rhode Island
AED Laboratory is a state-of-the-art aquatic research facility of EPA's National Health and Environmental Effects Research Laboratory under the Office of Research and Development.
Sustainable Features
The facility is undertaking a multi-phase infrastructure replacement project (IRP) to upgrade mechanical, electrical and laboratory equipment with more efficient systems. As part of the IRP, the laboratory plans to install a ground source heat pump that will use geothermal energy to provide heating and cooling to support the facility and provide winter process cooling for the seawater system.
EPA developed a Sustainable Site Master Plan to provide a clear path for its phased laboratory modernization projects, which included reducing lawn mowing and replacing vegetation with native, non-invasive plant species that encourage healthy foliage growth.
The facility has a green roof and 1,200-gallon cistern to capture excess stormwater runoff through roof drains, and AED reuses the water for irrigation during dry periods.
A 5 kilowatt (kW) photovoltaic (PV) array helps offset some of the laboratory's energy use. In FY 2017, the renewable energy system generated kWh.
For more information, visit the the AED Laboratory website or the EPA Facility Contact List.