Understanding Exposures in Children's Environments
Young children face special risks related to chemical exposures because of their unique biological makeup and child-specific behaviors; however little is known about young children's exposures and the factors that impact exposure.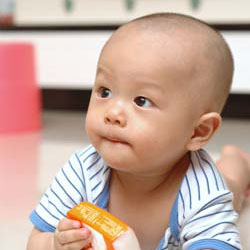 To be protective of children's health, EPA must understand what contaminants and conditions can cause harm to children, and understand where, when, how often, and why children are exposed to environmental contaminants. 
EPA scientists have conducted a series of studies to provide a better understanding of the chemical sources, pathways and routes of exposure, and other factors that contribute most to children's exposures to chemicals. This will allow for better and earlier decisions on when and how to reduce or eliminate children's exposures to chemicals. Research to date has included laboratory studies, pilot-scale and large field studies, and modeling research.
EPA scientists are considering several factors in this research, including influence of the following:
Everyday environments – Researchers are studying where, when, how often, and why young children are exposed to contaminants in their everyday environments, including homes and day care facilities. They are looking at the total influence of all potential routes of exposure including dust, food, water, air, and clothing.
Children's behaviors – Researchers are studying how childhood behaviors, such as crawling across a floor or "mouthing" toys or other objects, affect exposure.
Consumer product use in homes – Researchers are studying the types of chemicals children are exposed to in everyday environments. Examples of the chemicals found in everyday consumer products include pesticides, phthalates, polybrominated diphenyl ethers (PBDEs), polycyclic aromatic hydrocarbons (PAHs) and nanosilver.
Examples of EPA's Current and Past Children's Research
Nanosilver research
EPA recently partnered with the U.S. Consumer Product Safety Commission (CPSC) to develop tools, approaches, and protocols to prioritize children's potential exposures to consumer products containing nanosilver and to evaluate those products in pilot tests. The CPSC needs such tools to determine whether nanosilver is released from children's consumer products under real-world conditions, thus making it potentially available for exposure to children.
Thirteen products containing nanosilver were evaluated in the study: one plush toy, three fabric products, one set of breast milk storage bags, two sippy cups, three cleaning products, two humidifiers, and one humidifier accessory. Leaching experiments were conducted on the products using liquids relevant to each product's normal, real-world intended use. Liquids used in this research include synthetic urine, sweat, saliva, tap water, orange juice, and milk formula. Preliminary study results indicate that the silver levels to which children may potentially be exposed during normal product use is low.
Soil and dust ingestion modeling research
Soil and dust ingestion can be important exposure routes for environmental health risks, especially for young children. To date, most information collected by EPA on soil and dust ingestion rate estimates has been taken from trace element biomarker studies, as opposed to physically-based, process-driven exposure modeling methodologies.
To estimate soil and dust ingestion exposures of children ages 3 to 6 years, EPA scientists recently turned to the Stochastic Human Exposure and Dose Simulation Model for multimedia pollutants (SHEDS-Multimedia)—an innovative modeling tool used to estimate total exposures people face from chemicals encountered in everyday activities.
Using SHEDS, researchers found that, on average, 60 percent of total soil and dust ingestion among children ages 3 to 6 years is from soil ingestion, 30 percent is from dust on hands, and 10 percent is from dust on objects. 
Pesticide-Related research
Children's exposures to pesticides may be influenced by where they live and the pesticide use practices in their home and community. To evaluate this issue, EPA scientists collaborated with researchers from the Centers for Disease Control and Prevention and the Duval County (Florida) Health Department to evaluate young children's potential exposures to current-use pesticides in their home. The study was conducted in Jacksonville, Florida in 2001, a geographic location where higher concentrations of airborne pesticides have been reported relative to other locations.
One component of the study measured pesticide metabolite concentrations in urine samples from 203 children and compared these results to concentrations reported from other locations.
Pesticide metabolites were detected in most urine samples, suggesting that children in this study were exposed to pesticides and absorbed them into their bodies. Metabolite concentrations for common residential-use pesticides, such as pyrethroid pesticides, were nearly 10 times higher than concentrations reported elsewhere, suggesting much higher exposures to pesticides for children living in Jacksonville.
Although the data suggest higher exposures, pesticide metabolite data alone cannot predict risk or determine the most important routes and pathways for exposure. For these highly exposed groups, observational measurement studies that collect detailed exposure information along with biomonitoring data are needed to understand exposure and risk. This additional exposure information is also crucial in developing effective exposure reduction strategies.
Organophosphorus and pyrethroid insecticide urinary metabolite concentrations in young children living in a southeastern United States city.
Another component of the study collected multimedia measurements and activity information to estimate total exposures to the current-use pesticides measured in the children's homes. 
Multimedia measurements and activity patterns in an observational pilot study of nine young children.
Study of Use of Products and Exposure-Related Behaviors (SUPERB)
EPA researchers are collaborating in the Study of Use of Products and Exposure Related Behaviors (SUPERB) with University of California Davis scientists who are examining human behaviors influencing exposure to chemicals in homes.
As part of this research, EPA scientists have developed methods for analyzing for selected types of chemicals found in household dust, surface wipes, passive air collection and cotton garment samples. The researchers plan to use this information to examine how factors like food consumption, household activities, and household product use affect exposure to chemicals measured in the home.
The study is being conducted among two cohorts of households: (1) families from northern California (one parent and one child from each participating family) and (2) individuals 55 and older from central California.
Study of Use of Products and Exposure-Related Behaviors (SUPERB): study design, methods, and demographic characteristics of cohorts  
Children's Total Exposure to Persistent Pesticides and Other Persistent Organic Pollutants study (CTEPP)
EPA's Children's Total Exposure to Persistent Pesticides and Other Persistent Organic Pollutants (CTEPP) study is one of the largest studies on children's exposures to chemicals assembled to date. The study, conducted in 2000-2001, measured the levels of more than 40 chemicals found in homes and day care centers in North Carolina and Ohio.
The study filled a major knowledge gap in children's exposure research, finding that, for children, ingestion of food was the most common route of exposure to many chemicals measured in the study.
CTEPP sought to identify the major routes (i.e., breathing and ingestion), and sources (i.e., dust, food, air, soil, and water) through which children come in contact with chemicals. Researchers found low levels of many of these chemicals present in the children's environments, including pesticides, polycyclic aromatic hydrocarbons (PAHs), polychlorinated biphenyls (PCBs), phthalates, and phenols. 
Human Exposure Database System (HEDS)
EPA's Human Exposure Database System (HEDS) is a web-enabled data repository for human exposure studies, including several studies examining children's exposures to pollutants. The database provides data sets, documents, and metadata for human exposure studies that can be easily accessed and understood by a diverse set of users.
HEDS provides only data and accompanying documentation from research studies; it does not provide interpretations. It allows a user to download documents for review or data sets for analysis on their own computer system. 
Data and associated documents for HEDS are available on an external database site: USEPA/HEDS.
ExpoCast
EPA developed the ExpoCast database to capture results from observational studies measuring potential exposure to environmental chemicals.
ExpoCast has several functions, including working with EPA's ToxCast tool to determine priority chemicals that may need further screening or need to be regulated; developing new approaches for evaluating chemicals based on potential for biologically relevant human exposure; collaborating with stakeholder groups to mine and apply scientific advances and tools in a broad range of fields; and developing prioritization tools that will include publicly accessible and searchable exposure databases and exposure screening tools for accelerated chemical prioritization. 
ExpoCast
Results and Impact
EPA's children's exposure research is providing critical data needed to fill existing data gaps in exposure and risk assessments for children. This research provides a better understanding of the sources, routes, pathways, and exposure factors that are important for children's exposure, which allows for better and earlier decisions on when and how to reduce or eliminate environmental exposures that are potentially harmful to children.
Related Information