Flood Cleanup to Protect Indoor Air and Your Health
Información disponible en español
Flood Hazards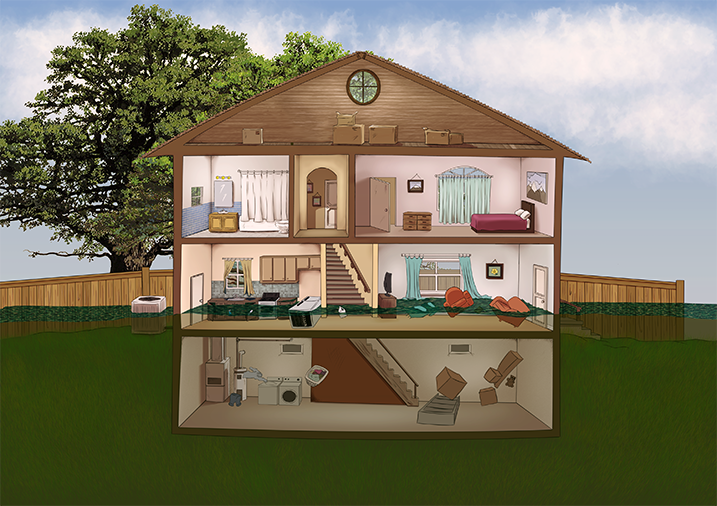 Use portable generators OUTSIDE and at least 20 feet away from buildings.
DO NOT MIX CLEANING PRODUCTS together or add bleach to other chemicals. 
Learn more about hazards in the aftermath of floods:
Flood water can make the air in your home unhealthy. Mold can grow on wood, drywall, carpet and furniture if they remain wet for more than 24 hours. Breathing in mold can make you sick. Flood water can also contain bacteria, chemicals or other hazards which may affect your health. 

This page describes four important actions you should consider to protect your health and indoor air quality (IAQ) when cleaning up after a flood (like a flash flood or flooding after a hurricane): 
Stay safe as you clean up.
Sort materials and throw away anything you cannot clean and dry.
Clean the house and everything in it that was wet or moldy.
Dry the house and everything in it completely.
Visit EPA's Flooded Homes Cleanup site for a complete guide to flooded home cleanup, including how-to videos.
Note: If your home is damaged by water from a pipe leak or rainwater intrusion, go to the EPA mold website for information on mold prevention and cleanup. Water damage from these types of events typically presents fewer hazards and affects a smaller area than damage from hurricanes and floods.
---
On This Page:
On Other Pages:
---
Stay Safe as You Clean Up After a Flood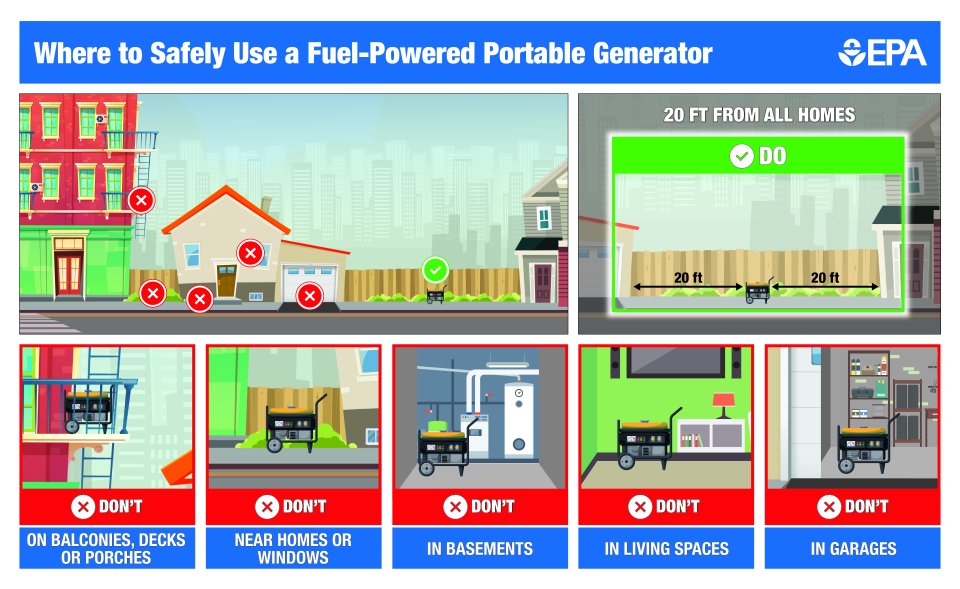 Should I try to clean up after a flood myself?
People with breathing problems like asthma or who have weakened immune systems should stay away from moldy sites and should not participate in flood cleanup. Children and pregnant people should not take part in flood cleanup work. Talk to your healthcare provider if you have questions about cleaning or working in a home that has been flooded.
Flood cleanup can be difficult and dangerous work. Learn about potential hazards in a flooded home. It may be best to get help from experienced and qualified professionals if you can. For example, a professional may be able to help you determine whether it is safe to enter your home. If hiring a professional to do the cleanup work is not possible, a professional inspector may be able to help you decide when you've cleaned up enough. 
For more resources on flood cleanup, see the fact sheet Flood Cleanup: Protecting Indoor Air Quality (PDF) or watch a series of short how-to videos on how to clean up after a flood yourself.
What should I look for if I want to hire a professional to clean up my house?
Ask about qualifications, training, and experience and check references for professionals you are considering. A qualified professional may have certification, training or experience in water damage restoration, mold removal and/or drying out buildings. Professionals may be affiliated with or certified by professional organizations such as:
the National Environmental Health Association (NEHA),
the American Industrial Hygiene Association (AIHA),
the Institute of Inspection, Cleaning and Restoration Certification (IICRC), or
the American Council for Accredited Certification (ACAC).
For more information, see the Homeowner's and Renter's Guide to Mold Cleanup after Disasters (PDF).
EPA does not have a certification program or maintain a list of contractors who can perform flood cleanup. Some states and organizations may require certification, training, or examinations for contractors who perform this type of work. Reach out to your state and regional contacts for more information.
How can I protect myself if I want to perform the cleanup?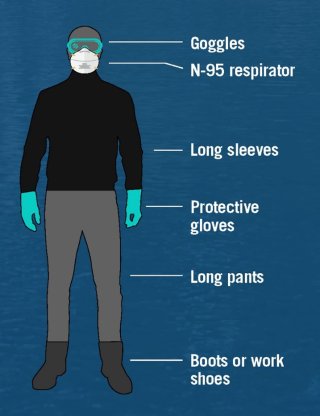 When you clean up, wear an N-95 respirator, goggles (without vent holes), gloves, pants, a long-sleeved shirt, and boots or work shoes.
Older homes and buildings may have building materials that contain asbestos or lead. Visit Protecting Your Health to learn how to recognize asbestos and lead hazards and what actions you can take to protect you and your family during flood cleanup.
For more information, see the Flood Cleanup and the Air in Your Home Booklet (PDF) or watch a short how-to video about what to wear during flood cleanup.
---
Sort Materials After a Flood
Find short how-to videos and other resources on things to keep, clean, or remove and trash disposal after a flood.
You can usually clean and dry materials that do not soak up water. You should throw away materials that soak up a lot of water and can't be cleaned and dried. You may be able to save some fabrics and textiles by putting them through the laundry. If you have precious items that you want to preserve, a restoration specialist for that type of item may be able to clean and dry it. 
Be sure to watch these videos to ensure you are safely sorting and discarding items and building materials:
Clean the House and Everything in it After a Flood
Find short how-to videos and other resources on things to keep, clean, or remove and mold and bacteria for more information about how to clean objects and surfaces after a flood. 
What cleaning methods should I use to clean up?
Use cleaning methods that keep contaminants from getting into the air. Avoid stirring up dust or scrubbing surfaces. The first time you clean a surface, clean it gently to remove loose dirt and microorganisms. Use a cloth (or something similar) dampened with clean water and detergent. After you have gently cleaned with something damp, you can use dry tools, like a wet/dry vacuum, to remove any remaining debris. 
While cleaning, open doors and windows, if possible, to increase ventilation and help dry your home. If you can already see mold, wait to start up fans or dehumidifiers until after you've gently cleaned the mold you can see. This is so the fans do not spread the mold. 
If you suspect that any part of your heating, ventilation and air conditioning (HVAC) system was submerged or affected by the flood waters, see Should I use my heating, ventilation and air conditioning (HVAC) system to help dry out my house?
What types of cleaning products should I use to clean up?
First, you should use clean water and detergent to physically remove contaminants from surfaces.
You can also use an EPA-registered disinfectant or sanitizer on some clean surfaces that do not absorb water to kill microorganisms such as viruses, bacteria, and mold. It is important to understand that disinfectants and sanitizers should be used on surfaces that are clean. These products do not work on surfaces that have not been cleaned. Many of these products are not intended for use on surfaces that absorb water like fabrics or unfinished wood.
Some disinfectants, sanitizers, and other cleaning products may cause breathing problems or skin irritation. Before you use a product, carefully read the label, and follow all the directions. Some key directions to look for include:
Read and follow all instructions about how to safely use the product, such as what protective clothing to wear.
Some products must be diluted with water before use. Be sure to prepare the product at the correct strength as indicated on the product label. Dilute products in well-ventilated areas.
Be sure disinfectants and sanitizers stay in contact with the surface for the time indicated on the product label. This is sometimes called the "contact time." These products take time to work. 
To sanitize surfaces that may touch food you will eat, look for a product that can be used on "food contact surfaces." 
DO NOT MIX CLEANING PRODUCTS together or add bleach to other chemicals.
Mixing cleaning products can create toxic vapors.
Can I use bleach to clean up after a flood?
Before you use bleach or any other disinfectant or sanitizer, you need to thoroughly clean the surface with clean water and a detergent. Water and detergent, as well as the wiping action of a damp cloth or sponge, can effectively remove many microorganisms and debris from surfaces.
If you use a disinfectant or sanitizer, such as bleach, you should only use it after you have thoroughly cleaned everything that was wet with flood water. Bleach and other disinfectants and sanitizers can kill microorganisms, but they don't work well unless the dirt around the microorganisms is cleaned up first.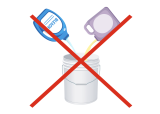 DO NOT mix bleach with other chemicals, such as ammonia or chemicals brought in by contaminated flood water, because the combination can be toxic. If you aren't sure what chemicals are in the flood water, clean as much as you can with water and detergent before using other products. 
Should I be concerned about exposure to microorganisms or cleaning products when I clean up?
It is important to prevent unnecessary exposure to both microorganisms (such as viruses, bacteria, and mold) and cleaning products during flood cleanup. 
Flood water can bring microorganisms, including from sewage and other sources, inside buildings. It can also allow microorganisms that were already inside to grow. During flood cleanup, exposure to these microorganisms can cause allergic or irritant effects, or in some cases even infectious diseases.
Cleaning products may also trigger asthma symptoms or have irritant effects if they are not used or stored properly. Many unintentional exposures to bleaches and disinfectants are reported to poison control centers every year.
If you have concerns about how flood cleanup work may affect your health, talk to your health care provider before you begin.
Learn more about hazards in a flooded home and how to protect your health.
---
Dry Everything Completely After a Flood
Find short how-to videos and other resources on drying your home after a flood.
What can I do to dry my house quickly?
If it is safe to do so, leave outside doors and windows open to keep air moving through the house as you clean and dry it out. Open inside doors and cabinets, and remove drawers, shelves, and built-in furniture (such as cabinets) to allow hidden surfaces to dry. If you have power, you can set up fans, dehumidifiers, or heaters throughout the house to speed up the drying process. However, it's a good idea to wait to start up fans or dehumidifiers until after you've gently cleaned all the mold you can see at least once.
If the air outside is very humid and warm, it can slow down the drying process. If you have power, consider closing outside doors and windows and use fans, dehumidifiers, air conditioners and/or heaters to dry out the house.
Should I use my heating, ventilation and air conditioning (HVAC) system to help dry out my house?
If any part of your HVAC system was affected by the flood, do not use it to help dry out your house. Cleaning and drying your HVAC system can be complicated, so it is best to have a professional do it. If the air ducts in your HVAC system have become contaminated, the EPA document Should You Have the Air Ducts in Your Home Cleaned? provides information about choosing an air duct cleaning service provider. 
If your HVAC system is working and is not contaminated, it may help with the drying process. However, you will likely need to use fans, dehumidifiers, and/or heaters, too. Most HVAC systems cannot dry out a home by themselves when the humidity is very high after a flood.
How long will it take to dry out my house?
Drying can take a long time, usually several days to weeks. Even after things look dry, you should keep the air moving with open doors and windows and any equipment you have available. Do not seal any areas, such as wall cavities, that were flooded and do not apply paint or sealants to any surfaces that were wet until you are sure the materials are completely dry on the inside.
How can I tell if materials like walls and flooring are completely dry?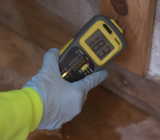 A moisture meter can help you determine whether materials such as walls, cabinets, and flooring are dry and ready for refinishing. You can usually find a moisture meter at a hardware store. Use the moisture meter to measure the moisture content of materials. Materials should read 15% or less to be ready for refinishing.
How can I tell if my foundation is dry before replacing my flooring after a flood?
To prevent mold growth, you should be sure your foundation is dry before you replace the flooring. An easy way to check if your concrete slab is dry enough to replace the flooring is:
Fasten the edges of a clear piece of plastic sheeting to a concrete slab.
Wait for approximately 16 hours. 
If moisture is visible on the plastic sheeting, it is still too wet to replace the flooring. 
Watch the video Drying Everything Out to see how to do this test.
This procedure is based on an American Society for Testing and Materials (ASTM) standard. For more details, visit the ASTM's portal for standards, testing, learning and more.