Natural Hazard Mitigation Resources
This webpage hosts a suite of resources related to connecting water quality management and hazard mitigation planning. 
 
Training Resource:
This module is intended for water quality and hazard mitigation professionals that are interested in integrating water quality issues and/or nature-based solutions into state or local Hazard Mitigation Plans (HMPs), and highlights the benefits of working across water quality and hazard mitigation programs. Modules in this series can be used as training tools to help planners from both worlds explore activities of mutual interest and benefit. Case studies and examples are provided to assist hazard mitigation planners with integrating water resource programs into HMPs and help watershed planners understand the synergies between water resource plans and HMPs.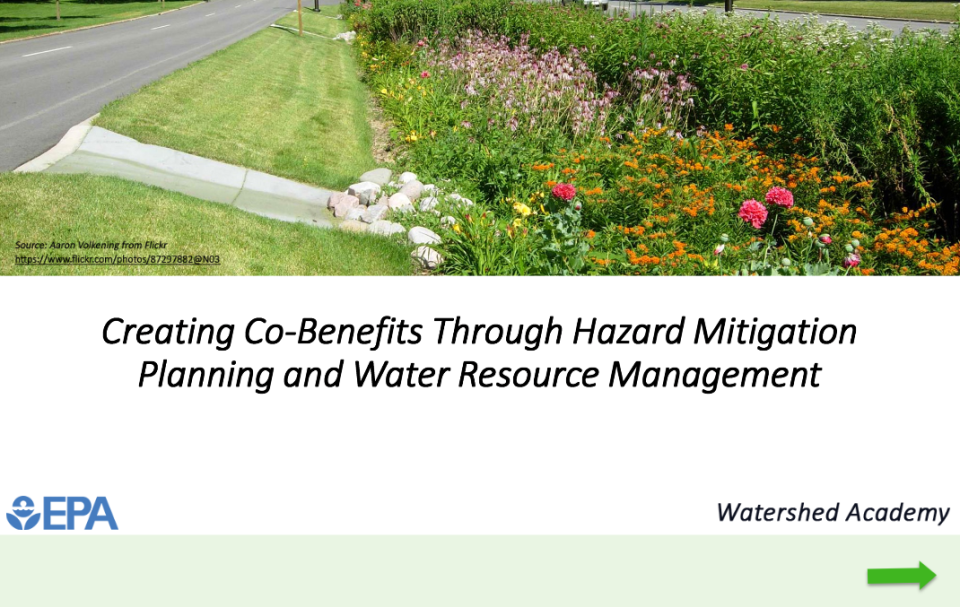 Training Slide Notes and Audio (pdf) (33.33 MB)
This course is best viewed in Google Chrome.

Presentation/Webinar Resources:
Webinars
EPA Watershed Academy Webcast: Integrating Water Quality Management and Natural Hazard Resilience through Nature Based Solutions, (video) May 24, 2022
EPA Green Infrastructure Webcast Series: Integrating Water Quality and Natural Hazard Mitigation Planning, (video) December 17, 2019
Presentations from 2020 National NPS Workshop
Green Infrastructure & Hazard Mitigation: Workshops to Address Water Quality and Water Quantity (video)
Watershed Planning in a Semi-Arid Environment (video)
Thinking Outside the Box: Building Natural Resiliency Through Soil Health (video)
Poster Session: Into the Mystic: Green Infrastructure to Improve Water Quality and Mitigate Flooding (video)
Poster Session: They're Worth It! Healthy Watershed Options for Floodplain Management (video)
Poster Session: Integrating Green Infrastructure Tools Into Hazard Mitigation Plans (video)
Poster Session: Nature-based Solutions to Hazard Mitigation - Ashland Pilot Project (video)
Document Resources:
Nature-Based Green Infrastructure and LID BMPs with Co-Benefits from Water Quality and Hazard Mitigation (pdf) (2.37 MB, 2022)
Hazard Mitigation and Water Quality Project Case Studies (pdf) (214.92 KB)
Water Quality and Natural Hazard Mitigation Planning Crosswalk (pdf) (1.36 MB, 2022)
Watershed Planning Steps and How They Align with Recommended Local Hazard Mitigation Planning Steps (pdf) (1.28 MB, 2022)
Summary of Water Quality Planning Programs and Hazard Mitigation Frameworks (pdf) (100.5 KB, 2022)
Crosswalk Between Water Quality Planning and CRS Credits (pdf) (145.22 KB)