What EPA is Doing to Address Ocean and Coastal Acidification
EPA is working to reduce two categories of pollution that cause acidification: carbon dioxide emissions and excess nutrients. Furthermore, EPA is collaborating with federal and non-federal partners to monitor ocean and coastal acidification.
On this Page:
---
EPA Action to Reduce Pollution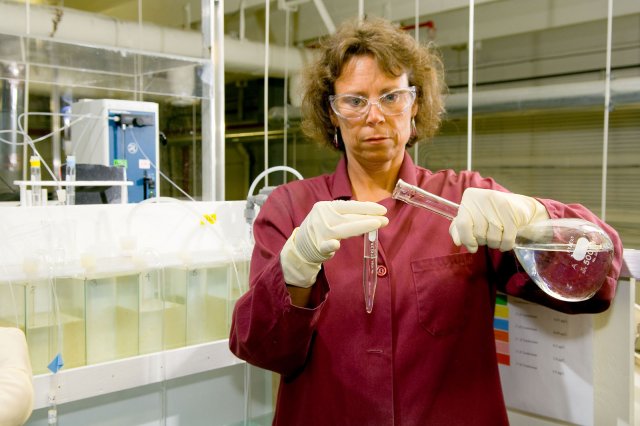 EPA is working to address pollutants that are causing ocean and coastal acidification. These pollutants include carbon dioxide emissions, acid-rain forming emissions and nutrients. Initiatives to reduce ocean acidification-causing carbon dioxide emissions are part of EPA's larger efforts to address climate change:
Similar EPA initiatives exist to tackle acid rain and nutrient pollution issues that drive coastal acidification:
EPA's research and monitoring focuses on four main areas:
Understanding the potential effects of acidification

Coastal observing systems deployed in estuaries around the United States monitor acidification.


EPA is working to improve laboratory experiments to better match real-world ecology. This kind of work explores how seawater enriched with dissolved carbon dioxide and nutrients affects food chains. Another line of work examines how marine organisms respond to acidification, including the combined effects of acidification and oxygen depletion caused by nutrient pollution and how plankton communities may change.

Monitoring changes in ocean chemistry and biological impacts
EPA is collaborating with the National Estuary Program (NEP) and their partners to measure coastal acidification using  autonomous, in situ monitoring sensors for dissolved carbon dioxide (pCO2) and pH in estuaries across the U.S.  These state of the art sensors give scientists new insights into acidification in nearshore waters. To date, these sensors have been deployed in NEP study areas in San Francisco Bay (CA), Santa Monica Bay (CA), Tampa Bay (FL), Massachusetts Bay (MA), Casco Bay (ME), Barnegat Bay (NJ), Long Island Sound (NY), Coastal Bend Bays (TX), Puget Sound (OR), Tillamook Estuaries (OR), Mobile Bay (AL), and Indian River Lagoon (FL).       

Scientists deploy a sensor in Casco Bay, Maine to monitor long-term coastal acidification trends. Courtesy of Casco Bay Estuary Partnership.

In April 2021, EPA released a report that details the experiences of ten National Estuary Programs and their partners in conducting coastal acidification monitoring using autonomous pH and pCO2 sensors from 2015 to 2020.  This report illustrates the monitoring goals, deployment methods, data analysis, costs, preliminary results, lessons learned and the role of partnerships in their successes. The results show that this monitoring is successfully capturing the high-resolution data necessary to better understand the vulnerability of these estuaries to acidification impacts and the drivers responsible for changes in pCO2 and associated acidification. There are regional differences in the drivers of acidification, particularly the influence of upwelling events, nutrient driven acidification, and other land-based influences. Read the reports here:

Measuring Coastal Acidification Using In Situ Sensors in the National Estuary Program (pdf) (11.73 MB, 2021, EPA-842-R-21001)

Integrating High-Resolution Coastal Acidification Monitoring Data across Seven United States Estuaries

Using Data Repositories for Ocean and Coastal Acidification Monitoring Data (pdf) (9.98 MB, 2022, EPA-842-R-220011)

EPA also collaborates with NOAA to observe how chemical and biological conditions change over time within Narragansett Bay (RI). Such measurements reveal the Bay's ecology to scientists, including ecological responses to recent reductions in nutrient pollution. Part of this work focuses on shellfish to see how these species in Narragansett Bay are responding to acidification. In addition to research work on bays and estuaries, EPA is measuring acidification in the Mid-Atlantic ocean waters offshore of Chesapeake Bay and Delaware Bay, and have produced Guidelines for monitoring acidification in coastal environments

.

Using computer modeling to predict changes in the ocean carbon cycle and resulting impacts to marine organisms and ecosystems
EPA is collaborating with states to study the interactions between nutrients and coastal acidification, as well as collaborating with universities to study the impact on shellfish. Also, EPA is incorporating acidification parameters into existing computer models that predict water quality and shellfish habitat quality.

Assessing social and economic impacts and developing conservation strategies for marine organisms and ecosystems
EPA has developed a computer model that predicts coral health. Resource managers, conservationists, and biologists are using the coral health model to predict how climate change and ocean acidification impact coral reefs. A separate computer model combines elements of biology and economics to predict how acidification's effect on shellfish will impact the economy due to declining production by the fishing and aquaculture industries.
Recent Webinars
Coastal Acidification: Adaptation and Mitigation Strategies – December 1 & 3, 2020
Ocean and coastal acidification (OCA) threatens marine ecosystems and the coastal communities that rely on them. Actions and best practices to adapt to and mitigate impacts of OCA, such as buffering sediments, restoring seagrasses and conserving refugia is an area of active research. Five speakers discussed strategies to mitigate impacts of OCA on coral reefs and shellfish resources including : Dr. Tyler Cyronak, Assistant Professor, Nova Southeastern University (Florida); Sara Randall, Associate Director, Downeast Institute (Maine); Dr. Kimberly K. Yates, Senior Research Oceanographer, U.S. Geological Survey, St. Petersburg Coastal and Marine Science Center (Florida); Dr. Nichole Price, Senior Research Scientist, Bigelow Laboratory for Ocean Sciences (Maine); and Dr. Susie Arnold, Marine Scientist, Island Institute (Maine).
State Legislation on Ocean & Coastal Acidification Webinar - March 19, 2020
Ocean and coastal acidification threatens marine ecosystems and the coastal communities that rely on them. The U.S. EPA's Ocean and Coastal Acidification Program promotes awareness and conducts research and long-term monitoring to mitigate impacts of acidification and develop solutions. States play a critical role in guarding their coastlines against local causes of acidification. Speakers included: Holly Galavotti, U.S. Environmental Protection Agency; Mike Molnar, Coastal States Organization; Justine Kimball, Ph.D, Senior Program Manager, California Ocean Protection Council; Caren Braby, Marine Resources Program Manager, Oregon Department of Fish and Wildlife; and Donald Witherill, Director, Division of Environmental Assessment, Maine Department of Environmental Protection.
Interagency Working Group on Ocean Acidification
The Subcommittee on Ocean Science and Technology, part of the U.S. Government's Executive Branch, administers the Interagency Working Group on Ocean Acidification. This interagency working group addresses the congressional mandate of the Federal Ocean Acidification Research and Monitoring Act of 2009. As a member of the interagency working group, EPA coordinates with other federal agencies to study ocean and coastal acidification. Led by NOAA, 13 federal agencies comprise the Interagency Working Group on Ocean Acidification. Among those agencies, those with web resources that deal with ocean acidification are listed below.
National Aeronautics and Space Administration
National Oceanic and Atmospheric Administration
United States Geological Survey
Additional Ocean and Coastal Acidification Web Resources
The following links exit the site
Alaska Ocean Acidification Network
California Current Acidification Network
Gulf of Mexico Coastal Acidification Network
Northeast Coastal Acidification Network
Mid-Atlantic Coastal Acidification Network
Southeast Coastal Ocean Acidification Network