Smart Growth, Brownfields, and Infill Development
On this page
---
Background
A brownfield is a property, the expansion, redevelopment, or reuse of which could be complicated by the presence or potential presence of a hazardous substance, pollutant, or contaminant. Cleaning up and redeveloping these properties can remove contaminants that harm air and water quality, reduce blight, and take development pressure off green spaces and working lands.
Brownfield redevelopment can transform abandoned and underused sites into community and economic assets such as parks and plazas, mixed-use developments, and homes. Brownfield properties are often centrally located in areas where infrastructure is already available, which can make them valuable properties for development.
Development and infrastructure policies influence the ease and cost of redeveloping brownfield properties. Smart growth land use strategies can make redevelopment more cost effective by allowing brownfield properties to redevelop with a mix of uses or encouraging more efficient land use. Directing infrastructure spending to roads and water and sewer lines on brownfield properties can also make these sites more attractive to developers.
Brownfield sites are often in infill locations with existing transportation and utility infrastructure. Redevelopment in infill locations can use vacant buildings, parking lots, or other underused sites for new amenities, homes, and businesses near existing neighborhoods. When infill development occurs near transit or employment centers, it can reduce the distance people need to drive and give them other transportation options.
---
EPA Resources
Office of Community Revitalization
Publications
National Award for Smart Growth Achievement
The National Award for Smart Growth Achievement recognizes exemplary smart growth projects across the country. Many of the winning projects included cleanup and redevelopment of brownfield sites.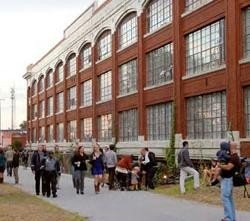 Brownfields and Land Revitalization Programs
EPA's Brownfields Program provides grants and technical assistance to communities, states, tribes, and other stakeholders, giving them the resources they need to prevent, assess, safely clean up, and sustainably reuse brownfields. EPA's Land Revitalization Program works with communities, states, nonprofits, and other stakeholders to develop and test sustainable approaches for the reuse of formerly contaminated properties.
Office of Environmental Justice
EPA's Office of Environmental Justice facilitates the Agency's efforts to protect the environment and public health in minority, low-income, tribal, and other vulnerable communities by integrating environmental justice in all programs, policies, and activities. Many of the office's initiatives involve cleanup and redevelopment of brownfield sites.
Publications
---
Other Federal Resources
Green Pattern Book: Using Vacant Land to Create Greener Neighborhoods in Baltimore (2015): Publication developed by the U.S. Forest Service that offers clear guidance, including specific patterns for different types of sites, to help Baltimore green its vacant lots.