2021 WasteWise National Award Winners
Recognition was a key element of WasteWise. EPA awarded select WasteWise partners for their exemplary waste prevention and diversion activities. Partner data awards were based on self-reported data in the categories of waste prevention, recycling and disposal. Partner narrative awards recognized results that may differ from data results. Given the Coronavirus Disease 2019 pandemic, narrative awards were especially significant.
The 2021 WasteWise national award winners shared details and quotes about their waste prevention and diversion activities, and about their awards with EPA. Read about their accomplishments and how they achieved them.
Disclaimer: EPA does not endorse these entities or their services.
On this page:
2021 WasteWise National Data Award Winners
2021 WasteWise National Narrative Winners 
---
2021 WasteWise National Data Award Winners
Walgreens Boots Alliance 
Deerfield, Illinois - 

Very Large Business, Partner of the Year
Walgreens Boots Alliance is determined to help protect the planet through programs in its operations and by engaging suppliers in environmental issues. The company believes a healthy planet is essential for both human health and healthy communities.
In 2016, Walgreens Boots Alliance piloted Walgreens' first zero waste to landfill program at the Moreno Valley, California distribution center. The goal of the program was to lower the amount of waste sent to landfills by increasing recycling rates. Through the program, Walgreens Boots Alliance engaged team members to create innovative solutions, collaborated with vendor partners, adjusted handling processes to unlock the value of recyclable commodities (e.g., cardboard, plastic film, aluminum), streamlined operations and practices, and reduced its negative environmental impact by creating a more circular economy.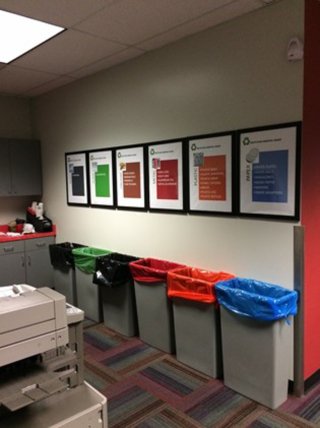 Walgreens Boots Alliance achieved a waste diversion rate over 90 percent, and then expanded the program to other distribution centers across the U.S. and Puerto Rico. These 18 facilities have maintained a 90 percent waste diversion rate for over three years, achieving 93 percent in the fourth year of the program. Walgreens Boots Alliance continues to adapt programs to adjust to challenging recycling markets and applies this knowledge to other parts of its operations.
In 2020, the Walgreens supply chain recycled over 73,000 tons of materials. After the Red Nose Day campaign, a campaign to support children, Walgreens worked with vendor partners to divert over 229 tons of red nose material and packaging from the landfill. Approximately 28,500 red noses helped create 19 Buddy Benches that are being donated to select schools across the country.
By sharing its waste reduction journey with retailers, businesses, non-profits, non-governmental organizations, and government agencies, Walgreens Boots Alliance hopes to improve U.S. recycling rates.
---
Freightliner Custom Chassis Corporation
Gaffney, South Carolina - 

Large Business, Partner of the Year
Freightliner Custom Chassis Corporation's (FCCC's) goals are to build as many chassis as possible and provide the best products to its customers. With these goals in mind, FCCC had to determine the best ways to reduce the waste the company generates through production processes. In 2008, FCCC accepted the challenge of going zero waste to landfill and became the first Daimler company to achieve this milestone. FCCC's practice is to recycle as much waste as possible. What cannot be recycled goes to an incinerator. FCCC's goal is to maintain a 95 percent recycling rate each month. The company has developed a network of recyclers throughout the Carolinas that help support its goals.
FCCC has worked diligently to ensure that its commitment to waste reduction is not just for show, but has been engrained in the company's culture. In 2020, FCCC diverted over 3,170 tons of waste. It had to adapt to many challenges, such as the COVID-19 pandemic and a new administration.  The company was uncertain how its recycling program would handle the influx of masks, barriers, and sanitary wipes, but it continued to focus on the waste streams and partnerships it had already established. FCCC also developed new partnerships with vendors that could recycle the harder to recycle materials, like rubber.
---
ComEd
Oakbrook Terrace, Illinois  - 

Large Business, Honorable Mention 
ComEd is an environmental leader in the electric utility industry and is committed to stewardship in the communities it serves. For many years, ComEd has championed environmental sustainability and stewardship initiatives to meet the challenges of a changing climate, habitat loss, and diminishing natural resources. At ComEd, compliance is the minimum. From restoring and managing our right of way to native pollinator habitats to providing hands-on outdoor education to local schools, ComEd continually seeks innovative solutions to go beyond requirements and regulations. Managing waste is an important component in ComEd's commitment to environmental stewardship. Annual reporting for WasteWise allowed ComEd to reassess its waste streams and to constantly look for new opportunities to reduce waste. By participating in WasteWise, ComEd was able to benchmark with other large businesses, share best practices, and learn from success stories.
In 2020, ComEd expanded its pilot compost program to a fourth site and trialed dumpster cameras at two sites to learn about improvement opportunities for recycling, as well as right-sizing and scheduling dumpster services. ComEd's office recycling program alone saved approximately 7.66 million kilowatt-hours of electricity, 210,338 gallons of oil, 12.04 million gallons of water, 6,019 cubic yards of landfill airspace, 20,637 mature trees, and accounted for 5,469 metric tons of total greenhouse gas reduction (the equivalent to 620,813 gallons of gas saved or 1,002 passenger cars not driven).
---
ECOS
Lacey, Washington - 

Small Business, Partner of the Year
ECOS has been a pioneer in manufacturing environmentally friendly household and commercial cleaning products since 1967. Over the last 50 years, sustainability has played a key role in the business, and ECOS sees every aspect of the business as an opportunity to reduce environmental impact. Since 2015, ECOS manufacturing facilities across the nation have been certified Platinum Zero Waste for diverting over 95 percent of their total waste from landfills. In 2020, the Lacey, Washington facility diverted 98 percent of its waste from landfills. It recycled over 98 tons of materials and reused or returned over 570 tons of material. ECOS' zero waste efforts of rethinking, reducing, reusing, and recycling saved the company over $68,000 in waste disposal costs. ECOS implements a zero waste policy in all departments company-wide, which extends throughout its supply chain and consumers.
Despite current challenges in the recycling market and an increase in production resulting from increased demand for ECOS products during the COVID-19 pandemic, the company continued its zero waste and recycling training programs and adapted waste operations to maintain 95 percent waste diversion at all four of its zero waste facilities.
ECOS reduces waste through practices like source separation, going paperless where feasible, limiting personal printers at offices, composting, and requiring vendors to implement zero waste practices. The company reuses and repairs as many materials as possible and has established take-back systems with suppliers. In 2020, ECOS extended this take-back program to include returning packaging materials to partners in the supply chain, including empty pallets, drums, and totes used for raw materials and packaging supplies. ECOS' partners reuse these materials for future shipments to ECOS rather than recycling or repurposing them on-site. ECOS also extensively educates employees about source separation of materials and the benefits of a circular economy.
---
Delaware River and Bay Authority 
New Castle, Delaware - 

State Government, Partner of the Year
The Delaware River and Bay Authority (DRBA) is a multifaceted transportation authority responsible for a network of bridges crossed by 35 million vehicles annually, three ferries carrying 800,000 passengers per year, and five regional airports in two states. DRBA prides itself as an organization connecting people and places in the heart of the northeast corridor and recognizes the importance of sound environmental practices in delivering these services.
Over the past six years, DRBA has increased its focus on resource conservation at facilities. In 2020, the authority reduced various waste streams and recycled over four million pounds of waste at sites and projects. DRBA increased the amount of waste material they recycle to 25 unique commodities, including aluminum, asphalt, lead acid and NiCad batteries, cardboard, concrete, e-waste electronics, oil filters, parts washer fluids, polycarbonate plastic, used cooking oil, aerosol cans, shredded paper, used motor oil, scrap metal, soil, spent lamps, tires, wood pallets, and vegetative waste. The program's growth is tied to collaboration with employees, the public, and suppliers through measurement, education, working together, and advancing sustainable business practices.
Despite the impacts of COVID-19, DRBA had a notable year in 2020 for waste reduction, recycling, and environmental initiatives. The pandemic drove significant changes regarding home reporting and social distancing; however, the DRBA workforce's "essential employee" designation permitted projects and key services to continue. All DRBA lines of business, including ferries, airports, and bridges, contributed to overall performance during these challenging times. Finally, in efforts to sustain and build upon these improvements, DRBA recognized the importance of changing employee behaviors, and continued to train custodians on recycling best practices and issued employee environmental recognition from the Environmental, Health & Safety Department.
---
City of Fort Lauderdale 
Fort Lauderdale, Florida - 

Local Government, Partner of the Year
The city of Fort Lauderdale's Solid Waste and Recycling Program under the Public Works Department has a mission to continually evolve to adopt convenient, environmentally friendly solutions to make Fort Lauderdale a more forward-thinking and sustainable city. Electronic waste (e-waste) is rapidly increasing, and the materials need to be handled properly. This need led to the inception of Fort Lauderdale's residential curbside electronics pick-up program. It allows residents to conveniently and safely dispose of home electronics curbside on the same day as their scheduled recycling.
The program aims to protect the environment and human health from potentially dangerous materials such as lead, cadmium, and mercury that can pose a serious risk if they are disposed of in normal waste streams. The program also collects rechargeable batteries, eliminating the risk of fire. In 2020, the city of Fort Lauderdale collected nearly 1,000 electronic items, such as televisions, computers, monitors, and communication devices, totaling approximately 14,000 pounds of e-waste. This was a 14 percent increase from the previous year. The e-waste is diverted to Urban Mining, an e-Steward certified organization that focuses on refurbishing, remarketing, and recycling materials in an environmentally responsible manner. The program is expected to grow more each year as consumers continue to purchase new and replacement electronics.
---
Mohegan Tribe of Indians of Connecticut
Uncasville, Connecticut - 

Tribal Government, Partner of the Year
Mohegan Sun, owned by the Mohegan Tribe, is a lodging, entertainment, shopping, restaurant, meeting, and gaming destination. In 2020, the casinos and hotels shut down for a few months, reducing the amount of food waste to a third (258 tons) of the amount the venue normally donated to a nearby piggery. However, the amount of frozen food donations Mohegan Sun made to numerous charities, food pantries, and employees soared beyond expectations. Roughly 10,000 meals were donated to the Gemma E. Moran United Way/Labor Food Center in New London, Connecticut, which assists more than 60 food pantries in the region. Surplus food donations were made to The Salvation Army in Connecticut and Rhode Island. In the spring of 2020, the Mohegan Tribe also provided 10,000 grocery bags to Foodshare, a regional food bank serving Connecticut's Hartford and Tolland counties. Between wasted food and frozen food donations, 263 tons were diverted from regular trash, amounting to over $100,000 in revenue. Mohegan Sun also diverted 167 tons of used cooking oils from regular trash, which amounted to $37,304 in revenue and were converted to biofuel by Western Mass. Rendering Company. Mohegan Sun donated seven tons of latex paint left over from renovations to Habitat for Humanity through the Paint Care program. Finally, the venue organized food drives for local families and employees who were furloughed during the COVID-19 shutdown, providing thousands of meals from two on-site restaurants.
---
Beth Israel Deaconess Medical Center
Boston, Massachusetts - 

Non-profit Organization, Partner of the Year
Over the past two years, Beth Israel Deaconess Medical Center (BIDMC) has focused on improving the effectiveness of its management of 18 waste streams, as well as implementing waste reduction efforts. BIDMC's waste prevention and recycling activities have saved them over $200,000 in 2019 and 2020.
BIDMC's sustainability efforts succeeded despite significant challenges, including restructuring the organization to address the COVID-19 pandemic. BIDMC staff demonstrated their adaptability as they managed the pandemic by addressing the personal protective equipment supply shortages. Staff built a container car on-site customized with vaporized hydrogen peroxide disinfection to reprocess N95 respirators. BIDMC reprocessed and redistributed 12,500 masks, which is equivalent to 5,000 pounds of waste diverted. This is only one example of BIDMC's innovative sustainability solutions that prioritize staff and patient safety.
---
2021 WasteWise National Narrative Award Winners 
Beth Israel Deaconess Medical Center 
Boston, Massachusetts - Green Innovator
Beth Israel Deaconess Medical Center (BIDMC) had to restructure its leadership in order to address and adapt to the COVID-19 pandemic. During the first surge, personal protective equipment for staff was difficult, if not impossible, to locate. A cross-departmental team collaborated to develop a reprocessing system for single-use N95 masks without altering their integrity and protective ability. The team built a container car customized with vaporized hydrogen peroxide (VHP) disinfection for reprocessing N95 respirators. After numerous trials, BIDMC implemented this reprocessing system, reusing disposable masks while reducing purchasing requirements.
The system reprocessed masks from several hospitals and clinics in BIDMC's system. Many disinfectants have harmful byproducts, but VHP is the most environmentally friendly option, as the only byproduct is water. The team established a process to collect masks; put them through VHP disinfection or dispose them if they contained blood, rips, or makeup; and redistribute masks after passing a quality assessment, or store them if not immediately needed.
The medical center captured over 18,000 masks, with 12,516 fully reprocessed and ready for redistribution. This is equivalent to 5,006 pounds of waste diverted. This story is not only about waste diversion, but also about innovation and ensuring staff and patient safety when there were not many options available.
"Every program that BIDMC designs and implements requires cross-departmental collaboration to have an actual impact. Through our sustainability practices, we continue to demonstrate our ability to do just that." — Avery Palardy, Sustainability Manager
---
Central Michigan University 
Mt. Pleasant, Michigan - 

Sustainability Public Education
In 2020, outreach and education defined sustainability at Central Michigan University (CMU). Most notably, it marked the beginning of Central Sustainability, CMU's unofficial office of sustainability. Through this platform, the office has centralized sustainability initiatives and focused on education. It has directly engaged with students through presentations with various student organizations, data-collecting resources, and interactive opportunities such as campus sustainability walking tours. These activities allowed the campus community to become aware of and engage with EPA sustainable materials management topics, including food, packaging, electronics, and the built environment.
Thanks to these strides in education, CMU has seen quantifiable impacts in its waste diversion numbers and an overall shift in campus outlook on sustainability. In 2020, CMU diverted 207.64 tons of organics from landfills, and later, placed second in the 2021 Campus Race to Zero Waste composting category. A 2020 survey, taken by 572 on-campus students, highlighted an increased interest in sustainability. The Sustainability Pledge took that one step further, as 500 respondents have committed to reducing their footprint and engaging with sustainable best practices. Because this work is never-ending, CMU constantly introduces and revamps its initiatives to have the widest reach and most inclusive domain, engaging with as much of the campus as possible. Although this can be challenging, it has enabled CMU to progress as a community and share a common goal of sustainability, on-campus and beyond.
---
Daikin Texas Technology Park 
Waller, Texas - 

America Recycles
Complete with an office building, a manufacturing plant, a cafeteria, a wellness center, engineering labs, training dojos, and wastewater treatment plants, Daikin Texas Technology Park (DTTP) is much like a small city. DTTP receives an enormous amount of packaging material, which makes Daikin's commitment to achieving zero waste to landfill even more critical.
In 2019, DTTP and Quietflex, a Daikin group company, implemented a returnable container system. The companies began packaging and delivering supplies in returnable metal containers. This project reduced 46.5 tons of wood pallets and 63 tons of cardboard in 2019, and 180 tons of wood pallets and 120 tons of cardboard in 2020.
Also in 2019, DTTP created four recycling technician positions to reduce contamination of its recycling streams, increase the volume of recyclables, and improve recycling rebates. Because of these employees, film plastics recycling increased from 0 to 100 tons in 2019 and DTTP recycled 174 tons of film plastic in 2020. DTTP's waste management efforts saved $646,579 in 2019 and $599,735 in 2020.
DTTP's most significant accomplishment in 2019 was expanding wood waste recycling. Historically, DTTP struggled to find a recycling vendor that could handle the volume of pallets it needs to recycle. Fortunately, DTTP identified two vendor partners who were able to help. Consequently, DTTP diverted 1,491 tons of wood waste from landfills, and in 2020, that total increased to 2,542 tons. The most significant accomplishment in 2020 was the 74 percent increase in plastic film recycling.
DTTP's greatest challenge to recycling and waste diversion is contamination. To solve this, the company put tremendous effort into signage and employee communication. However, DTTP saw a greater reduction in contamination rates once it transitioned from recycling compactors to balers. The company has since become more intentional about container selection, policy development, and making the process easier for internal customers.