Energy Savings and Impacts Scenario Tool (ESIST)
On this page: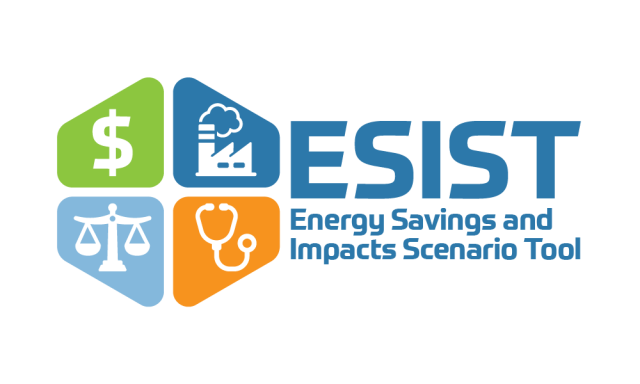 About ESIST
The Energy Savings and Impacts Scenario Tool (ESIST) is a customizable and transparent Excel-based planning tool for analyzing the energy savings and costs from customer-funded energy efficiency programs and their impacts on emissions, public health, and equity. ESIST enables users to develop, explore, and share energy efficiency scenarios between 2010 and 2040.
ESIST users first select a study area based on states, utility types, specific utilities, or different customer sectors within a utility. Users can adjust inputs, including electricity sales growth forecasts, energy efficiency savings goals, program budgets, savings expiration schedules, discount rates, and first-year costs. The tool allows users to compare levels of energy efficiency savings, annual costs, and levelized costs of saved energy. ESIST users can then estimate multiple benefits that could result from the user-generated energy efficiency scenario—including avoided emissions, public health benefits, peak demand impacts, and energy burden reductions—and review customer demographic data.
ESIST focuses primarily on energy efficiency savings in the electricity sector. The ESIST: Pilot Gas Version is focused on natural gas savings from energy efficiency or other gas-saving measures in the in the residential and commercial sectors. 
Download ESIST
Download the ESIST User Manual. The ESIST User Manual describes the input process used to generate ESIST results. The manual also describes how users can generate tailored results within the optional modules and replace default values with user-specified assumptions.
Potential Users of ESIST
Potential users of ESIST include:
State agency officials examining the policy implications of changes to energy efficiency investments.
Public utility commission staff evaluating the costs and benefits of proposed energy efficiency programs.
Analysts and academics exploring different resource planning scenarios with varying levels of energy efficiency investment.
Nongovernmental organizations assessing the energy burden impacts of energy efficiency programs targeted to reach low-income households.
Air quality planners and public health officials seeking to quantify the emissions and public health benefits of energy efficiency programs.
Utilities reviewing demographic data of households in their utility service territory to reach with energy efficiency programs. 
Uses of ESIST
ESIST can inform a wide range of potential uses. For example, ESIST can:
Estimate the historical or future (2010-2040) annual electricity impacts of customer-funded energy efficiency programs and assess their contribution toward achieving existing, expanded, or new energy efficiency targets.
Inform utility benefit-cost analyses by modeling benefits and costs in expanded or alternate energy efficiency scenarios. 
Generate different efficiency scenarios to facilitate stakeholder comparison and discussion of future costs and benefits, such as during integrated resource plan (IRP) processes.
Aggregate the results from analyses across multiple utilities or program administrators to illustrate the combined effects of energy efficiency programs in a single state, or nationwide.
Assess the multiple benefits of electric customer-funded energy efficiency in terms of  emissions, public health, peak demand, or energy burden impacts. 
Evaluate the impacts of energy efficiency and monetary assistance on low-income households' energy burdens and calculate the total annual program costs of reducing energy burdens for low-income customers.
Review demographic data describing the number of households in a utility service territory based on household income, including ownership status, race and ethnicity, and other criteria.
Use electricity savings impacts from ESIST as an input to other tools, such as EPA's AVoided Emissions and GeneRation Tool (AVERT) for quantifying avoided emissions and Co-Benefits Risk Assessment (COBRA) tool for estimating public health impacts at a more granular level.
Limitations of ESIST
ESIST is a scenario planning tool designed to balance complexity and relative ease-of-use. Users should be aware of its limitations and appropriate uses and describe these when discussing scenarios and communicating results with stakeholders. One important caveat to consider when using ESIST is that it provides annual values on costs and benefits for some but not all categories that are commonly assessed in benefit-cost testing of energy efficiency resources. While ESIST may be used to estimate some of these costs and benefits, users who are composing a comprehensive cost and benefit analysis of energy efficiency programs should consult with literature on best practices for benefit cost analysis of energy efficiency, such as the National Standard Practice Manual (NSPM).
More information on ESIST's limitations, including data availability and sources, data applicability, time scale, geography, and level of detail, are discussed in the User Manual.
Learn More
This one-hour webinar from December 2021 provides an overview of ESIST, describes use cases, and includes a tool demonstration for users. Watch the webinar recording to learn more about how to use ESIST. 
Speakers:
Maggie Molina, EPA's State and Local Climate and Energy Program
Cassandra Kubes, EPA's State and Local Climate and Energy Program
Patrick Knight, Synapse Energy Economics
Webinar Energy Savings and Impacts Scenario Tool (pdf) (1.41 MB)
Contact Us
If you have questions about ESIST or need support using it, please contact us at: esist@epa.gov