Watersheds Research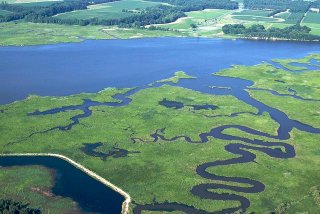 Humans rely on natural water resources, including bodies of water and the watersheds that flow into them, for critical social, economic, and ecosystem benefits. Numerous human-caused factors are threatening the quality of natural water resources and the beneficial uses of these resources, including nutrient pollution, sedimentation, chemical and microbial contaminants in surface waters, the proliferation of microplastics, habitat alteration, introduction of invasive species, and land-use changes. Furthermore, climate change is threatening water supply and the integrity of marine, coastal, and freshwater ecosystems.
The protection and restoration of aquatic resources requires improved understanding of how human activities affect water quality and quantity and how the structure and function of aquatic ecosystems changes in response to those effects. The science needed to develop integrated water quality and watershed management tools are a key to developing this understanding, managing water resources, and effectively restoring impaired water bodies.
EPA works to sustain and restore natural water resources by viewing them as complex systems. To help sustain our water resources, EPA research is underway to
assess the condition of aquatic ecosystems and develop the tools necessary to do so;
inform the management of ambient water quality to protect human health and aquatic life;
develop models and methods to map aquatic resources;
obtain a complete understanding of watershed processes;
quantify the social, economic, and environmental benefits of water quality improvements;
establish new approaches to identify, assess, and prioritize contaminant risks;
develop new approaches to minimize the impacts of these contaminants on water resources; and
consider the impacts of climate change and changing human demographics on aquatic resources.
Research Topics
Models, Tools, and Approaches