Anaerobic Digestion on Dairy Farms
On this page:
Anaerobic digestion (AD) of dairy manure in the United States (U.S.) has many environmental and economic benefits, including producing renewable energy and reducing greenhouse gas emissions, and is underutilized as a manure treatment option. Dairy manure is the nation's largest source of methane from livestock manure management (see Figure 1).
Figure 1. Total Manure Management Methane Emissions in the U.S., 2018
As of April 2021, there were 221 AD systems processing dairy cow manure in the U.S., and these systems reduce approximately 4.29 MMTCO2e each year.1 In addition, more than 50 dairy AD systems are currently under construction with significant opportunity to scale AD capacity over the coming years. The AgSTAR program, a collaborative effort of the U.S. Environmental Protection Agency (EPA) and the U.S. Department of Agriculture (USDA), estimates that there is potential for AD systems on approximately 2,700 additional dairy farms, with the potential to reduce 29.9 MMTCO2e each year.2 That's equivalent to planting nearly 500 million trees!3
Where Dairy Farms Are Located
Figure 2. U.S. Dairy Population, 2018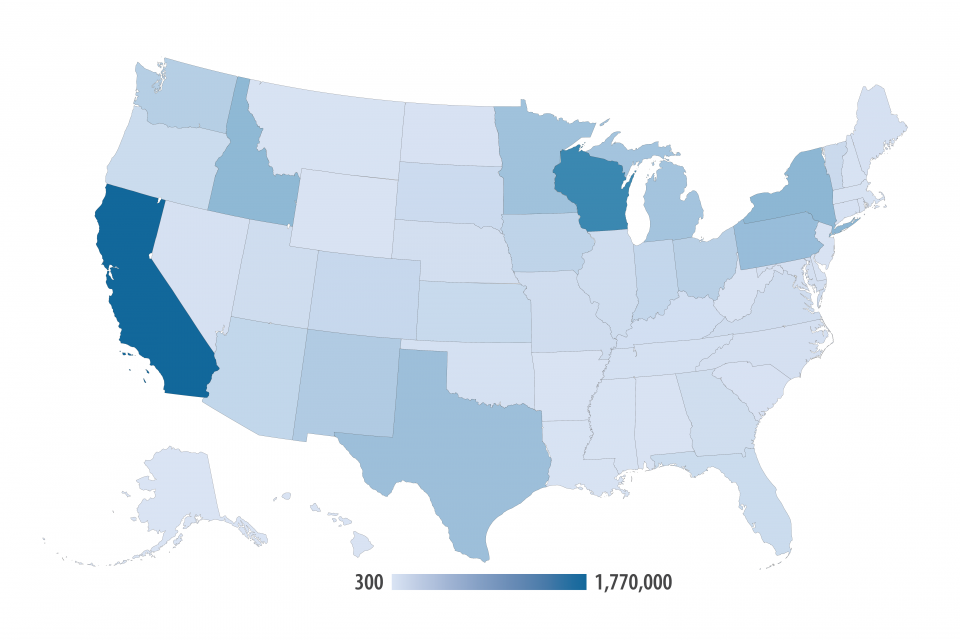 U.S. dairy populations are concentrated in several states throughout the country, with the majority, over two-thirds,) of dairy cows located in the states of: California, Wisconsin, New York, Idaho, Pennsylvania, Texas, Minnesota, and Michigan (see Figure 2).
Current Manure Management Practices
Each farm has unique manure handling needs based on size and location. Some dairy manure is handled as a solid, stored in piles or stacks, spread daily, or left to lie in pastures or ranges where animals graze. These management practices generate minimal methane and are common for smaller operations.
Large operations, however, tend to manage manure using systems that have a higher potential for methane emissions. Flush collection systems use large volumes of water to collect and remove manure from barns and milking parlors, while scrape collection systems remove manure from barns and alleyways. These systems move the manure into long-term storage in anaerobic lagoons, tanks, or earthen ponds under anaerobic conditions where the manure releases methane. Depending on location and cropping system, some dairies store the manure for up to a year or longer before field application.
Although national dairy populations have decreased since 1990, the industry has become more concentrated in certain areas of the country, leading to a larger average number of animals per dairy farm. As facility sizes increase, these operations are adopting more long-term manure storage systems, which have potential to emit methane.
Figure 3 presents the most common types of manure management on dairy farms in the U.S. For more information about manure management system types, see Chapter 9 of the USDA Agricultural Waste Management Field Handbook or visit the Livestock and Poultry Environmental Learning Center's Manure Collection and Handling Systems site.
Current Use of Anaerobic Digestion Systems
Figure 3. Manure Management Practices on Dairy Farms in the U.S., 2018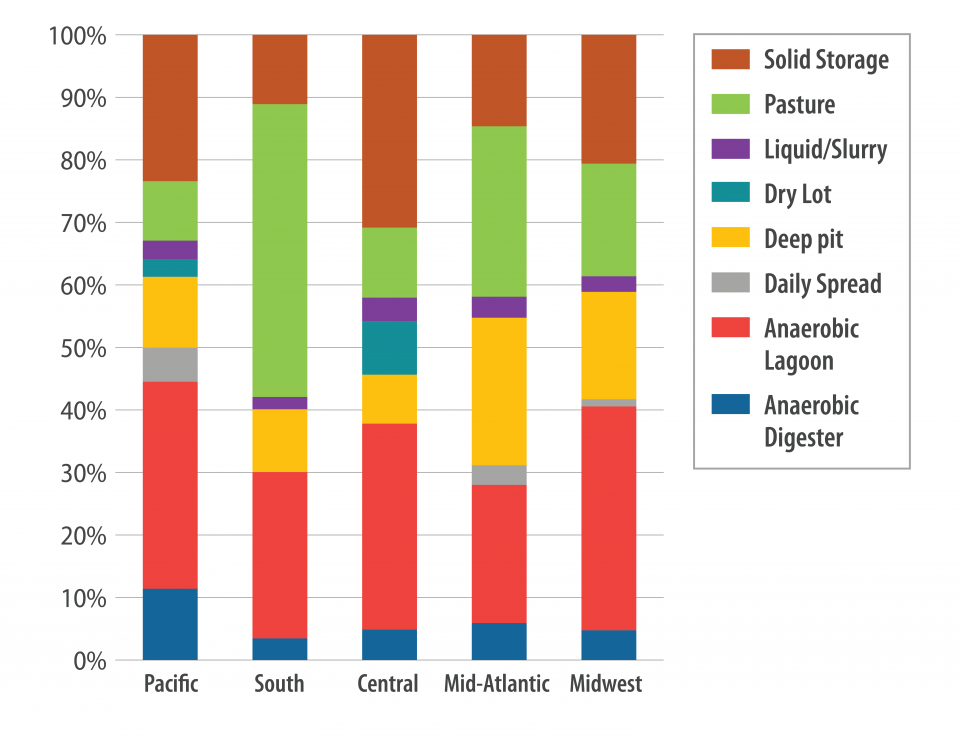 Plug flow digesters, are the most popular type of AD system for dairy operations, currently processing manure from more than 260,000 dairy cattle at about 91 AD sites.4
Complete mix digesters and covered lagoons, which are more suited for manure with low total solids content, are also popular for dairy manure. There are about 70 complete mix systems and 50 covered lagoon systems operating in the U.S., accepting manure from around 110,000 and 210,000 dairy cattle, respectively.5
Project Development Trends
Dairy farms are predominantly family owned and managed, and most are members of producer cooperatives, which are jointly owned and controlled equally by member farms. While many dairy AD systems today are operated on site, it is becoming increasingly common for a third-party company to develop and operate AD systems that process manure from multiple farms. These include centralized AD systems, or hub-and-spoke systems, that share the project risk and reward between multiple farmers and developers and reduce interconnection costs, allowing for more efficient project development. The Dane County Digester in Vienna, Wisconsin, for instance, accepts manure piped in from three nearby dairy farms and was the first centralized digester in Wisconsin to process waste from multiple farms. For many centralized systems, such as the Cayuga Regional Digester in New York, the manure must be trucked in rather than piped.
Another business model gaining popularity is when multiple farms that are relatively close to one another each have their own AD system, but the biogas they produce is sent to a centralized location for processing. This type of hub-and-spoke model is particularly common in California, but it is emerging in other states as well. Calgren Dairy Fuels, for instance, collects biogas from 12 dairies in Tulare County, California and upgrades it to pipeline-quality renewable natural gas (RNG), which is injected into a SoCalGas pipeline and transported to existing compressed natural gas (CNG) fueling stations.
New and existing AD systems across the country are undergoing a distinct shift in biogas use, from electricity generation to RNG production. This is primarily due to economic factors, as discussed below.
Barriers
AD remains an uncommon manure management practice in the dairy industry mainly due to economic challenges. In addition to the significant capital cost of the digester, hiring additional staff to operate and maintain the AD system and meeting regulatory or permitting requirements may also be costly.
Dairy farmers typically have narrow profit margins, which means they have less capital to invest in practices beyond what is needed for the farm to function. A farmer may be aware of the benefits of AD, but if the cost is perceived to outweigh those benefits, there is limited incentive to pursue AD. Benefits such as environmental stewardship, odor reduction, and emission reductions are difficult to monetize, and revenue from renewable electricity generation, although a potential source of direct income for a farm with an AD system, is often not high enough to make up the deficit. Furthermore, low electricity rates have made it increasingly difficult for power generation projects to remain profitable.
Solutions
The most effective way to address economic barriers is to develop dependable markets that increase project revenue and reduce project costs. Considerations for increasing revenue or cost savings include:
Market incentives for biogas. Tax credits, renewable energy credits, carbon offset credits, or other incentives offered through federal or state renewable or low carbon fuel standards are a potential source of revenue or cost savings. Several states have created programs focused on the reduction of fossil fuel-based fuel, such as Low Carbon Fuel Standard (LCFS) incentive programs in California and Oregon. At the federal level, the Renewable Fuel Standard provides market-based monetary value for renewable fuels, including RNG.

Market trends for renewable/low carbon fuels have made RNG more valuable than electricity. If a project can demonstrate that RNG is used as transportation fuel and meets appropriate requirements, RNG can also generate Renewable Identification Numbers or LCFS credits. Because of this, a large portion of dairy projects currently in development have plans to produce RNG.
Strategic Partnerships. Many companies and utilities are willing to pay a premium for renewable energy or carbon offsets to reduce their carbon footprint. Biogas producers that partner with an organization to purchase the gas could potentially achieve greater revenues. Brightmark, for instance, an RNG developer with clusters of digester projects across the county, has partnered with Chevron in a joint venture to produce and market dairy-based RNG. Brightmark owns the projects, and Chevron purchases and markets RNG produced from the AD systems for use in vehicles that run on CNG.
Third party build/own/operate models. These models can relieve the farmer of financial risk, as well as operational and maintenance responsibilities, while still providing the farmer benefits like odor reduction and improved public image. Hub-and-spoke business models like those noted above take advantage of economies of scale by using one large, centralized facility for multiple farms.
Codigestion. Depending on the AD system, food waste or other organics may be codigested with dairy manure to increase biogas production rates, which can increase revenue from energy sales. Charging a tipping fee for the disposal of other parties' wastes is another source of income. Barstow's Longview Farm (pdf), in Massachusetts, codigests approximately 22,000 tons of organic byproducts annually from a nearby creamery, in addition to the 9,000 tons of manure their dairy generates every year. Biogas from the digester is used to generate over 6,000 kilowatt hours per year, a portion of which powers the creamery.
Nutrient concentration. Where technically feasible, creating other products such as concentrated nutrient fertilizers can add to revenues or directly reduces costs of nutrient management. The Audet family, of Blue Spruce Farm in Vermont, installed a phosphorus recovery system (pdf) at their dairy to further dewater separated digestate solids from their plug flow digester. The system, which uses dissolved air flotation, can capture 75 to 85 percent of the fine solids and phosphorus in the manure stream, yielding low-solids irrigation water and a stackable nutrient-rich solid product that can be marketed and sold off site as a soil amendment or fertilizer.
Federal, state, or local funding and streamlined permitting. Federal, state, or local direct financial assistance for feasibility studies and/or up-front costs can reduce financial barriers to implementing sustainable practices. The Project Planning and Financing page on the AgSTAR website includes a table of resources to help identify funding opportunities. Additionally, streamlining permitting processes can reduce project costs and expedite development of projects.
---
1 AgSTAR Anaerobic Digester Database. This value includes direct methane reductions from the manure emissions as well as indirect reductions from the avoided use of fossil fuels.
2 Market Opportunities for Biogas Recovery Systems at U.S. Livestock Facilities (pdf) report.
3 Greenhouse Gas Equivalencies Calculator.
4 AgSTAR Anaerobic Digester Database.
5 AgSTAR Anaerobic Digester Database.