Wildfire Smoke Air Monitoring Response Technology (WSMART) Pilot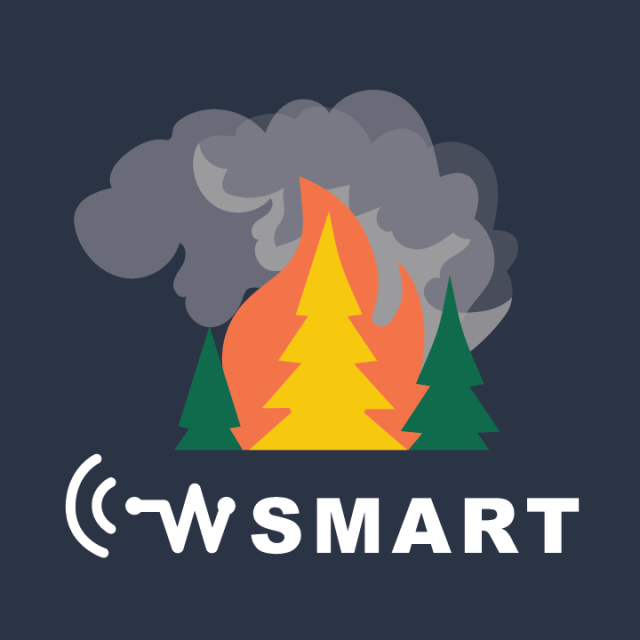 EPA's Office of Research and Development is making available specific air monitoring technologies for loan to state, local, and tribal air organizations to support supplemental air monitoring in areas affected by wildfire smoke and with observational data coverage gaps.
The Wildfire Smoke Air Monitoring Response Technology (WSMART) pilot is part of a federal government response to address the growing threat of wildfires and related smoke impacts that are a public health concern in the United States. In many areas affected by wildfire smoke, air monitoring data may be limited or absent. Supplemental monitoring technologies can help air monitoring organizations gather timely data to assess smoke impacts and provide public health information.
The current systems that are available upon request are two stationary sampling systems – the PurpleAir sensor and Thingy AQ sensor system – and a portable system called the Vehicle Add-On Mobile Monitoring System (VAMMS). The research team is preparing a fourth sensor system for inclusion and the loan request form will be updated when this is available. If you are representing a state, local or tribal air agency and wish to request one or multiple air monitors, please fill out the online form. 
Contact:  smoketech@epa.gov
Details on equipment available for loan:
Disclaimer: Mention of trade names or commercial products does not constitute EPA endorsement or recommendation for use.
PurpleAir Sensor
Stationary sensor that measures fine particulate matter (PM2.5)

Outdoor or indoor use

Plug-in to outlet for power

Requires WiFi to display data publicly
Thingy AQ Sensor System
Stationary sensor system that measures PM2.5, carbon monoxide, total volatile organic compounds, and carbon dioxide

Outdoor use

Battery powered

Data telemetry supports multiple options of wireless data transmission
Vehicle Add-on Mobile Monitoring System (VAMMS)

 
Compact monitoring system that utilizes a Thermo Scientific pDR-1500 to

measure PM2.5 at a high time resolution
A limited number of expanded VAMMS systems (VAMMS-X) will include additional measurements of carbon monoxide and black carbon

Global positioning system (GPS) to log location

Microprocessor for data integration

Window probe mount attaches to any vehicle

Monitors outside air

Battery powered
Eligibility: State and local air agency monitoring staff; Professional tribal air quality staff members. The equipment is not available for general public use.
Training: EPA will provide technical support information along with the loaned air monitors and provide remote troubleshooting support. The VAMMS system's data can be interactively viewed on the RETIGO data visualization system and training for that system is available at the application website at www.epa.gov/retigo.
Additional information: Cost of shipping to location and return to EPA is covered.
Frequently Asked Questions (FAQs):
Will EPA provide Standard Operating Procedures (SOPs) or other supporting information?
Yes. For loaned equipment, EPA will provide supporting technical information such as quick start guides and SOPs.
Can my organization keep the monitors loaned?
Retention of the PurpleAir systems can be requested. The VAMMS and Thingy AQ systems cannot be retained permanently and are tracked federal property.
What happens if a monitor is damaged or stolen?
EPA loans the equipment with the understanding that it is going into potentially severe air pollution scenarios and that there are inherent risks to equipment when used in the field. If damage or other equipment issues occur, EPA will request explanation for what occurred and will repair/replace to the extent resources allow.
Are there any limitations regarding where these units could be operated? Can my organization loan this unit to another group?
The use of the monitors should be for supplemental and informational air quality monitoring purposes related to wildfire smoke response. The recipients have flexibility regarding where the monitors are utilized to collect data to best meet their goal. The recipients cannot officially transfer a federal property loan, but can collaborate with local partners (e.g., community groups, municipalities) on the measurement locations and request local partner participation in the data collection.
Are the data from these monitors public?
The PurpleAir data are posted on the web by the vendor and will post publicly to the Fire and Smoke Map on the EPA-managed AirNow.gov website after undergoing quality assurance and bias adjustments built into that data platform. Please refer to the FAQs on the Fire and Smoke Map for more information. The Thingy AQ will not report data publicly. Instead, the data will be available to EPA and the recipient via a private access data platform. The VAMMS data will not report data publicly. The data are stored to onboard memory.
Does EPA want the air organization borrowing the equipment to share the data? 
EPA can directly access data for PurpleAir and Thingy AQ. EPA would like to receive VAMMS data to develop a data archive that can be used to improve the system in the future and for other research uses. For those requesting VAMMS systems, EPA staff will reach out to create a low-time burden approach to share data.
Can I request this equipment to try out during periods of low wildfire activity?
During periods with lower wildfire activity nationwide, state, local, and tribal air organizations can request a loan of the monitors for up to a 3-month-period under an equipment testing partnership. In this arrangement, the recipient can try out the monitoring equipment and use it to collect data in other smoke measurement applications (e.g., prescribed fire). The WSMART technical team will be interested in user feedback from these partners and collected data to support ongoing research and development activities. For requests of this nature, please specify in the comments of the request form that this is an equipment testing partnership request and the preferred time window of your loan.
Related Links: