Multi-Site Environmental Management System at ORD Laboratories
A multi-site environmental management system (EMS) may be used when an organization has multiple facilities or operating units. The key attribute for a multi-site organization EMS is that the environmental aspects of all the activities, products and services of all the units are managed as part of a single EMS.
Environmental Policy for the ORD Laboratories
The mission of the U.S. Environmental Protection Agency is to protect human health and safeguard the natural environment. As environmental stewards, the Office of Research and Development (ORD) makes a commitment to protect the environment and demonstrate this value in our research and development activities.
ORD will implement a multi-site laboratory EMS that will utilize best practices in addressing regulatory compliance, pollution prevention, and resource preservation. With this policy, ORD commits to implement an EMS for laboratory employees, operations, and facilities. Our EMS will address the following objectives: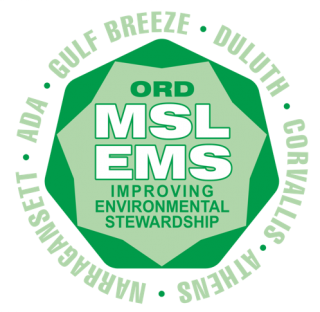 Ensure compliance by meeting applicable environmental requirements while conducting research activities;
Strive to continuously improve environmental performance;
Incorporate source reduction and pollution prevention into our research activities;
Consider environmental impacts in purchasing, planning, constructing, and operating our facilities;
Establish, track, and review specific environmental objectives and targets;
Share information about our EMS with interested parties (both internal and external) and develop effective partnerships; and
Strive to continually improve our collective environmental performance.