About GreenChill
Launched in 2007, GreenChill is an EPA voluntary partnership program that works cooperatively with the food retail industry to reduce refrigerant emissions and decrease their impact on the ozone layer and climate change.
Food retailers, including supermarkets, grocery stores, co-ops, supercenters, and wholesale clubs, use commercial refrigeration systems throughout their stores to keep products cool. The commercial refrigeration systems typically used in these stores can leak harmful refrigerants into the atmosphere and those refrigerants can deplete the Earth's ozone layer and contribute to climate change.
The GreenChill Advanced Refrigeration Partnership program works to help food retailers:
Transition to environmentally friendlier refrigerants;
Lower refrigerant charge sizes;
Eliminate refrigerant leaks; 
Implement best environmental practices; and 
Adopt green refrigeration technologies. 
The GreenChill Partnership has three main programs:
GreenChill Partners and GreenChill Certified Stores are encouraged to promote their efforts to reduce refrigerant emissions by highlighting their involvement in the GreenChill Program. The resources below provide general information about GreenChill that can be used to inform employees and consumers of their efforts and accomplishments.
There are other voluntary EPA programs that support the food retail sector in their efforts to be sustainable through food management, low global warming potential (GWP) refrigerant use and leak repair, transportation, product safety, energy and water efficiency, green power, and waste reduction.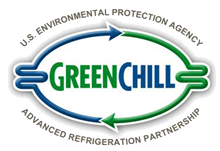 GreenChill Regulatory Context