Region 6 Office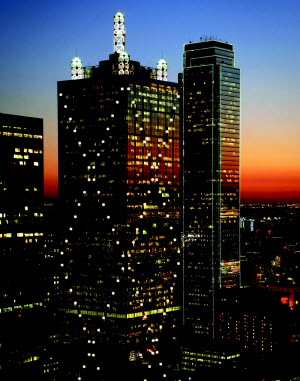 200,638 rentable square feet (RSF)
Energy Intensity:
FY 2021: 38,295 Btu per RSF
Water Intensity:
FY 2021: 61.37 gallons per RSF
Dallas, Texas
EPA Region 6 covers Louisiana, Arkansas, Oklahoma, New Mexico, Texas and 65 Tribal Nations. Region 6 includes: the Office of Environmental Justice and Tribal Affairs; Border Liaison Office; Water Quality Protection Division; and a Superfund Division.
Sustainable Features
The building in which the Region 6 Office is located is in the process of certifying for the U.S. Green Building Council's LEED Gold for Commercial Interiors (version 2009).
The building is located in a dense urban area with easy access to basic services and alternative transportation options, including rail and bus. This strategic location reduces the environmental impacts of transportation, such as air pollution, and provides occupants with a convenient alternative to single-occupancy vehicles to go to and from work.
The EPA Region 6 Office uses LED lighting to reduce lighting power usage 36 percent below ASHRAE 90.1-2013 code requirements and employs daylighting controls and occupancy sensors to reduce energy consumption.
The EPA Region 6 Office uses high-efficiency water fixtures, which helps the office space achieve a 35 percent reduction in water use compared to conventional fixtures.
The EPA diverted over 96 percent of all construction and demolition waste from being sent to a landfill during renovation.
The EPA Region 6 Office incorporates multiple strategies to reduce indoor air contamination and improve occupant health and well-being. Low-emitting materials were selected for the office space to reduce odorous and irritating air contaminants. Also, the air delivery systems were configured to provide outdoor air to spaces above and beyond the code-required minimums, which improves indoor air quality.
The building was first awarded the ENERGY STAR certification in 2008 with a score of 84. The building has been awarded ENERGY STAR certifications for 11 continuous years since 2008, most recently in 2018 with a score of 74.
For more information, visit the Region 6 website or the EPA Facility Contact List.