Asthma Research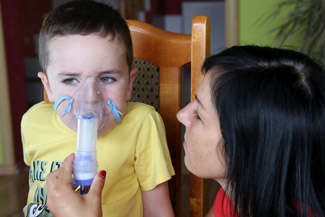 Asthma is a serious, sometimes life-threatening chronic respiratory disease that affects the quality of life for millions of American adults and children.
Prevalence and burden of asthma in low-income and minority children in the U.S. is disproportionately higher, with varying rates and impacts of the disease present in different minority groups. Although children appear to be the population most at risk, there is growing concern that new cases are also arising in adults, particularly in the elderly.
EPA is working to explore the role of common air pollutants in the development and exacerbation of asthma at different life stages as well as other environmental and genetic factors that might make a person more sensitive to developing asthma. By improving the scientific knowledge on the different underlying causes of asthma, the research can lead to the development and design of strategies to protect children and adults from air pollutants and improve community health.
EPA researchers are providing answers to the following questions:
What are the air pollution sources associated with asthma?

EPA researchers are studying where air pollutants come from, how individuals are exposed, and the different impacts various pollutants can have on the body. The type of air pollutants in the air can vary by the area of the country, proximity to sources of pollution such as traffic and industry activity, or time of year.

Some of the links between asthma and air pollution sources studied by EPA researchers include:

Air pollution disproportionately affecting lower socioeconomic communities
Indoor air quality

How do environmental stressors impact our genes and our respiratory health?

Epigenetics is the study of how a person's genetics and environmental stressors can affect health. EPA researchers are studying how modifications resulting from diet, aging, stress and environmental exposure can affect children's respiratory health, including the onset and aggravation of asthma. This involves using cumulative risk assessment methods to advance understanding of the role each factor can play in asthma development and exacerbation.

How do social factors and the built environment influence pollution-related asthma?

In the built environment, indoor air pollution and other kinds of contamination can lead to or exacerbate asthma. EPA researchers are studying how these pollutants and contaminants can be reduced and what kinds of strategies could reduce asthma rates as a result.

Researchers from the Exposure Methods and Measurements Division have been studying the prevalence of asthma in homes. Results show that asthma has a higher prevalence in low-income, minority communities in the U.S. as a result of water-damaged, moldy homes. These findings might be used to help poor minority families and communities to better assess and ultimately reduce mold contamination in their homes.

What are the best strategies to reduce the asthma burden from environmental exposure?

Intervention strategies: EPA and the Severe Asthma Clinic at Rady's Children's Hospital are developing a new home visiting program for individuals with asthma. Community health workers from health clinics in San Diego will provide home-based asthma self-management education, assessments of and possible solutions to asthma triggers in the home, asthma-safe cleaning supplies and bedding. Patients will be linked to agencies and services that can help in asthma prevention, and data will be collected to determine if the interventions have an effect on reducing asthma symptoms and the need for emergency department care. The project will also include an economic analysis showing how health costs and outcomes of the intervention could decrease asthma-related medical costs.

Diet and asthma: EPA is collaborating with University of North Carolina to study the impact that diet can have on the development of asthma. Diets that are nutritionally different could have an impact on the body's ability to control asthma and respiratory health problems. 

Asthma's health effects on children

Research shows asthma disproportionately impacts minority children, especially in urban communities typified by low income, high levels of air pollution, and poor indoor air quality. EPA's work will lead to a greater understanding of how children are exposed to pollutants, where they are exposed, and what kinds of exposures can have the most impact on the development of asthma.

Controlling asthma: EPA researchers, together with the University of North Carolina's Department of Pediatric Allergy, are researching the impact that air pollution has on African American children whose asthma is poorly controlled. Results suggest that poorly controlled asthma leads to a great impact on children's respiratory health, as well as negative impacts on their cardiac health.

Children's Health Centers:  EPA's Science to Achieve Results (STAR) program and the National Institute of Environmental Health Sciences (NIEHS) jointly sponsor the Children's Environmental Health and Disease Prevention Research Centers. These centers were established to explore ways to reduce children's health risks, including asthma, from environmental factors. Research from these centers provide valuable insight into how to better prevent children's exposure to air pollutants that may lead to asthma.