General Iron
On this page
Facility Background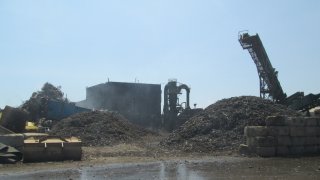 General Iron Industries Inc. (General Iron) owns and operates a metal shredding and recycling operation at 1909 N. Clifton Ave., Chicago, Illinois. General Iron operates a capture hood and fabric filter to control and reduce PM and metals emissions from its shredder. EPA has received numerous complaints about air emissions from the facility. Since 2016, EPA has conducted several inspections and visits to the facility to investigate complaints and quantify air emissions from the facility. Historically, EPA has been involved in compliance actions at the facility and in the past General Iron agreed to two settlements with EPA, in 2006 and 2012, involving its refrigerant recovery program and fugitive dust escaping the facility.
Air Emissions Testing
Additional complaints, compliance inspections, and higher than expected emissions data at similar facilities prompted EPA to issue a Clean Air Act Section 114 information request to General Iron in in November 2017 requiring it to test emissions of volatile organic compounds (VOCs), metal hazardous air pollutants (HAPs), and particulate matter (PM). Third-party contractors hired by General Iron conducted the tests on May 24, May 25, June 12 and June 13 in accordance with EPA's testing request. EPA received the majority of the results on June 27, 2018.
After review of the test results, EPA has determined that VOC emissions from General Iron's shredder have exceeded the allowable limits. General Iron has failed to install adequate air pollution controls and obtain the correct air pollution permit.
The results of the metals emissions test from June 2018 indicate that several metal HAPs are present in the exhaust gases in detectable levels. The three highest metals measured were zinc, mercury and lead and were measured at emission rates of approximately 171 pounds per year, 50 pounds per year and 3 pounds per year, respectively. These metals emission rates are low compared to EPA's metals HAP emission limits. However, EPA is conducting further analysis of the results as it relates to the ambient air in the community and is reviewing additional information submitted by General Iron about its testing.
The June 2018 PM emission testing resulted in calculated emissions of 2.3 tons in 2016 and verified that General Iron is in compliance with the PM emission limit in its state operating permit.
On July 23, 2018, General Iron submitted to EPA the results of the PM and metals testing conducted on May 24, 2018. EPA is reviewing the data. With the submission of these results, General Iron has submitted all information required by EPA in response to EPA's November 2017 information request.
Next Steps
On July 18, 2018, EPA issued General Iron a Notice and Finding of Violation (NOV/FOV) citing excessive emissions of VOC, one instance of fugitive particulate matter and for failure to provide some records responsive to EPA's November 2017 information request. Since the issuance of the NOV/FOV, General  Iron has met with EPA to discuss the violations alleged in the NOV/FOV and has submitted records responsive to EPA's November 2017 information request. EPA is working with the company to quickly resolve the violations alleged in the NOV/FOV and ensure that adequate measures will be enacted to return the facility to compliance and to protect the health of the surrounding community and the environment.