Watco Terminal and Port Services
Versión en español: Terminal y servicios portuarios de Watco
On this page:
Watco Terminal and Port Services (Watco) is a bulk solid material handler located at 2926 East 126th Street, Chicago, Illinois 60633. Watco stores and handles bulk solid materials, including manganese-bearing alloys. U.S. EPA has been studying air in Chicago's Southeast side since 2013 in response to residents' concerns about the area's long industrial history.  U.S. EPA has inspected Watco several times since June 2014.
U.S. EPA is committed to investigating sources of pollution, fugitive dust, and toxic metals in Southeast Chicago, including conducting inspections, issuing Section 114 Information Requests, and taking appropriate enforcement action. (Learn about EPA enforcement in The Clean Air Act in a Nutshell: How It Works).
Update-May 2019
Soil Sampling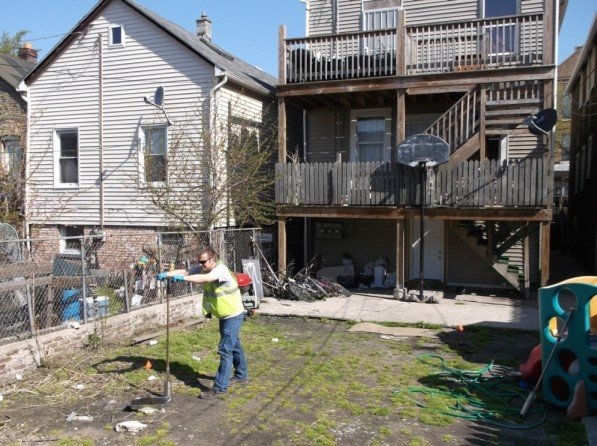 Collecting soil samples near the Watco Terminal and Port Services facility in Southeast Chicago.U.S. Environmental Protection Agency this spring and summer is collecting soil samples near the Watco Terminal and Port Services facility in Southeast Chicago to analyze them for manganese and other metals. The targeted sampling area is roughly between East 126th Place to the north and East 127th and 128th streets to the south, South Torrence and South Muskegon avenues to the east and South Carondolet Avenue to the west. (See map below) The sampling will help U.S. EPA identify if manganese is present in soil at concentrations that exceed the U.S. EPA removal management level (RML). If concentrations exceed the RML for manganese, U.S. EPA will then evaluate to determine if a removal action is necessary to protect public health at those properties.
Permission Needed
U.S. EPA is contacting homeowners to request permission to sample their yards. Property owners who sign the voluntary access agreement give permission to the federal Agency to collect soil samples on their property. U.S. EPA will sample properties at no cost to owners and will restore the ground after the sampling is completed. U.S. EPA staff will contact owners to schedule the sampling and answer any questions. Residents do not need to be present for the sampling.
Experts from the federal Agency, along with its health partners, will evaluate the results to determine whether manganese in soil poses an unacceptable health risk to residents and whether any follow-up action is required. Property owners will receive a copy of the sampling results once the lab data has been validated.
View documents for this site.
Map of area for collecting soil samples near the Watco Terminal and Port Services.
Update-May 2019
Air Monitoring
Aerial image showing location of MET and FRM monitors in relation to Watco Terminal and Port Services
On May 15, 2018, U.S. EPA issued an information request to Watco that requires the installation and operation of a Federal Reference Method (FRM) monitor to measure concentrations of particulate matter less than 10 microns (PM10) and several types of heavy metals and a meteorological station to measure wind speed and wind direction. Watco previously installed a meteorological station in August 2017. The FRM monitor was installed and began operating on September 14, 2018. EPA inspected the facility on September 25, 2018 Clean Air Act Inspection Report to verify the installation of the monitor.
Monitoring Locations
Monitor
Approximate Location
(UTM NAD83)
Monitoring Equipment
Northing
Easting
Filter-based Monitor
4613090.99
453944.31
Met One Inc. Model E-SEQ-FRM
Meteorological Station
4613152.66
453754.62
Met One Inc. Model 034B
Air Monitor Data
The minimal risk level (MRL) set by The Agency for Toxic Substances and Disease Registry (ATSDR) for manganese is 0.3 µg/m3. This is a health screening level for chronic inhalation exposure (12 months or longer) to manganese. The average manganese concentration for the month of April 2019 is 0.276 µg/m3. The total average manganese concentration is 0.330 µg/m3.
Exposure to a level above the MRL does not mean that adverse health effects will occur. ATSDR sets MRLs below levels that might cause adverse health effects in the people most sensitive to such substance-induced effects based on current information. Learn more about MRLs.
EPA will continue to evaluate Watco's operations and all monitoring data as it is submitted. EPA is committed to sharing the air monitoring data even when the data is preliminary with the community and other government agencies and to take action needed to protect public health. EPA has been in communication with Watco and Watco is committed to investigating its operations and manganese emissions.
Documents
Information request and inspection report documents