Northern Gulf of Mexico Hypoxic Zone
Background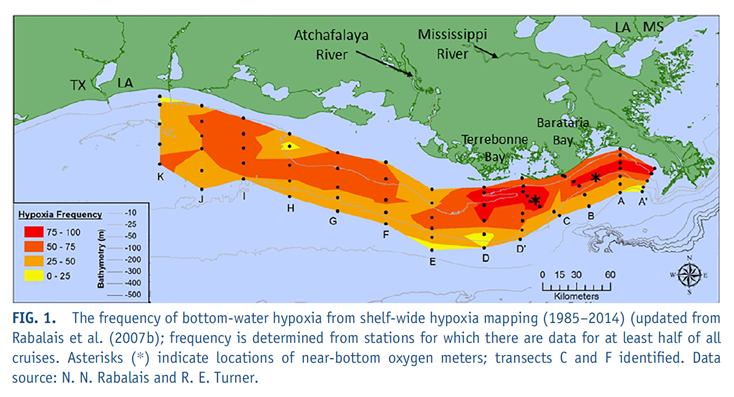 In late spring each year, the National Oceanic and Atmospheric Administration (NOAA) releases an estimate of the size of the hypoxic zone for the summer. This forecast predicts the size of the zone using an ensemble of four nitrogen-focused models that consider USGS springtime nitrogen loadings to the Gulf. Later in the summer (typically late July), NOAA supports an annual cruise to physically measure the extent of the zone. This graphic illustrates the frequency of bottom-water hypoxia measured from 1985 to 2014, presenting where hypoxia is more prevalent in the Gulf of Mexico.
Information about the size of the hypoxic zone can be obtained from:
NOAA's Gulf of Mexico Hypoxia Watch evolved as a cooperative project among NOAA's National Marine Fisheries Service (NMFS), the National Coastal Data Development Center (NCDDC), and the CoastWatch - Caribbean/Gulf of Mexico - Regional Node. The objective of Hypoxia Watch is to develop new near-real time data and map products using shipboard measurements of bottom-dissolved oxygen and disseminate them over the Internet. Access measurements taken from 2001 to the current season.
Annual Forecasts and Measurements
Explore annual measurements and forecasts of the Northern Gulf of Mexico supported by NOAA and LUMCON.